andranik123 - stock.adobe.com
Channel partners help solve retail industry challenges
Retailers are exploring a range of IT strategies to overcome pressures caused by the pandemic and fierce online competition. Find out how channel partners can help.
Brick-and-mortar retail has been one of the hardest hit vertical industries during the pandemic and faces a long road to recovery. Even as many retail stores have reopened following months of lockdowns across the country, retail industry challenges remain unignorable. Businesses must continue to find new ways of selling their products and connecting with nervous shoppers.
The traditional retail sector's struggle to use technology to improve customer experience and remain competitive predates the pandemic, however. Brick-and-mortar organizations, for example, sought to maintain their customer bases during the meteoric rise of Amazon and other online sellers. Channel partners have had their hands full helping tackle these pre-pandemic retail industry challenges -- and there is a lot more work to do today, observers said.
A frictionless customer experience is currently top of mind for retailers. According to a recent study by consulting firm McKinsey, the top two technologies consumers want more of are mobile payments (80%) and mobile app orders (56%).
Evolving the shopping experience
With retail stores experiencing a decline in in-store shoppers, some have turned to selling goods online and offering curbside pickup.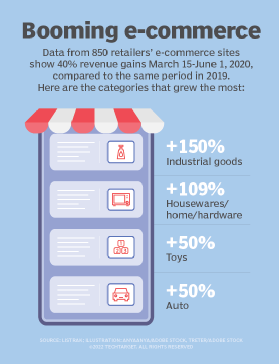 The shift to online selling will be "somewhat permanent" and an area in which channel firms can help implement, manage and optimize, said Rod Sides, vice chairman and U.S. retail and distribution leader at Deloitte.
Consumers shifted to online shopping mainly due to convenience and safety, he added. "I don't see a move back into the same level of activity in the store," Sides said. "Our research would tell you in any downturn, the trends we see," such as the surge in online shopping, "are that they accelerate."
More than ever, retailers are being forced to use omnichannel business models, noted Lisa McGarvey, director of solutions development, internet of things and data solutions at tech distributor Tech Data. "For example, we've seen all sizes of retailers pivot to implement omnichannel strategies to create and optimize BOPIS [buy online, pick up in store] types of models -- creating a faster, more secure and convenient shopping experience," she said. "These types of services are critical to remain competitive and relevant moving forward."
The strong pivot creates opportunities for channel partners to play a supporting role, McGarvey added. "There should be emphasis on real-time inventory and data analytics to assist in determining what inventory to buy, shoring up supply chain so delivery expectations can be met and so companies can remain competitive. Logistics will be a bigger part of their business, and we will likely see an increased demand for support there."
Akhilesh Nandwana, vice president of business applications at Synoptek, an IT consultant and MSP based in Irvine, Calif., agreed that the omnichannel trend is gaining traction. "We've been working with retail customers and even manufacturing customers to make their business more self-service and give them as many channels as we can provide," Nandwana said. This includes developing electronic catalogs that can be published on e-commerce platforms, as well as websites, mobile apps and social media platforms.
We've been working with retail customers ... to make their business more self-service and give them as many channels as we can provide.

Akhilesh NandwanaVice president of business applications, Synoptek
Social media, in particular, is a "big channel where retailers are telling us 20% to 30% of their traffic is coming in from," he noted.
Synoptek helps support its retail customers by deploying tools to create consistent user experiences across multiple channels, as well as by doing back-end work. Additionally, he said, "There are some apps and tools available today which we can deploy for retailers ... that capture the user behavior throughout the shopping journey," including their online searches and how many times they click on price or look for a promo code, he said. "Organizations use this information to improve the user experience, create loyalty and get repeat customers."
Retailers need data insights, scalable architectures and integrated offerings, McGarvey said. When looking at supply chain and inventory, data and analytics can help provide transparency with manufacturers and suppliers to support distribution and fulfillment needs and changes, she said.
"We are also seeing AI for demand forecasting and both AI and machine learning to support the shopping experience in-store and online," she said. "Leveraging cloud and hosted infrastructure and point-of-sale [POS] systems also support online sales."
Contactless payment is becoming a trend as well, reducing or eliminating the need for physical touch in retail transactions, Sides noted. "Some retailers have moved away from signature capture unless it's over a certain dollar amount, so there are all types of opportunities for point-of-sale vendors to help retailers figure that out and put in new technologies to do that."
With minimized physical contact being an ongoing public health priority, retailers can expect to see advances in contactless payment methods, McGarvey added.
Payment system upgrades, PCI compliance
Other industry retail challenges during the pandemic have included upgrading retailers' payment systems. "This involves incorporating technology such as self-checkout and hosted architecture to support and help with the systems integration," McGarvey said. "As retailers continue to enhance the shopping experience, the demand for frictionless payments rises. With new IoT technologies, consumer payment methods continue to evolve."
However, with the updates to new payment methods comes concerns about Payment Card Industry Data Security Standard (PCI DSS) compliance, McGarvey noted. Continuing to ensure retailers meet regulatory requirements from industry and government agencies remains a top priority.
Even though PCI DSS is not a new, Nandwana said, there are "some concerns in scenarios not about whether a payment is secure or not, but in the shift from on premises to cloud." There is now another step involved after a customer swipes their credit card because the data travels from the store to the retail app in cloud. Previously, data was stored in a local data center. "The difference is in how it travels," he explained. "In a data center, [the information] goes through the public cloud because it is a hosted app." From the cloud, the data goes to the retailer's hosted provider, whereas traditionally the data was stored on a private network.
"The focus on security is paramount, especially in this digital age," McGarvey said. Partners can assist with technologies like biometric/pin-code authorization and strong data-encryption products.
Last-mile distribution challenges
Sides sees plenty of potential for retail-specific technologies, especially in the area of last-mile distribution, which is "probably the biggest opportunity and pain point many retailers are focused on today."
Beyond the big carriers like UPS, FedEx and DHL, for example, "there are hundreds of smaller carriers trying to solve the last-mile [problems]," including courier services, Sides said. Retailers need to figure out how to optimize their costs and find the most reliable and cost-effective delivery companies, which is no easy task.
Optimization tools can help reduce the last-mile costs, he said, citing reverse logistics and return policy management as additional areas of opportunity for partners. "That's an emerging area where retailers are spending a ton of money to manage that process because most retail supply chains were developed to move product in one direction: from the manufacturer to the store to the consumer's home," he said. "Those networks were not designed to take in individual boxes of shoes and restock them."
Channel firms can help ensure the availability of pricing on returned items and figure out how to return a product to a distribution center or sell it in a one-off scenario. "They can build this workflow," he said. "There is plenty of white space for players to find new avenues."
More innovations partners can support
Nandwana said stores have started using interactive visual technologies to enhance customer experience. In one use case, customers can use an interactive screen to see how an article of clothing will look and fit, freeing them from a trip to the dressing room.
Stores are also using data collection points embedded with AI sensors that track shoppers' behavior. Retailers can gather intelligence on which areas of the store see the most foot traffic so they can plan merchandise displays accordingly. Partners can deploy these types of technologies.
McGarvey said Tech Data offers platforms channel partners can use to help retail customers with self-checkout, contactless payment, real-time inventory management, systems integration and data analytics. "As retailers implement models such as curbside pickup ... the need for real-time inventory management solutions is critical for better inventory accuracy, fast location of products and reduction of out-of-stocks," she said.
Like Nandwana, McGarvey believes platforms for storing traffic analysis is another partner opportunity, as well as interactive and intelligent digital signage to enhance the customer experience.
"These solutions can also be utilized for social distancing and the ability to inform and communicate dynamically," she said.