peshkov - stock.adobe.com
AI in retail has helped retailers during COVID-19
During the Ai4 2020 virtual conference, a panel of retail experts discusses how AI and analytics have helped retailers deal with the economic fallout of the COVID-19 pandemic.
The fallout from the COVID-19 pandemic has ravaged retail stores, as the deadly virus forced many to shut down or operate entirely online to help slow the spread.
Despite the losses, analytics and AI in retail have helped some retailers keep afloat and adjust to the new reality.
In a panel session during the Ai4 2020 virtual conference, retailers and technology vendors discussed their AI and analytics efforts, and how revamped efforts have helped them during the pandemic.
AI in retail
Telecommunications and media giant AT&T has factored AI and analytics into its marketing and sales strategies for years with dedicated technology teams.
"We've spent a lot of time and energy pulling together the requisite advanced analytics personnel to help build out machine learning models," said Frances Boykin, principal advanced analytics manager at AT&T.
The telecommunications giant uses AI to personalize in-store and online shopping experiences.
Personalized recommendations are "one of the great things AI has helped power," Boykin said.
Using data, including demographic and network performance data, AT&T can predict which phones, and how many, should go to which brick-and-mortar stores "so we can put the right product in that area," Boykin said.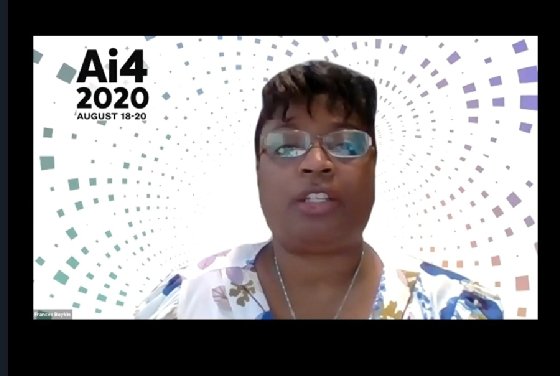 Since COVID-19, AT&T changed to how its brick-and-mortar stores operate, including allowing customers to make curbside pickups in some locations.
AT&T created models to determine which stores should have curbside pickup available and which stores should temporarily close.
Meanwhile, Taiwanese tech vendor CyberLink, which sells media, communication and facial recognition software, recently developed a facial recognition product that can help identify people wearing masks and face protection gear.
The product, FaceMe Health, which retailers can connect to existing security cameras, can determine if a person is wearing a mask or not, or if a person is improperly wearing a mask, such as wearing it under their nose. If connected to a thermal camera, the AI-powered product can also determine if someone has a fever.
The product is in high demand, said Richard Carriere, senior vice president of global marketing at CyberLink.
"This is an important angle where AI is definitely helping," he said, adding that CyberLink has some 100 engineers to develop in-house AI technology.
E-commerce AI
E-commerce giant eBay, another company that has long used AI and analytics to help sellers sell and buyers buy, is also making changes due to COVID-19.
Notably, eBay has intensified its efforts to identify and remove prohibited and restricted items, including health products making false COVID-19 claims, and products such as hand sanitizer, that some sellers sell for far more than what they are worth, said Bala Meduri, senior director of AI and machine learning research and platforms at eBay.
For years, eBay has used rules-based systems and algorithms to identify false claims and price gouging, Meduri said. When COVID-19 hit, eBay's computer vision team worked with risk teams to build improved object detection and classification models and enhance those existing processes.
During the last few months, eBay, through these automated methods as well as human judgment, removed more than 31 million items that violated its updated COVID-19 policy, Meduri noted.
Ai4 2020, held virtually this year, took place Aug. 18-20.