thodonal - stock.adobe.com
COVID-19 to drive more AI in retail for small retailers
Retailers were hit hard by the COVID-19 economic fallout, especially small, local businesses. Amid a shift online, AI could help some retailers adjust to the new reality.
The pandemic forced retailers to ramp up their online efforts and adopt new technologies because many shuttered their physical locations to help slow the spread of COVID-19.
Medium and large retailers experienced a hit, but the coronavirus devastated small, local retailers. Smaller business, which typically have a limited web presence, no online store, and little access to advanced analytics or AI for retail, were left unable to move their products in significant numbers.
The COVID-19 economic crisis is accelerating retailers' online operations, according to AI experts who spoke at the AI Summit Silicon Valley virtual conference.
Accelerating existing online efforts
"I see a lot of the automation in the retail workforce as already having taken place before the pandemic in ways that are not as direct as one might think," Arun Sundararajan, Harold Price professor of entrepreneurship and technology at New York University, said during a panel session on Oct. 1.
Over the past two decades, medium and large retailers have steadily created online stores, mobile applications and social media pages.
The entire business model has changed in a way that requires humans less and is reliant more on simple AI technologies, like recommendation systems.

Arun SundararajanHarold Price professor of entrepreneurship and technology, New York University
"The entire business model has changed in a way that requires humans less and is reliant more on simple AI technologies, like recommendation systems," Sundararajan said.
Retailers have for years used machine learning-powered recommendation systems to surface personalized product and service recommendations to their customers.
This disruptive, behind-the-scenes AI technology unlocked new marketing strategies for retailers and has driven the explosive growth of dominant online retailers like Amazon.
"I don't think there has been any other AI technology that has been as powerful or as impactful," Sundararajan said.
The pandemic accelerated the shift online. With physical retail locations closed, and consumers hesitant to go out in public, consumers have flocked online to buy.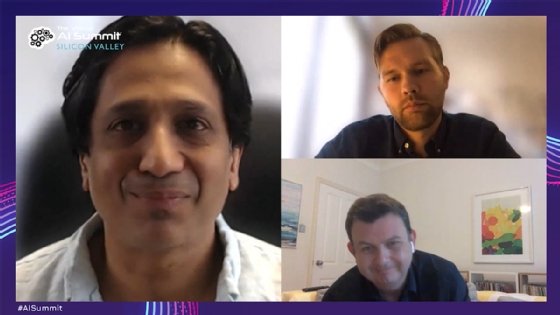 "Once you experiment with these behaviors, these behaviors can become sticky," Sundararajan said. Even when physical retail locations open back up, many consumers will likely stick to shopping online. The shift online will persist in a post-pandemic world, he said.
That change could hurt small retailers, which historically have had a limited web presence and AI technology.
Limited AI access
According to Errol Koolmeister, product area lead engineer AI foundation at multinational clothing retailer H&M Group, AI use cases are expensive to research and implement.
While it has become cheaper over the last few years as more AI development products and tools have become available to citizen data scientists, local retailers can't compete in AI with medium-sized or large retailers. They don't have the budget or the staff to deploy advanced AI-powered tools.
To that end, Sundararajan said he expects that a major retail company, such as Walmart, could step in and create an online platform for small retailers.
Such an entity could produce a platform that connects small, local retailers. The platform could provide options now reserved mostly by the biggest online sellers, such as one-day deliveries and AI recommendation and relation management technologies.
While there are some platforms currently available to medium-sized retailers, there isn't a widely successful one yet for local retailers, Sundararajan said.
Sundararajan also predicted that retailers, both large and small, will increase their use of augmented reality (AR).
While it's still an emerging field, some retailers use AR to help market products in their stores, encouraging consumers to download an application that can, for example, enable customers to point their smartphone camera at products in the store to receive more information about the product, compare its price in the store to other locations, or get coupons.
Online retailers such as Amazon and Wayfair already use AR tools to enable customers to see how products might look inside their homes.
The use of those technologies will continue to grow, Sundararajan predicted.
Retailers may also start using more predictive analytics and machine learning tools to better predict product demand, following disruptions in the supply chain caused by panic-buying during the pandemic, said Andy Pardoe, founder and CEO of Informed.AI Group, an AI knowledge and community platform for AI practitioners.
The pandemic dramatically altered people's buying behaviors, Pardoe noted, adding that he thinks the next real "killer" AI capability in the retail market will center on customer behavior prediction and supply chain forecasting.
"Being able to better predict and see that ahead of time might have helped with some of the supply chain issues" induced by COVID-19, he said.
As for H&M Group, it has forecasting models in place, but the pandemic's sudden onset made retailers' mostly long-term models impractical. H&M Group's historical data became nearly useless because the models spit out incorrect predictions.
More short-term models, Koolmeister noted, could help H&M Group better predict customer behavior in the event of another significant disruption.
The conference was held virtually this year on Sept. 30 - Oct. 1. Sundararajan, Koolmeister and Pardoe spoke during the panel "Lessons Learned -- What does The Future of The High Street Look Like and Has Covid-19 Demanded That All Brick and Mortars Must Now Prioritize Their eCommerce Strategy for The Future?"
Dig Deeper on Artificial intelligence platforms