akarb - Fotolia
AI, robotics help businesses pivot supply chain during COVID-19
Big enterprises such as Wayfair, UPS, Unilever and Siemens move to automate more of their supply chains with AI as the coronavirus pandemic disrupts business operations.
AI and robots are transforming supply chains after the COVID-19 pandemic disrupted manufacturing and logistics systems around the world.
Many enterprises that already used AI and machine learning-driven robots for supply chain responded quickly, stepping up investments in the technologies to automate movement of goods from the factory floor to distributors to retail shelves and consumers' doorsteps.
"As a supply chain practitioner, the one thing that is key to digital transformation, whether we call it AI ... is this notion that people want to automate a lot of decisions," said Kermit Threatte, director of operations research at online home products retailer Wayfair. "Automating those decisions will be better than what a lot of supply chain is based on right now, which is manual decisions."
Threatte moderated a panel discussion on AI and supply chain at the Ai4 2020 conference, a virtual gathering of AI and machine learning experts held Aug. 18-20.
Conversation in the session shifted between AI and robotics in the supply chain. A recurring theme was that reducing human participation in both generating ideas and performing manual tasks can be faster and cheaper, and, perhaps most importantly in the time of the coronavirus, safer.
Distancing humans from the virus at work
"When you're talking about pandemics that can occur now and in the future, you want to reduce touch," said panelist Gregory Brown, chief engineer/scientist for ATG systems engineering at UPS. "You want to take humans out of the process if you can, and if you can get to autonomy, that's one way to do it."
Brown and others on the panel referred to autonomous machines -- whether self-driving trucks and vans or whirring drones -- as a key objective in the near term.
For Threatte, one practical approach, especially with the shortage of human truck drivers, is to automate highway transport and rely on humans to handle final delivery stages in densely populated cities and suburbs.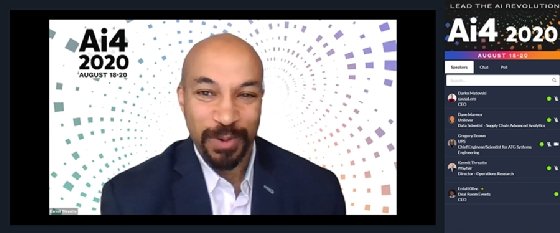 Unprecedented events upset machine learning
Machine learning and many predictive technologies rely on historical data to make next-best action decisions. That approach doesn't work when events like COVID-19 occur, argued Darko Matovski, CEO and co-founder of CausaLens, a London-based vendor of autonomous predictive technology. His company's tech uses time-series and dynamic systems rather than past events to predict outcomes.
"When COVID-19 or events of similar magnitude happen, essentially what happens to the world is the fundamental driver of change," Matovski said.
"Current machine learning relies on past data. It works well when the world is stable," he continued. "But when the fundamental principles of the world change, the causal drivers change and using this technology leads to worse predictions than tossing a coin."
When you're talking about pandemics that can occur now and in the future, you want to reduce touch.

Gregory BrownChief engineer/scientist for ATG systems engineering, UPS
AI uses in pandemic times
Among the most useful applications for AI in the supply chain for consumer goods multinational Unilever is its ability to remedy stocking problems.
"Traditionally, for a lot of stock replenishment, we're talking to planners. A lot of this is done manually or on a rule-based model. It's very simplistic," said Dave Marmor, supply chain data scientist at Unilever.
Now, Unilever uses AI algorithms to factor in more dynamic features, such as ordering patterns in the current manufacturing environment, as opposed to past economic conditions, and more flexible load pooling -- bundling of stock bound for a specific region.
"Traditionally, we load a truck and deliver the truck to the [distribution center]," Marmor said. "How can we find ways now when we don't have enough and we need to allocate different stock to different customers? We can't send them a whole truck."
Juan Aparicio, head of advanced manufacturing automation at Siemens Corporate Technology, said Siemens uses AI to solidify and tighten its supply chain channels during the pandemic by automatically identifying opportunities for more efficiencies.
"It's really seeking things around the world. ... And bringing manufacturing close to consumption," Aparicio said.
Dig Deeper on AI business strategies