BillionPhotos.com - Fotolia
AI in e-commerce helps product sales
EBay uses AI to power tools and services it built in-house to attract and retain users, such as automatic translation, image recognition and photo cleanup.
Over the last few years, e-commerce companies have made buying and selling items online easier by using AI. EBay, one of the largest e-commerce companies in the world, uses computer vision, natural language processing, machine learning and deep learning to help users.
EBay has invested heavily in developing and deploying AI capabilities. While it doesn't necessarily do anything unique -- competitors including Wayfair and Amazon have developed similar AI in e-commerce tools -- what it does appears to benefit sellers and buyers on its platform, which differs markedly from its biggest competitors in being auction-driven and oriented primarily toward sellers.
EBay provides several tools for images, including a search by image function and photo cleanup.
Image recognition
Using the mobile eBay application, buyers and sellers can take a photo of an object, which, using computer vision and deep learning, eBay matches with similar images on its platform. The feature has been available since 2017, and has since been improved as more images have been uploaded for the machine learning algorithms to train on.
Comparable features are available on a number of other platforms, including Google and Amazon. These platforms also have object recognition, enabling users to take a photo of something and see comparable items.
By also considering product descriptions as well, the search function optimizes accuracy. Sellers are able to get automatic pricing recommendations, although that wasn't always so.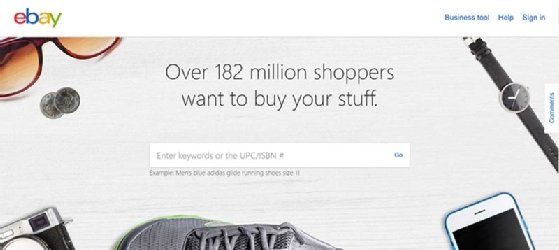 "Historically we did a really bad job with [pricing models]," said Scot Hamilton, vice president of engineering.
EBay has a lot of unique inventory, Hamilton explained, making it difficult to find true peers to benchmark against for some objects.
Looking at characterizes such as the images, price range, descriptors and titles of the listed object, and by comparing it to similar objects, among other things, eBay attempts to automatically determine a relative price for an object.
The suggested price is generally slightly lower than the market average to keep inventory moving, Hamilton said. Casual and hobby sellers adopt the suggested price point around 80% of the time, he said.
AI in e-commerce
The platform also boasts an image cleanup capability for sellers. The feature, still in beta, takes an image and tries to automatically separate the featured object from visual clutter in the background.
"Search engines these days require, in many cases, a white, clean background on photos," said Harry Temkin, vice president of seller experience.
Sellers, he continued, "often take pictures in very interesting places," like on the stairs, in a kitchen or in a garage.
The beta feature crops the featured item automatically from the photo. Now, manual input is still required in many cases, with users having to swipe around the edges of an object. However, the feature is getting sharper, Temkin said.
It is software that is continuously learning.

Harry TemkinVice president of seller experience, eBay
"It is software that is continuously learning," he said. The more photos that go through it, the better it will work.
Besides its image features, eBay provides home-grown automatic translation, enabling buyers and sellers in different countries to see listings in their own languages.
The translation happens behind the scenes, Hamilton said, with users not necessarily realizing it's even happening.
According to Hamilton, eBay's model is 5% or 6% more accurate than off-the-shelf products.
"Being a global platform … not everyone speaks English," Temkin said. "Being able to use machine translation to convert an English listing into a German listing or a Spanish listing or a French listing is useful."