phonlamaiphoto - stock.adobe.com
Here's how sales teams use AI to increase revenue
When a business incorporates AI into its sales processes, it may improve pricing optimization, contact analytics and forecasting, ultimately strengthening its sales department.
Sales representatives may face challenges while balancing selling with all the behind-the-scenes work, such as sales forecasting, lead generation and lead scoring. Luckily, businesses that incorporate AI into their sales processes can lighten that load.
Many sales processes benefit from AI and machine learning, and many sales support platforms now feature tools that employ them.
Companies are always looking for ways to strengthen their sales departments, and sales AI is one of the best steps to take.
What to think about upfront
The adoption of machine learning in any business process represents a serious commitment of resources, so it's important to approach positioning sales AI with careful front-end evaluation.
To begin, businesses must determine the best place to apply AI in their organizations. The answer will be found in the data that is most relevant to their outcomes, such as well-established metrics. For some companies, it may be as simple as gross revenue; for others, it may be market share. Other critical measures include growth rate, gross profit margin and customer retention rate.
Next, the data that the business selects for AI processing must drive decision-making in the tier where it resides. The business should use that data in processes that set the company's direction in the marketplace or influence its practices there. For example, fluctuations in gross product revenue could affect marketing budgets and, by extension, campaign planning; rising or falling market share could affect product development agendas.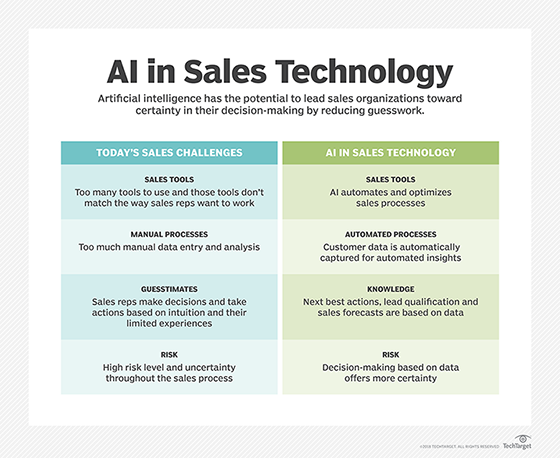 Once the organization determines the data and process in which it will incorporate AI, the final step is to identify the correct tools and methodologies to make the AI transition a success. This is vital because the market of available sales AI tools is vast, and zeroing in on the right tool for the right job can take some time.
Here are some of the best sales processes to consider for AI and machine learning enhancement.
Possible sales processes to incorporate AI
Sales forecasting. This is perhaps the most obvious sales application for automation and machine learning, as one of the key inputs -- historical sales outcomes -- is well defined and readily available in most organizations. The other key input is sales contacts with customers, which businesses can automate with most modern CRM platforms. Salesforce, Zoho and IBM Cognos -- a business intelligence platform that easily integrates with Microsoft Dynamics 365, among other applications -- offer sales forecasting software and applications.
AI can listen in on all sales conversations and email exchanges, sorting out insights into what works and what doesn't.
Lead generation. The quality and volume of lead generation are key to the success of any salesperson. If AI is doing this task, the salesperson's queue will always be well populated, and they will have more time to work on it, since they aren't generating the leads themselves. Most CRM platforms can provide this, including HubSpot, Salesforce and Marketo Engage -- part of Adobe Experience Cloud.
Lead scoring. Using AI to generate leads saves time, but businesses should still prioritize the leads. Salespeople need to know where, among the leads, their time is best applied. If the sales representatives came up with the leads themselves, they'd have an intuitive sense of the most promising possibilities. Because they aren't, AI must handle the scoring. VanillaSoft, Maroon.ai and Oracle DataFox are examples of lead scoring software.
Contact analytics. When all the information gathered in sales calls is machine learning input, AI tools can study that information to surface insights that can improve sales call effectiveness. Other inputs can include email exchanges with customers and phone call transcripts. HubSpot, Aspect and CallMiner Eureka all offer this tool.
Pricing optimization. Many organizations rely on salespeople in the field to determine pricing for products or services in pursuit of closing a deal with the customer. Often, the sales representative optimizes the price on the fly during closing -- enough to be worth the while of the enterprise yet low enough to keep the customer on the path to closing. AI is well suited to locating ideal discount rates, based on path deals, win-loss rate, the timing of the deal and other factors. Vendors of pricing optimization tools include Vendavo, Pricing Solutions and Competera.
CRM automation. Historically, a big drain on a salesperson's time has been entering data into a CRM system. That task can now be automated, with AI synchronizing the data. Most CRM platforms -- including IBM Watson Marketing, Microsoft Dynamics 365 and Sales Canvas -- are AI-driven today.
Content personalization. When the salesperson prioritizes the customer, the next step is to have personalized content on hand to use in pursuing the sale. Using customer profile data in the CRM platform, AI can generate content that appeals to customers, based on their needs and preferences. Vendors of content personalization software include Evergage, Softcube and Granify, which also does revenue optimization.
Bots. AI-based bots -- smart bots -- can help in two ways. First, bots can do front-end contact and data collection for salespeople, saving more time and better preparing them for the actual contact. Second, smart bots can listen in on actual calls, passively suggesting best practice answers to customers' questions. Kore.ai and SmartBots offer virtual assistants that provide this service.
AI sales trainer. AI tools can listen in on all sales conversations and email exchanges, sorting out insights into what works and what doesn't. When it captures data from the company's best salespeople, those insights become a blueprint for more effective selling that employees can share among the salesforce. Gong.io performs this service and benchmarks sales team members for comparison.
Digital sales assistant. Few professions require more calendar-juggling than sales, and AI can automate the scheduling process. Sales representatives can use Calendly -- a scheduling software -- that connects to and synchronizes up to six calendars.
Dig Deeper on Marketing and sales