Gajus - Fotolia
Salesforce's AI-powered Einstein Call Coaching now available
Salesforce's Einstein Call Coaching has moved out of pilot testing, during which a steel building manufacturer saw a 60% reduction in time spent manually analyzing customer calls.
As businesses scrap face-to-face meetings in lieu of phone calls and virtual tools amid COVID-19, Salesforce has released Einstein Call Coaching, an AI-powered tool that automatically identifies and transcribes key components of sales calls.
Initially revealed during Salesforce's Dreamforce conference in November, Einstein Call Coaching is part of Salesforce's High Velocity Calls, a product in Sales Cloud meant to help sales representatives better make, manage, and track calls and emails.
Sales calls
"Einstein Call Coaching brings conversational intelligence into your CRM, so that all your customer data is in one place," said Efrat Rapoport, director of product management for Salesforce's Einstein.
"By bringing not just customer insights, but selling insights into the CRM, sales managers have a better understanding of how these calls impact deals and selling strategies," she said.
Salesforce issued a pilot version of Einstein Call Coaching months ago, with 20 active customers testing the new tool. The release unintentionally coincided with the spread of COVID-19, as businesses began to shift to remote work.
"While the product has just become generally available, we've anecdotally seen an increase in customers reaching out to their sales contact for more details," Rapoport said. "This wasn't the situation we expected when we first began working on the feature, but it's a unique way to help sales teams adapt their processes during this shift to remote work."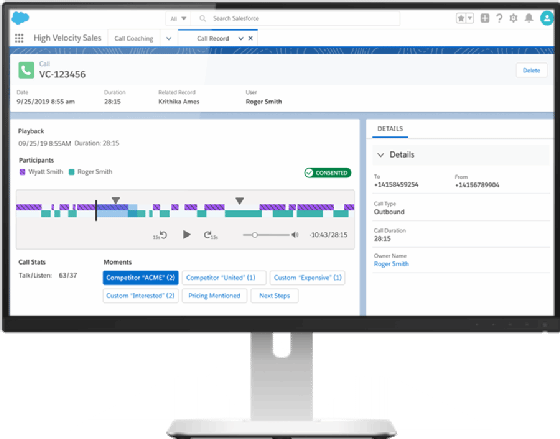 Product tester
One of the pilot testers is Armstrong Steel, a Colorado-based manufacturer and seller of metal buildings, including sheds and garages. The company, which uses numerous Salesforce products, turned to Einstein Call Coaching to help handle the high volume of calls it makes and receives through Salesforce's Lightning Dialer.
Lightning Dialer enables Armstrong Steel to make, receive and record calls, and log call information within the Salesforce platform. While it's useful for dealing with a high volume of calls, Armstrong Steel struggled to pinpoint what the sales teams, project managers and logistics employees said to customers.
"It's hard to analyze that data and understand what's going on with those calls," said Sean Andrews, Salesforce administrator at Armstrong Steel.
After each completed customer project, Armstrong Steel goes over its recorded calls in search of errors and teachable moments. Prior to Einstein Call Coaching, it did this process manually, assigning staff to listen to each call and pull out relevant information.
The company also listened to a random selection of recordings each week to find calls to use for training. Yet, Armstrong Steel handles thousands of calls each week, and the process was time-consuming and inefficient.
"It was very tedious," Andrews said.
NLP and ASR
Einstein Call Coaching has helped automate some of those manual processes.
The tool applies natural language processing and automatic speech recognition to call recordings "to transcribe and understand who is speaking and the context around keywords to surface moments such as competitors, products or pricing questions," Rapoport said.
It's cut down a ton of time for sales managers finding those calls.

Sean AndrewsSalesforce administrator at Armstrong Steel
Each day, Armstrong Steel gets an email featuring the top recommended calls to listen to, as well as the top keywords. The company tracks a variety of keywords, including competitors, specific design options and types of buildings. With keyword tracking, Armstrong Steel has caught errors quickly, enabling the company to fix mistakes before purchases are complete and to identify areas of improvement for staff.
Overall, sales managers at Armstrong Steel reduced the number of calls staff members listen to by 40%, and reduced the time spent listening to calls by 60%.
"It's been fantastic," Andrews said of Einstein Call Coaching. "It's cut down a ton of time for sales managers finding those calls."