Fotolia
Salesforce High Velocity Sales boosts inside sales
High Velocity Sales includes Salesforce tools, such as Einstein Lead Scoring, Lightning Email, Sales Cadences and Work Queues, with more features expected in later 2019 releases.
Salesforce is heavily promoting High Velocity Sales, a product in Sales Cloud that the CRM vendor claims can improve efficiency for inside sales reps and coordinate the efforts of sales reps and managers.
High Velocity Sales, which requires another subscription fee beyond the Sales Cloud license, will be available in the new Sales Cloud update expected next month, according to Salesforce. The vendor unveiled the product in September 2018.
According to the vendor, Salesforce High Velocity Sales unites several existing features in the Salesforce catalog to make it easier for inside sales reps to organize lists of prospects to call, email and follow up.
"Almost 70% of sales reps' time is spent looking up information, closing out tasks and doing anything but selling," said Ray Wang, a tech analyst and founder of Constellation Research. "The goal is to automate how information is delivered to a sales rep -- the more contextually relevant, the more productive they become."
Inside sales importance grows
The way sales reps work continues to evolve. And as technology has advanced, high-velocity sales -- a modern sales technique for which many vendors, in addition to Salesforce, have developed software -- and inside sales teams have grown in importance.
We see a number of players succeed in [inside sales], as they orchestrate the key information and provide the next best action during the sales process.

Ray Wangfounder, Constellation Research
In high-velocity sales, a section of the sales department tries to contact a large list of prospects using different channels, like email, chat or phone, following up based on recommendations from software or what a manager or administrator determines is the next best step.
Now, with AI mature enough to accurately log information for sales reps or help predict who to contact next, high-velocity sales can help inside sales reps produce more efficiently.
"The [inside sales] space is one of the last areas of productivity opportunity and sales team empowerment," Wang said. "We see a number of players succeed in [inside sales], as they orchestrate the key information and provide the next best action during the sales process."
Salesforce isn't alone in trying to market to organizations with inside sales or high-velocity sales operations. Vendors such as Exceed.ai and Outreach also are gaining traction in the space, Wang noted.
According to Salesforce's 2018 "State of Sales" report, the number of inside sales reps around the world has increased by 7% since 2015, and sales reps are spending significantly more time in front of a screen. Inside sales reps have a different focus than field sales reps, who concentrate on a smaller set of prospects and often use a more personal touch when dealing with leads.
Inside sales reps, however, work through lists of potential leads and prospects -- emailing or calling them, and then logging that information and following up often more than once. To achieve that, it's easier for inside sales reps to have a script or set of cadences on what action to take next, and that's what Salesforce High Velocity Sales looks to provide.
"When you programmatically approach leads, you make it more likely to close the lead," Kamilla Khaydarov, senior manager of product marketing at Salesforce, said in a Dec. 21 webinar about High Velocity Sales developments in 2019. "The core focus for High Velocity Sales is repeatable success."
Salesforce High Velocity Sales includes tools such as Einstein Lead Scoring, Sales Cadences, Work Queues, Lightning Email and -- at extra charge -- Lightning Dialer. Each feature makes the inside sales process more streamlined and efficient for sales reps, Salesforce said.
"Inside sales teams typically use a playbook," Khaydarov said during the webinar, adding that managers or administrators typically outline the sequence of steps for sales reps to take, determined by best practices.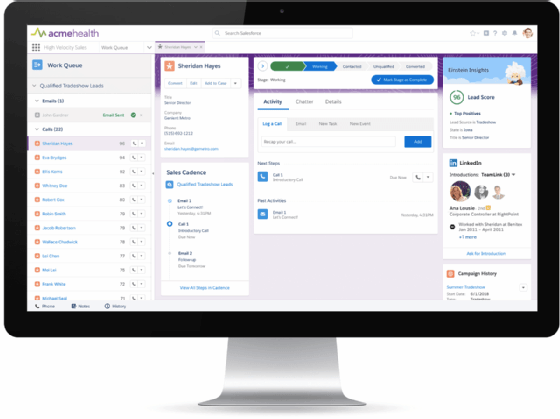 High Velocity Sales roadmap features
And while those features will be available soon, Salesforce High Velocity Sales will add more capabilities throughout 2019, according to the Salesforce.
Among those roadmap features are real-time alerts that notify sales reps once emails are read or leads assigned, as well as custom grouping and sorting. Meanwhile, Lightning Dialer will expand beyond North and South America into Africa, Asia, Europe and the Middle East, while also being integrated into mobile, according to Salesforce.
Also, Salesforce said High Velocity Sales will be adding call intelligence, which tells sales reps to call leads at the times they're most likely to answer.
To be able to use all the Salesforce High Velocity Sales features, an organization will need to license Sales Cloud, High Velocity Sales and Lightning Dialer. Salesforce has not yet disclosed pricing for High Velocity Sales.