sommai - Fotolia
New leadership, new features for LinkedIn Sales Navigator
Sales Navigator adds features to create CRM contacts directly from LinkedIn, and content-tracking tools to see who's reading marketing materials salespeople send to customer leads.
LinkedIn Sales Navigator added features for salespeople to create CRM contacts in Salesforce and Microsoft Dynamics 365 directly from a LinkedIn page, as well as to track content salespeople send to prospective customers contemplating deals.
It's the first update to LinkedIn Sales Navigator since former product lead Doug Camplejohn left to run Salesforce's Sales Cloud in late January. He was replaced by Lindsey Edwards, LinkedIn's senior director of product management, sales solutions and enterprise platform, who now heads the product team.
With Sales Navigator, Edwards said, LinkedIn aims to save clicks for front-line salespeople. Enabling salespeople to focus less on administrative tasks and opening time for more selling activity are the goals of Sales Navigator features, as well as keeping data on sales leads up to date.
LinkedIn Sales Navigator also can help identify and locate the people at a salesperson's account who are likely to contribute to or influence a buying decision. And that circle of influence is growing.
"The number of people involved in buying is going up dramatically," Edwards said. "Our data shows that now it's nine people on an account that you should have relationships with and really understand, to close a deal."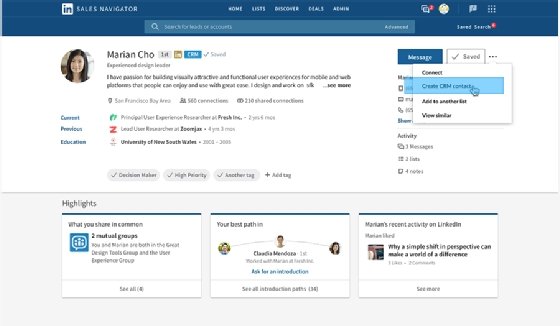 Keeping contacts updated difficult in CRM
Simplifying contact creation for Salesforce and Dynamics CRM records from LinkedIn is crucial, said Forrester analyst Mary Shea. LinkedIn members typically keep their records up to date, but salespeople aren't so good at reflecting those updates in their CRM system.
"The reality is, whether you have Salesforce or Dynamics, most of the data in CRM that's been acquired by salespeople is terrible," Shea said. "It's underreported, and because of the velocity of change in the marketplace you can't keep on top of title changes, people departing the organization, and so on. LinkedIn is much more current."
The number of people involved in buying is going up dramatically. Our data shows that now, it's nine people on an account that you should have relationships with and really understand, to close a deal.

Lindsey EdwardsSenior Director of Product Management, Sales Solutions and Enterprise Platform, LinkedIn
Shea added that the new features bring LinkedIn Sales Navigator closer to cloud vendors that do a better job of keeping CRM data up to date, and others that track content.
The content-tracking tools, called Smart Links, can track when a salesperson's customer opens, shares and spends time with content, which can indicate interest in potential sales. These are typically documents including product sheets, security data, contracts or other marketing content, depending on where in the sales cycle a customer is.
"You're immediately going to receive notification any time a prospect is engaging with your content," Edwards said. "You're getting insight into, 'Is there interest here, or not?' Even if the materials are forwarded around, you'll get that insight."
AI and machine learning are hardwired into LinkedIn Sales Navigator, Edwards said. Sales Navigator has its own dedicated AI team that optimizes workflows and experiences, and provides input as the team shapes new features.
LinkedIn's leadership carousel
Camplejohn's departure happened in late January during an executive exodus that included CEO Jeff Weiner, who announced in a LinkedIn blog post last week that he will step down June 1. Weiner has spent 11 years at the LinkedIn helm, guiding the company through its $26.2 billion acquisition by Microsoft in 2016. He will be replaced by current senior vice president Ryan Roslansky, Weiner's first hire when he joined the company in 2008.
LinkedIn Sales Navigator has many more customers on Salesforce than on other CRM systems. Having a LinkedIn veteran such as Camplejohn inside Salesforce's sales platform could eventually work out to be an advantage, Edwards acknowledged. In the end, though, the Sales Navigator team strives to be CRM-agnostic and make it compatible with all. In this current release, contact creation features were rolled out first to Salesforce users, with Dynamics users quickly following.
In the years since Microsoft acquired LinkedIn, Sales Navigator has evolved from an expensive subscription used by new-business "hunters" and executives to a more affordable tool that front-line salespeople -- "farmers," managing day-to-day customer relationships, cross-selling and upselling -- can also use, either on their own or through enterprise licenses.
In general, sales data, training and supporting content tools prove to boost sales revenue in the long run for Forrester customers who use them, Shea said. Recent LinkedIn Sales Navigator features focus on expanding its usefulness to the farmers and now covers a lot more of the entire sales organization. That said, she sees LinkedIn innovating more slowly than other sales-oriented cloud vendors.
"LinkedIn has struggled with trying to figure out what they want to be when they grow up," Shea said, adding that LinkedIn Sales Navigator could potentially take over the online environment of sales work. While salespeople use tools like CRM, email and sales enablement tools daily, they use LinkedIn more.
"It's interesting to me that Microsoft hasn't jumped in and figured out ways to transform LinkedIn," Shea said. "As a seller, that's where you spend a ton of time, so LinkedIn has a unique opportunity to be the sales platform or cockpit, every single day, and have all these other systems work in the background."