ltstudiooo - Fotolia
Increases expected from new Microsoft Dynamics 365 pricing
Microsoft's move to a la carte pricing for Dynamics 365 could lead to higher costs for some customers. The new pricing plan takes effect Oct. 1.
Upcoming changes to Microsoft Dynamics 365 pricing will lead to lower licensing fees for some users while possibly raising the cost of the cloud-based business applications platform for organizations with 100-plus seats.
Microsoft described the changes, scheduled to take effect Oct. 1, in a blog post this week. The company gave partners advance notice of the new pricing scheme at last week's Inspire conference in Las Vegas.
Midsize and larger organizations that use more than one application could face significant increases, because of Microsoft's decision to unbundle Dynamics 365 apps and sell them a la carte. Currently, the cloud apps come priced as bundles, with many companies on a Customer Engagement Plan at $115 per user/month. The plan includes five core applications -- Sales, Customer Service, Field Service, Project Service Automation and Marketing.
The new individual pricing would cost $95 per user/month for one app, with $20 "attach licenses" for additional apps. Alysa Taylor, corporate vice president for business applications at Microsoft, said in the blog post that customers preferred having the option of adding or removing applications as their companies grew and changed over time.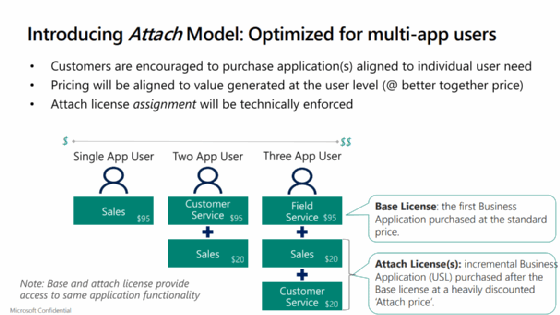 But users of Dynamics 365 CRM software would likely pay more for that convenience, Dolores Ianni, an analyst at Gartner, said. Those customers typically employ multiple applications in the Customer Engagement Plan.
I feel that a majority of renewing customers are going to be substantially impacted by this change.

Dolores IanniAnalyst, Gartner
"If you're using four applications and you had a thousand users, well, your price went up 158% -- it varies wildly," Ianni said. "I feel that a majority of renewing customers are going to be substantially impacted by this change."
Microsoft claims 80% of its customers are using only one application, but anecdotal evidence indicates otherwise. Conversations with Microsoft customers -- and a review of their contracts -- show that the largest enterprises with 1,000 or more users could pay substantially more in some cases, Ianni said. Organizations with 100 or more users could also pay more, even if they're using only one application. Companies with more than one application would get hit harder.
Microsoft could offer its largest customers promotional deals that would mitigate the price hike, Ianni said. The company often provides such breaks when changing pricing.
Readiness tips for Dynamics 365 pricing changes
Organizations should prepare for the new pricing structures by analyzing which employees use which applications today. Businesses can sometimes find ways to cut costs after getting a complete understanding of how workers are using the software.
"They're going to have to do their homework to a much greater degree than they did in the past," Ianni said.