phonlamaiphoto - stock.adobe.com
How does AI in sales improve staff performance?
AI can assist in many aspects of the sales process, including analyzing calls, making employees more productive and retaining talented representatives.
Businesses use AI to make improvements in many areas. But foremost is the effect on human performance, and sales and marketing are strong arenas for its performance-boosting potential.
Sales teams that use AI receive an on-average improvement in leads of more than 50% and reduce call times by up to 70%, according to a McKinsey & Company study for the book Sales Growth. And, by the end of 2020, 30% of all B2B companies will be using AI in at least one of their sales processes, according to Gartner research.
Here are some areas where AI in sales can improve productivity.
Sales call analysis
One area in which AI can aid sales teams is the analysis of sales calls. AI is able to convert verbal exchanges between salespeople and prospects to text via natural language processing (NLP) and analyze it for effectiveness using machine learning, resulting in more effective dialogue for sales agents. Moreover, AI can extract salient facts from such exchanges -- such as what prospects asked for and what agents promised -- trimming the time required to prepare proposals.
Time-saving measure
Digital assistants can also be an effective sales aid, saving sales agents time and freeing them up for more important tasks. A capability of digital assistants is the ability for field agents to enter information directly into the enterprise CRM system via phone or tablet by speaking, using NLP -- saving hours of time for agents on the road. A digital sales assistant can also optimally plan the route for daily calls, surface unanticipated prospects in particular areas and recommend cross-selling opportunities based on prospect profile.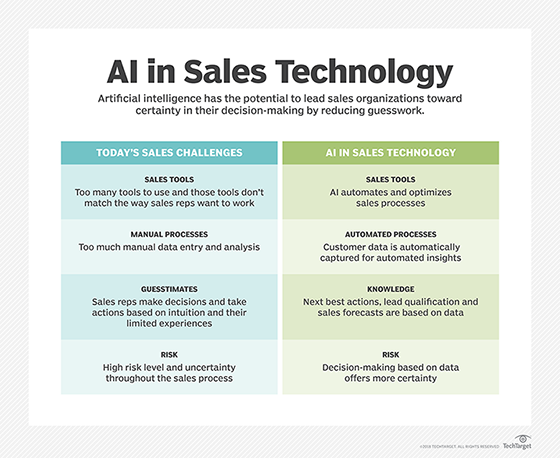 AI helps to make sales agents more efficient. Salespeople typically spend two-thirds of their time completing tasks other than selling, according to the Korn Ferry Sales Force Effectiveness 2018-2019 Survey. AI can free up more selling time by automating client research, prioritizing leads in the pipeline and optimizing the setting of quotas. Data-driven sales performance management can make use of field metrics -- which a digital assistant can gather -- to train salespeople to correctly size deals and offer the most effective discounts and contract terms, as well as to reduce lead times.
Retaining employees
Finally, salespeople offer more success markers and outcomes detail -- annual sales volume, number of leads and closings, and client loyalty -- than most other enterprise employees. Businesses can use machine learning to retain the best and most effective ones via tailored personalized incentives -- such as bonuses, recognition or a company car -- and simulation and modeling to more accurately determine optimal compensation.
Dig Deeper on Marketing and sales
A well-rounded CX team is essential for meeting and exceeding customer expectations when engaging with a company. Continue Reading
The customer success manager is an essential CX role that takes a proactive approach to ensuring customer loyalty and retention when the sales ... Continue Reading
Customer data and behavior analytics from tools like Google Analytics can give content managers insight into the kind of content site visitors want. Continue Reading