AI in sales can make smart lead recommendations
For one B2B sales tech company, a self-service AI startup founded by a former Google employee helps create lead recommendations using machine learning.
For Chris Beall, CEO of ConnectAndSell, it was ease of use and the power of machine learning that sold him on Node.
Node, a startup founded by former Google employee Falon Fatemi, sells an AI-as-a-service platform designed to augment sales, marketing and human resources teams with machine learning-powered customer predictions and lead recommendations.
The AI platform added intelligent features to ConnectAndSell, enabling it to connect with better sales leads and potential customers.
AI in sales
ConnectAndSell, as the name suggests, sells a service and technology platform that enables phone salespeople to more quickly, and more often, connect with decision-makers at prospective companies.
"We enable salespeople ... to have a conversation with somebody on the phone in about four minutes. It's like calling an Uber," Beall said.
The sales technology vendor turned to Node about three years ago, back when Node, founded in 2015, had only recently launched its platform. Before Node, Fatemi worked at startup Firespotter Labs, YouTube and Google, where she started at age 19 and worked in a variety of departments, including AdWords/AdSense online sales.
ConnectAndSell had scouted several AI and machine learning platforms before choosing Node, which billed itself as an easy-to-use, self-service AI platform. The Node platform, with a few APIs, plugged into ConnectAndSell's data, enabling the company to build models on it, Beall said. He added that it took ConnectAndSell's development team only about a day to set up.
Once connected to a user's data, Node can help the user predict and identify leads that are likely to become customers, which customers may churn, and which taken may leave, all without the need for the user to do any feature engineering.
For predicting customer churn, for example, Node may look at the support tickets customers have filed, their engagement behaviors, as well as other factors, Fatemi said.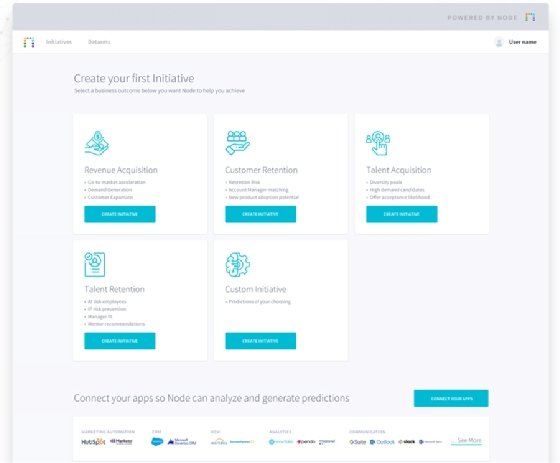 Automated recommendations
ConnectAndSell initially used Node to make lead recommendations based on past leads salespeople have successfully done business with. The platform ingests at least 100 lead characteristics, then runs machine learning over them to make recommendations, Beall said.
"Node searches the world of business to business and brings back things that are relevant," Beall said.
That early version of Node worked but was more rules-based than the current iteration, Beall said. This required ConnectAndSell to fine-tune their models more frequently, rather than the system intuiting things on its own.
Node searches the world of business to business and brings back things that are relevant.

Chris BeallCEO, ConnectAndSell
The platform also, then and now, gives false positives in its recommendations. It gives reasonable results, Beall said, but often includes a little too much information.
Still, he said, Node's ability to quickly ingest new data, the simplicity of building machine learning models on it, and its ability to surface useful sales information has kept ConnectAndSell with the vendor.
Since its first application of Node, ConnectAndSell has expanded its use of the AI for sales platform. Now, it uses Node to make recommendations based on companies it has had meetings with, using it to develop additional calling lists.
"We have two Node models that we keep fresh. We routinely update it," he said.
Node, now, other than requiring some human parsing through some false positives and keeping data and APIs up to date, generally works autonomously. For ConnectAndSell, that's a major plus.
"There are a lot of platforms out there that would claim they would score leads," but many have long setup times or difficult controls, Beall said.
"They seemed to need a lot of human intervention," he added.