phonlamaiphoto - stock.adobe.com
AI sales technology trends for 2019 and beyond
AI automation tools for sales technology have the potential to lead sales teams toward certainty in their decision-making, grow pipelines and reduce risks.
No one with any experience in enterprise IT would suggest that technology itself can boost the bottom line. Emerging...
Continue Reading This Article
Enjoy this article as well as all of our content, including E-Guides, news, tips and more.
AI sales technology, however, can provide a shortcut to success by delivering more leads and making more reliable predictions than sales reps can on their own.
Today's sales teams rely on numerous tools to fill out the entire sales value chain, with large organizations reporting the use of 60 or more sales technologies, said Tad Travis, Gartner research director, in an October 2018 panel webinar in which analysts discussed emerging trends in sales technology.
Sales force automation (SFA) handles the basics of sales execution programs, like managing accounts, deals, forecasts, sales activity recording and lead management. Then, there are components that integrate with those, such as configure, price, quote tools, master data management, marketing automation and partner relationship management tools. Even with all of the integrated sales technology platforms, there are gaps: Companies complain that their sales tools don't match the way they want to work; there are too many manual processes, such as data entry; and too much of the sales process involves guessing or gut instinct. Taken together, all of that elevates the risk of failure, Travis explained in the webinar.
AI in sales comes into play here by filling the gaps and better optimizing how sales teams operate. AI in process automation can reduce manual data entry, create predictive insights for data-driven decisions, provide reliable lead scoring and facilitate deal forecasting. It can also prescribe next best actions, help with revenue planning and resource optimization.
These pie-in-the-sky expectations for AI are, of course, the ideal outcomes, and AI has a ways to go to reach maturity. But the potential is great, and it's high time that companies work out a sales technology strategy with AI in sales. All in all, AI has the potential to lead sales organizations toward certainty in their decision-making to reduce risks, Travis said. By 2020, Gartner predicted that 30% of all B2B companies will use AI to augment at least one of their primary sales processes.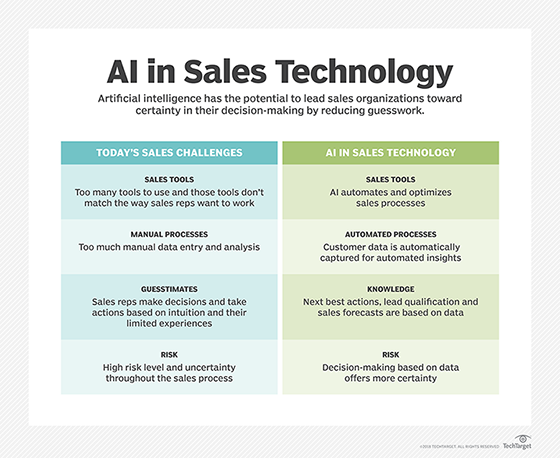 SFA and lead management
SFA via CRM platforms is the foundational sales technology used by companies, and that won't change any time soon. But IT buyers who want to improve sales execution also need to ensure their processes outside CRM are efficient and effective. That's where, Travis said, the following automation tools come in:
Pipeline inspection tools are getting better at identifying changes in revenue on individual deals to help managers track how pipelines change in specific stages and to help forecast pipeline revenue.
Predictive forecasting tools build baselines of how deals are trending and provide recommendations based on the health of that deal.
Predictive next-best action tools surface dyamic recommendations to sellers based on the context of the deals.
Virtual assistants or sales bots enable salespeople to speak the details of a meeting for transciption into data that can be acted upon.
A very important pillar of lead management that is often overlooked is dealing with existing customers and keeping them happy as well.

Ilona HansenSenior director, Gartner
In lead management, companies seek technologies that support simple workflows, lead qualification, customer engagement and customer journey mapping. They also have to ensure existing customers are nurtured long after the sale, said Ilona Hansen, Gartner senior director of CRM-sales and PRM technologies.
"A very important pillar of lead management that is often overlooked is dealing with existing customers and keeping them happy as well," Hansen said in the webinar. "You have to make sure your customers haven't been ignored after they have placed their order, but also make sure they have been informed of latest and greatest promotions, new products you have launched and changes to product availability which might be relevant."
To support those needs, lead management technologies must include:
real-time analytics
multichannel availability
predictive lead scoring
sales acceleration tools
Sales performance management and sales enablement
Sales performance management -- the combination of incentive compensation, territory and quota management -- is all about giving reps the right incentives to drive sales. The core reason these tools are being purchased is to manage the incentive compensation problem, said Melissa Hilbert, Gartner research director. Technology trends around the optimization of processes, compensation plans and business processes within the whole sales performance management space are emerging, she said.
"We are seeing the ability to think ahead -- past incentive compensation -- to plan things. How do I plan for better territory structures, better quotas for a more accurate sales forecasts to deliver the numbers we say we are going to deliver to the organization? And how do we tweak the sales compensation plans themselves to make sure the numbers we expect to hit are the numbers we are going to hit?" Hilbert said.
Sales technology advancements that enable companies to manage all of those factors in concert come from machine learning, as well as predictive and prescriptive analytics. These AI tools use the data in corporate systems to see anomalies and identify risks that the human eye wouldn't otherwise find in a huge volume of data, Hilbert said in the Gartner webinar.
"In regard to territory and quota planning, if you don't get those things right, it doesn't matter how well you execute against your compensation plan -- you'll never make your number," Hilbert said. "These things working in concert with each other allow you to optimize your territory structure based on all the data you have."
The category of sales enablement is also growing in prominence, with AI-based behavioral data intelligence tools that can be used to inform sales teams on what's going on with their accounts.
Sales technology platforms with SFA, lead management, performance management and other capabilities listed above are available from a number of vendors, each with their own strengths and weaknesses. Vendors range from well-known CRM providers to new players focused on specific areas. These vendors include Aptean, Base, Bpm'online, CRMnext, Infor, Insightly, Microsoft, Oracle, Pegasystems, PipelineDeals, Salesforce, SAP, SugarCRM, Zoho and others.