Getty Images/iStockphoto
Oracle releases major Fusion Sales CRM update, facelift
Oracle Fusion Sales users get a new UX and new features, including microsites called 'digital sales rooms,' which parallel Microsoft and Salesforce sales collaboration features.
Users of Oracle Fusion Sales, its CRM and sales automation suite, can start migrating their system into a new interface, launched on Tuesday.
The new UX, based on Oracle's Redwood, also comes with a long list of new features, including: AI-driven content recommendations; onboarding tools for new salespeople; "guided processes" that steer salespeople to close deals faster; the capacity for users to set up automated quotes and proposals; and digital sales rooms -- microsites where a sales team can interact with individual customers.
Many technology vendors, including Salesforce and Microsoft, are working on digital workspaces where sales teams can converse with their customers. In the B2B world, that typically comprises a buying team, and not just an individual.
Oracle's digital sales rooms feature doesn't exactly mirror the similarly named "deal rooms" in Microsoft Viva Sales and Salesforce's Slack digital sales tools. They foster similar collaboration, but each vendor comes at it from a different technology perspective, said Paul Greenberg, managing principal of The 56 Group. Microsoft Viva Sales digital deal rooms align employee experience with sales, he said; the Salesforce and Slack deal rooms align marketing and sales.
"Oracle's might be the strongest of the three, but each of them has their own value," Greenberg said. "Each of them has different strengths. They're not designed to be shots across the bow of [competitors]. Each of them is designed to have a capability that their customers need -- or they ascertain that their customers need, whether they've seen it or not."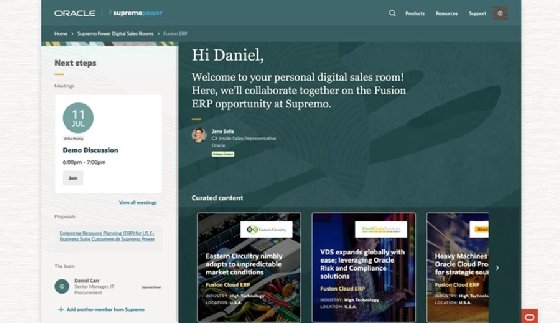 UX the driving force
Decluttering the interface is a key to making Fusion Sales more usable, especially for companies supporting remote salespeople, said Katrina Gosek, Oracle vice president of CX product strategy and marketing. Tools that onboard new employees and show them which opportunities to focus on -- guided by data-driven AI -- also can help distributed sales teams succeed.
"If you've looked at CRM screens recently, it's just fields and fields, and links and buttons -- over the years, to try to get salespeople more and more information, we add more forms, more fields, more buttons, more things for them to do with," Gosek said. "We've taken the opposite approach, to get sellers to try to actually use their CRM, make it more useful, and put them on a predictable path to deal closure."
Greenberg praised the Fusion Sales Redwood interface, but more than that the back-end integration with Fusion Marketing, also updated earlier this year. The automations in both applications will connect users' sales and marketing efforts at levels few can do today.
"What Oracle did with Fusion marketing was align the sales process with the marketing process," Greenberg said. "They put in not just the triggers, alerts, permissions that were necessary, but also the processes that would allow for the creation, conversations around the creation and distribution of content by both."
Don Fluckinger covers enterprise content management, CRM, marketing automation, e-commerce, customer service and enabling technologies for TechTarget.