daviles - stock.adobe.com
As stores reopen, e-commerce is king in luxury retail
Brick-and-mortar stores are reopening, but that doesn't mean retailers should lessen focus on online experiences. Olivela, a luxury retail company, strategizes for beyond COVID-19.
Shopping at a brick-and-mortar store is an experience peppered with personal touches, especially for luxury retail customers.
Those customers are eager to begin shopping in person again as states across the U.S. begin to reopen brick-and-mortar stores. Retail brands, however, shouldn't lose focus on e-commerce to bridge the divide between in-store and online experiences.
"As a customer in the luxury retail space, you probably visit stores where the sales associates know who you are, who call you by name and know your style," said Matthew Alland, chief experience officer at Olivela, a luxury retailer. "In the absence of that, we're trying to fill it virtually and digitally."
Offline shopping will never go away, but retail brands must also recreate the personal touches that are inherent in brick-and-mortar stores in their e-commerce strategies.
The importance of offline and online retail strategies
Olivela -- which donates 20% of its proceeds to a charity of the customer's choice -- invested heavily in personalizing customer experiences for its brick-and mortar location in Nantucket, Mass.
When Olivela customers are browsing, they see a table with a variety of products that are embedded with unique sensors. When customers pick up a product, a projector within the table displays a video with the product's designer discussing why they partnered with Olivela and what the product's proceeds will go toward. After customers swipe a credit card, the projection shows a thank you message with their name and information about what their donation will cover.
Coronavirus has forced us to innovate earlier, stronger and more proactively.

Matthew AllandChief experience officer, Olivela
As customers turn more to e-commerce, however, retailers should complement a great in-store experience with an equivalent online experience to increase customer loyalty, said Bobby Marhamat, CEO of Raydiant, a digital signage company in San Francisco.
"It's important for brands to be available for their customers, whenever and wherever they are and however they want to interact," Marhamat said.
Olivela has also created interactive online experiences for its customers.
"Coronavirus has forced us to innovate earlier, stronger and more proactively," said Matthew Alland, chief experience officer at Olivela.
During the pandemic, Olivela's experience team implemented what it calls the Olivela IRL program, which focuses heavily on personalizing virtual interactions. The company conducts two to three virtual events per week, such as an Instagram Live series that features Q&A sessions with designers that Olivela works with. The retailer also offers one-on-one beauty appointments via Zoom or FaceTime, during which customers can discuss their specific skin problems with a beauty consultant.
As brick-and-mortar stores reopen, the brand plans to continue these virtual interactions, Alland said.
To comply with state and federal regulations, the company is also implementing technologies such as Shopify's contactless payments, curbside pickup and home delivery options at its brick-and-mortar location in Nantucket, Mass.
At the start of the pandemic, 21% of retailers began to offer curbside pickup, and 31% offered delivery, according to a study by Raydiant. Most of those services will continue even as stores reopen, according to the study. Those types of services are convenient for customers, but they add challenges for retailers that strive to deliver customized customer experiences in person.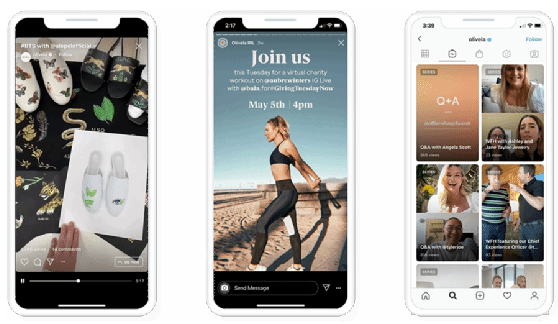 Retailers that invested in online experiences are more likely to be successful beyond COVID-19 because they created another avenue for their customers to interact with them, Marhamat said.
"A major lesson that has come out of COVID-19 is that customers want to interact with brands in different ways," he said. "The brands that realize that and give their customers choice will be the brands that end up winning."
Personalization, customer data become vital
Personalization has become a vital approach to attracting customers during COVID-19 -- especially for a luxury retail e-commerce brand like Olivela.
The company uses Ometria, a customer data platform, and Nosto, an e-commerce personalization platform, to personalize emails to customers -- tools that have become more crucial during COVID-19.
"How many emails are we all getting in our inboxes every day?" Alland said. "If I'm getting an email that's going to 100,000 people that are all seeing the same content, I'm most likely going to delete it. I want to see the products that you know I care about."
To provide relevant offers and recommendations, brands must have deep analytical data on their customers.
"We are trying to serve up the most relevant data as possible," Alland said. "That was always on the roadmap, but it's become much more important for us to be personalizing online experiences for our customers right now."