Rawpixel - Fotolia
Acquia Drupal, Marketing Cloud get feature boosts
Acquia users get Drupal migration tools and marketing automation features built with technology from recent acquisitions as the company expands its digital experience platform.
Pieces of Acquia's recent acquisitions have been integrated into the company's growing digital experience platform and Marketing Cloud, along with developer-centric tools for Acquia Drupal, its open source web content management cloud.
On the Drupal side, Acquia Migrate makes the transition from Drupal 7 to Drupal 9 easier, as many users skip version 8. Acquia Cloud IDE offers cloud testing sandboxes for Drupal site developers, and a new Acquia CMS hosts users' content for Drupal site deployment.
For non-developers who need to quickly build Acquia Drupal sites, there's Site Studio Page Builder. Acquia assembled this low-code tool out of technology acquired from Cohesion last year. Acquia founder and CTO Dries Buytaert said large customers have asked for such tools. They need to spin up complex sites to enable personalized marketing and e-commerce, especially this year with digital sales hitting all-time highs.
"Our customers have to do more and more with the same resources -- or even less in a pandemic," Buytaert said. "Budgets are being cut. A lot of our customers are in this interesting situation where they have more and more websites to manage, and customer experiences are moving to digital. Ten years ago, they might have had one website and it was static; today, they have dozens, and they're all super-dynamic."
Acquia Marketing Cloud, built from the acquisition of Mautic as well as the AgilOne customer data platform (CDP), now offers more features including Unified User Profiles, which resolves customer identities and aggregates customer data into one golden record; Universal Segments and 360-degree Marketing Analytics, which builds customer marketing segments and applies campaign analytics to them; and Predictive Sends Model for timing email campaigns.
Also new to Acquia Marketing Cloud is COVID-19 Dashboard, which monitors customer preferences as businesses reopen and analyzes data to spot revenue growth opportunities.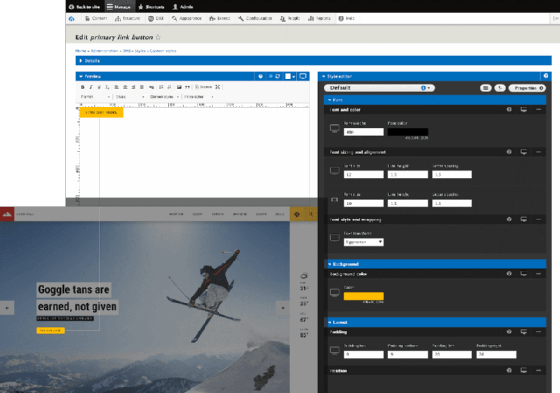 Acquia annexes CX territory
Taken together, the marketing features, low-code site builder and especially the Acquia Drupal migration features likely reflect the hand of Vista Equity Partners, which acquired a majority stake in Acquia last year for $1 billion, said Alan Pelz-Sharpe, founder of Deep Analysis. Drupal, known as a developer's platform, needed to be easier to implement to broaden its customer base. The marketing automation moves reflect another growth strategy to expand Acquia's audience beyond Drupal developers.
That doesn't necessarily elevate Acquia to the same league of competition as much larger vendors such as Adobe and Oracle, which also produce marketing automation tools and CDPs. But Acquia can compete for some of their customers, Pelz-Sharpe said.
"Acquia is not trying to unseat them; they'll never unseat them," Pelz-Sharpe said. "But what they want to be is the credible third option, and I think they've done way better than anyone thought they would."
It's not about a website, an email marketing platform or a business communication platform. It's all about customer experience. You can't look at these things in isolation anymore.

Dries BuytaertFounder and CTO, Acquia
Enterprise technology buyers might be forgiven for not keeping up with the dizzying pace of CDP introductions this year from the likes of Microsoft, Oracle and Salesforce as well as mergers and acquisitions such as Twilio's acquisition of Segment last week. Twilio and Acquia aren't necessarily going head-to-head now, Buytaert said, but the market convergence of customer experience platforms will likely change that.
"The worlds are converging where multiple large categories [of technology vendors] are on a collision course," Buytaert said. "It's not about a website, an email marketing platform or a business communication platform. It's all about customer experience. You can't look at these things in isolation anymore."
Acquia Cloud IDE, Unified User Profiles, Universal Segments, Predictive Sends Models and the COVID-19 Dashboard are generally available. Acquia Migrate, Site Studio Page Builder and CMS are in beta, as well as 360-degree Marketing Analytics. The releases came in conjunction with this year's virtual edition of Acquia's annual Engage user conference.
Dig Deeper on Content management software and services