chris - Fotolia
Acquia releases Drupal 9 migration tools
Many Drupal users didn't migrate from versions 7 to 8. Now that 9 is out in beta, Acquia offers a sandbox and assessment tools to move Drupal users into the more secure version 9.
To get customers up to speed on Drupal 9, the latest version of the open source web content management and digital experience platform, Acquia released a set of compatible services today, as well as sandboxes and a migration tool for Drupal users.
Acquia services ready for Drupal 9 include Acquia Cloud, its hosting platform; Acquia Remote Integrated Development Environments, sandboxes that give developers a means to test the new version away from their own Drupal instances; Acquia Cohesion, a low-code site development platform; and a customer success program run by Drupal experts to ease migration issues.
Drupal 9, released last month in beta, is planned for release in June. It doesn't include a lot of new features, said Alan Pelz-Sharpe, founder of Deep Analysis. But it advances content security for the platform, a needed upgrade as it keeps current with new methods and channels for presenting digital experiences.
Only about half of Acquia users have migrated to Drupal 8 since its 2015 release, in part because it featured a significant change in data architecture, said Charley Dublin, vice president of product management at Acquia. The company hopes its new tools will make it easier to migrate to Drupal 9 from both versions 7 and 8.
They've really taken migration seriously this time, recognizing that if they don't, people aren't going to do it. That's been the challenge in the past.

Alan Pelz-SharpeFounder, Deep Analysis
"They've really taken migration seriously this time, recognizing that if they don't, people aren't going to do it," Pelz-Sharpe said about Acquia. "That's been the challenge in the past."
Acquia also released for all Drupal users -- regardless of whether they're Acquia customers or not -- the Drupal 9 Deprecation Status dashboard. The tool shows what parts of a Drupal user's instance, such as APIs, will migrate to Drupal 9, and what parts will need new code. That said, because migrations to Drupal 9 aren't technically straightforward, Acquia also extended Drupal 7 support for customers until the end of 2024, giving it three more years than previously planned.
Acquia courts enterprises while sticking to Drupal
Acquia and Drupal are intertwined, as Drupal creator Dries Buytaert also founded Acquia, which provides commercial services for Drupal users. Complicating things further was Vista Equity Partners' billion-dollar acquisition of Acquia last fall.
Acquia remains the biggest contributor to Drupal 9, and Buytaert serves as both Acquia CTO and head of the Drupal open source community. Pelz-Sharpe predicted that Acquia's new owners will see the value of the company's contributions to the open source project as good business, and will focus on extending its compatibility with other cloud tools in Vista's portfolio, including analytics, AI and marketing tools. He said he also predicts an investment in marketing.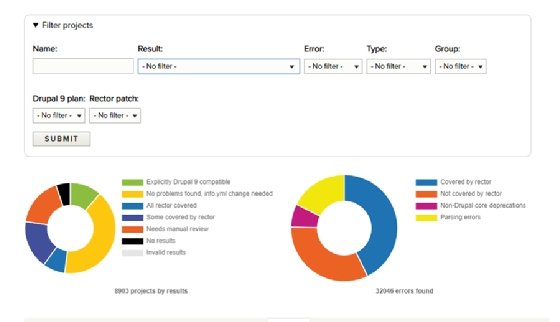 "They've really got to take Acquia forward and position it against Adobe," Pelz-Sharpe said. "I don't think Acquia's marketing over the years has been bad, but considering the size of the company, it simply doesn't have visibility that Adobe has."
Another way to court new customers lies in Cohesion, the low-code Drupal site-development platform. Acquia acquired the tool last September to make it easier for first-timers to launch Drupal sites without developers, a process known to be difficult.
Dublin said Cohesion is aimed at enterprise customers.
"We don't want to be a Wix or a Squarespace," Dublin said, referring to two popular consumer and small-business site-building and hosting companies. "But the simple fact is, large enterprises want an easier and lower-cost way to bring sites to market, especially more basic sites."