alex_aldo - Fotolia
New Acquia Drupal tools show open source loyalty post-Vista deal
Acquia, recently acquired by Vista Equity Partners, remains committed to Drupal and moves deeper into the CX space with tools for e-commerce and marketing automation.
NEW ORLEANS -- Web content management vendor Acquia Inc. delivered new marketing automation and content personalization platforms for the open-source Drupal faithful and for commercial customers.
In late September, venture capital firm Vista Equity Partners acquired a majority stake in Acquia, but commitment to Acquia Drupal open source content management applications remain steady, according to Acquia CMO Lynne Capozzi.
"Open source is part of our DNA -- it's extremely important to us, and it has a footprint in our future as well," said Capozzi. The company's CTO Dries Buytaert wrote the first version of Drupal in college and later gave it to an open source community en route to forming Acquia. "A lot of customers will only use open source products; it's not that unusual anymore."
Acquia needs to remain heavily involved in Drupal, even though the investment of engineering resources might not show up as bottom-line revenue for Acquia's new owners, said Geoffrey Bock, analyst and principal for Bock and Company, an IT advisory firm in Newton, Mass.
"Open source is hot; it's important to Acquia, moving forward," Bock said. He added that Vista is likely positioning Acquia to be acquired by a larger customer experience (CX) software player. Vista groomed the Marketo marketing automation platform to eventually be acquired by Adobe, pocketing $3 billion in profit, the highest in the company's 18-year history for a single deal.
At the same time, Acquia, which runs Drupal instances for commercial customers, continues to court marketers in charge of CX programs. Last May, Acquia bought Mautic, a marketing automation platform built on open source. The company will show new features and integrations here at its Engage user conference.
Open source is part of our DNA.

Lynne CapozziCMO, Acquia
Since the Acquia acquisition of Mautic, Capozzi said, the company has integrated it with Acquia Lift, its content personalization engine for marketers to manage their digital marketing campaigns. Together, they comprise the new Acquia Marketing Cloud, and compete against Salesforce Marketing Cloud and Adobe's Marketo.
Also highlighted at Acquia Engage are new features of the Acquia Drupal Cloud, including Cloud Platform CDN, a content delivery network, as well as a low-code Drupal site builder from Cohesion, another Acquia acquisition earlier this fall. The site builder helps less technical users to get started with Drupal, which isn't always a straightforward process, Bock said.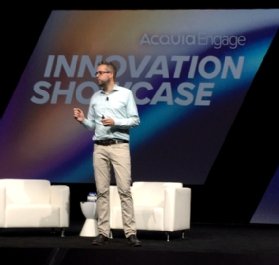 "Drupal has been making a lot of efforts over the last couple years in usability for first-time users," Bock said. "It does have a reputation for being difficult to get up and running."
The company also previewed a partnership with New Relic, a Drupal performance monitoring service, due early next year. For its Content Cloud customers, Acquia showed a new Content as a Service (CaaS) offering at Engage. Currently in early preview, the CaaS tool enables publishing the same piece of content to many channels at once.
Dig Deeper on Content management software and services