kentoh - Fotolia
Acquia digital experience platform adds CX-friendly tools
After two years of transition, Acquia users get a first glance at how all of its recent acquisitions and product introductions align to build digital experiences.
Acquia users now can see how a flurry of acquisitions and transition from web content management to digital experience all fit together in the Acquia Experience Platform, which was unveiled today.
The Acquia Experience Platform comprises the Acquia CMS, Cloud IDE developer sandbox, its cloud platform and Site Studio, a low-code Drupal website builder built from Cohesion, acquired in 2019. These services fall under Acquia's Drupal Cloud. Acquia's customer data platform, personalization tools and marketing campaign tools fall under the Acquia Marketing Cloud.
Together, the Drupal Cloud and Marketing Cloud make up the Acquia Open DXP, or digital experience platform.
The Site Studio tools have often been cited as Acquia's means to enable new marketer and business users of Drupal, long known as a developer-grade tool, to quickly spin up Drupal sites and pages. Site Studio now ships with more than 70 prebuilt templates of the most commonly used site components on Acquia to move content to live pages -- and to migrate between sites -- in a WYSIWYG drag-and-drop fashion without involving developers.
"Site Studio is a differentiating capability," Gartner analyst Irina Guseva said. "Since the inception of [web content management] as a market, the struggle around how time-consuming and cumbersome the templating process is has always been part of the picture."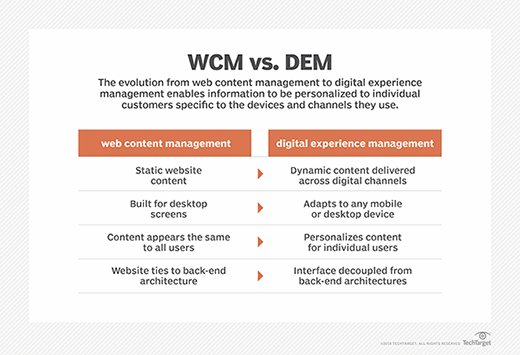 Drupal cloud remade
Hosting a Drupal customer experience platform required Acquia to make a whole new Drupal Cloud architecture in anticipation of customer needs for growth, said Kevin Cochrane, senior vice president of product marketing at Acquia. That three-year process included Kubernetes-native architecture and autonomous, elastic autoscaling based on predicted increases in site traffic.
Acquia now has its first hundred customers using the reengineered Drupal Cloud in beta, hosted on Amazon, Cochrane said. One sure test of the scaling architecture will come this summer when NBC video streams its Olympic Games broadcasts on the Drupal Cloud to an anticipated hundreds of millions -- or, potentially billions -- of viewers internationally.
"If you're worried about quintupling your traffic in the next 18 months, and then again 18 months after that, and then again 18 months after that -- you're covered, we don't care," Cochrane said.
Dig Deeper on Customer experience management