kentoh - Fotolia
Acquia launches digital experience platform
Acquia's digital experience cloud aims to create a more marketer-friendly environment in its historically developer-centric platform based on Drupal.
Acquia has released the Acquia Open DXP, a digital experience platform geared to marketers. The platform integrates its foundational Drupal web content management with a customer data platform, marketing automation engine and a low-code site builder, all acquired in 2019.
Acquia Open DXP features Campaign Studio, built from Mautic, the open source marketing automation tool it bought in May 2019. A companion tool, Campaign Factory (formerly Maestro), enables global management of localized campaigns.
Acquia also released a customer data platform (CDP) built from AgilOne, acquired in December, which tracks customer activity across an enterprise's various applications and updates it in a single record.
In combination with Acquia Personalization (formerly Acquia Lift) and Campaign Studio, the digital experience platform taps machine learning to discover customer segments and determine next best actions to drive sales revenue by matching customers' interests and buying patterns with content.
Drupal developers get new tools
On its Drupal side, the Acquia Open DXP unveils features for Drupal developers, including Developer Studio, a cloud-based integrated development environment, said Kevin Cochrane, senior vice president of product marketing at Acquia. Also for developers comes support for site management and content management system (CMS) migration features for the recently released Drupal 9. Moreover, new features developed in partnership with Cloudflare switches on edge security for Drupal sites.
Acknowledging Drupal's reputation as a platform requiring a lot of developer overhead -- Acquia is the commercialized version of the open source content management platform -- Cochrane said the drag-and-drop website builder features were needed to give marketers more control over their content management and site design without involving developers for incremental site changes or rearranging page elements to support a new campaign. Those features, called Site Studio, came from Acquia's acquisition of Cohesion last September.
"Drupal is for the marketers now," Cochrane said. "We've gone beyond the core content and bridged into core data."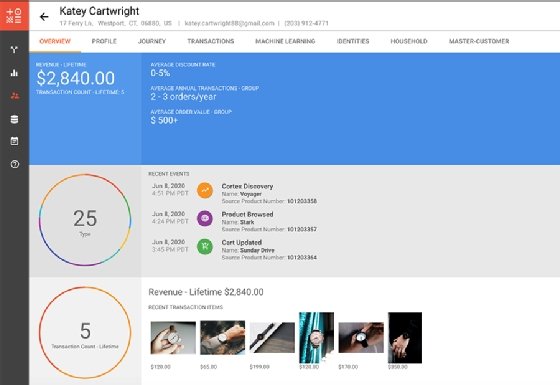 Making Drupal sites more agile
While not developed directly in response to economic changes and increased e-commerce activity since the pandemic earlier this year, users of the Acquia Open DXP will find immediate uses for the new integrations, Cochrane said. Companies that need to expand e-commerce operations or offer new services such as curbside pickup for restaurants and retailers will be able to develop those services quickly by plugging their Drupal websites into the CDP and marketing automation tools.
Acquia, itself acquired by Vista Equity Partners for $1.1 billion last fall, gives prospective customers a new way to start small and grow sophisticated marketing operations, said Irina Guseva, a Gartner analyst. The integrated Acquia digital experience platform will offer marketers an open, flexible choice that wasn't available before.
"They're integrating their product portfolio into a more cohesive offering by bundling CDP, content management, marketing automation and a low-code website builder," Guseva said. "The impact of Vista Equity Partners' ownership is being seen already."
Dig Deeper on Content management software and services