Nightman1965 - Fotolia
Acquia cloud CMS on AWS, Vista cash flow raise user expectations
Acquia's new venture backing and customer experience cloud apps precipitate a need for easier integrations and setup for future releases, customers and partners said.
NEW ORLEANS -- Flush with funding from the recent majority stake investment from Vista Equity Partners, Acquia has newfound resources to integrate marketing automation and personalization tools with its digital experience platform running on AWS.
As Acquia cloud tools expand beyond its established web content management base into marketing automation and the company sharpens its AWS chops, customers expect performance improvements.
Partners said they're looking forward to easier application setup and integration resources.
Earlier this year, the company earned AWS Digital Customer Experience Competency status for Content Management, a certification of its infrastructure optimization.
U.S. securities market auditor FINRA uses Acquia Drupal for its public-facing websites as part of a massive AWS footprint that catalogs seven years' worth of transactions on behalf of the Securities and Exchange Commission.
FINRA is also evaluating the potential for Mautic, the Acquia cloud marketing automation app, said senior director of technology Michael Scheidt. Acquia's ongoing work to make Drupal sites run better in the AWS environment is more important, he said.
"We want Acquia to develop its platform to take advantage of all the amazing innovation that's been happening on the AWS platform," Scheidt said. That can include performance improvement and monitoring, improving databases, application containerization and down the road, serverless versions.
Workfront, an enterprise work management platform encompassing processes such as employee collaboration and project management, uses Acquia cloud tools to host large public-facing sites in five languages.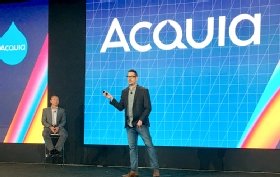 To support coming content initiatives and its mixed-vendor CX stack that includes Salesforce CRM and Marketo marketing automation, Workfront CMO Heidi Melin said Acquia should continue to invest in content accessibility and improving speed of mobile content services.
"I need them to keep up, from a technology standpoint," Melin said. "Because they're part of our stack, and because our own SaaS software is part of the stack, our site has to behave like the most modern out there. People assume there's a connection between the web platform we use for the public website and our own product."
Partners want Acquia cloud services to remain open
Acquia's partners deploying Drupal sites said the company needs to stay the course with its open source, open-data approach, and continue developing microservices and containerization models for its applications.
That's Acquia's major differentiator among its closed-platform competitors, said Doug Ruhl of CI&T, a customer experience firm that maps digital strategy for companies in many verticals including financial, consumer packaged goods and life sciences.
"It's where we see most of our clients wanting to go," Ruhl said. "That may be because we believe in [open systems], but very few of them are looking for a walled garden approach."
Accenture Interactive's open source program lead Jacob Redding echoed those sentiments. Mautic, he said, will find a place among heavy competition if Acquia can solve the problems endemic to all marketing automation platforms: complicated set up and the high number of people required to keep it running.
"There's a huge market out there for digital experience platforms," Redding said. "Getting [the applications] to integrate and creating a really good experience platform -- that's a challenge."
Glenn Hilton, CEO of ImageX, a Drupal agency that sets up media sites for customers, said his clients value the open source structure and community-developed features and capabilities that end up in Acquia applications.
Acquia's Mautic move is a welcome diversification of its application lineup, Hilton said. Now it's the partners' turn to pivot from Acquia cloud web hosting to full digital experience companies.
"Acquia is looking to its partners to also shift," Hilton said, adding that his company is investigating how to add martech into its services mix and diversify its business model. "A decade ago, CMS was the hot topic, but now you go to conferences and you hardly ever hear it. CMS upgrades are a necessary evil, but people are looking for other things to spend their budgets on."
Dig Deeper on Content management software and services