Sergey Nivens - Fotolia
Martech strategy, Agile marketing are trends to follow
As the marketing model changes, businesses can adopt thousands of different marketing technologies to better reach customers and improve customer experience.
Breaking down workplace silos, listening to customer wants and putting them at the center of marketing strategies is key to improving CX.
These were some of the talking points during the MarTech East conference in Boston, where martech strategy, Agile marketing and personalization were common themes.
Here are some sound bites from industry leaders at the event:
"Our driving force to change was disconnected people, processes and technologies."
Yvonne Stacherski, marketing operations manager at Comerica Bank
Approximately 63% of marketers feel they are still working in isolated teams, said Brent Bird, director of integrated marketing programs at Workfront, a collaboration and work management program based in Lehi, Utah, during a breakfast keynote.
To combat this issue, businesses can employ a martech strategy and adopt marketing technology tools such as Workfront to better connect their employees and break down silos, like Comerica Bank did. After employees received Workfront training, Comerica saw an immediate increase in productivity and collaboration, Stacherski said
"Experience is the new economy for transacting."
Ed Breault, chief marketing officer at Aprimo
About 70% of content that businesses create goes unused, Breault said during a session on the ins and outs of content effectiveness. Businesses need to ask why they're creating the content, be engaging and put customers at the center.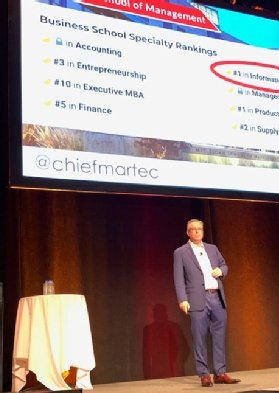 Consumers today expect innovative, personalized experiences when interacting with brands. Coffee shops such as Starbucks employ this experience model. Through the Starbucks mobile app, customers can find nearby locations, place and pay for their order, and pick it up in store without ever having to stand in line.
"We're based on a model that's fundamentally changing."
Scott Brinker, vice president of platform ecosystem at HubSpot and program chairman for the MarTech conference
It used to be that businesses spent an exorbitant amount of time gathering information and evaluating their options before rolling out technology to employees that would be with them for the long haul, Brinker said in the keynote. Now, however, there are thousands of marketing technologies available, with more coming out all the time. Businesses need a martech strategy in place to choose from all the options available and must be able to quickly shift gears to adopt and learn new technology to engage and retain customers.
"Agile is the challenge to change the way we work."
Matt LeMay, co-founder and partner at Sudden Compass
Agile marketing is a hot topic in the marketing industry, but there seems to be much confusion surrounding the term. Many businesses that think they're practicing Agile methodologies may not be doing it at all. Agile is a movement that unites everyone in an organization around the continuous delivery of customer value. If old ways of completing tasks don't benefit the customer, then it's time to think outside the box and put new systems in place.