yoshitaka272 - Fotolia
Acquia, Drupal founder Dries Buytaert on open source, Vista, CDPs
Acquia and Drupal founder Dries Buytaert discusses his company's move into marketing automation, CDPs and what's next after Vista Equity Partners' billion-dollar investment in Acquia.
NEW ORLEANS -- In 2000, Acquia CTO Dries Buytaert created his own web platform, Drupal, which became an open source web content management system. And, in turn, he launched Acquia, which became the commercially supported instance of Drupal.
In an interview during the Acquia Engage user conference here this week, Buytaert discussed Vista Equity Partners' billion-dollar majority stake in the company, the role of Acquia Drupal, marketing automation ambitions and a possible Acquia customer data platform.
Tell me how the Vista deal happened. Were you actively seeking a buyer?
Dries Buytaert: No. We were profitable, we really didn't need more investment. But at the same time, we have an ambitious roadmap and our competitors are well-funded. We were starting to receive a lot of inbound requests from different firms, including Vista. When they come to you, you've got to look at it. It made sense.
How much of Acquia does Vista own; what is 'a majority?'
Buytaert: I don't know the exact number, but it's a majority. Some of our investors got out, some stayed in. AWS, for example, stayed in.
Was CEO Mike Sullivan brought on two years ago to shop Acquia Drupal around for acquisition?
Buytaert: No. It's funny how people read into these things as if it was all planned out. Mike was brought on because Tom Erickson left. I was in on the search for Mike.
Is your Acquia Drupal role changing now, or do you see it changing soon?
Buytaert: I can't really speak for Vista, but in the conversation they were very excited about our momentum, our strategy and the team. My belief is that they will leave all of these things intact, including my role.
Last year at this time, you discussed IBM buying Red Hat and Adobe buying Magento and wondered about the future of their open source versions under new ownership. Now you're in that position with Acquia Drupal.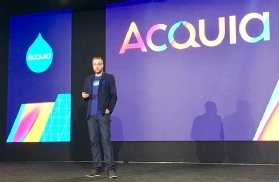 Buytaert: The way I think about it, we've always been majority-owned by investors, and we've swapped out investors. For me, nothing really changed, it's the same strategy, the same beliefs about open source. Just different investors. We'll just keep going, faster and faster.
We surround Drupal with tools and projects and supercharge it. Ultimately, the financials speak for themselves. We are growing the top line and the bottom line -- because the model works. I've been balancing this for 12 years, giving back to open source. It's fascinating to people how we do this but to me, it's so natural it's hard to explain. The reality is that 99% of our customers use Drupal, so our success is completely tied to the success of Drupal.
Why did Acquia buy Mautic and jump into the marketing automation space, where there's much more competition than web content management?
Buytaert: Mautic is the only open source marketing automation platform. Open source disrupted the web content management space, and I don't think there's any commercial, standalone, proprietary CMS that is really successful. The ones that are successful do a lot more than that, like Sitecore and Adobe, that do e-commerce, et cetera.
Pure-play proprietary CMS vendors have to shift to something else, like digital experience, to stay relevant. No sane person would pay hundreds of thousands of dollars just for the CMS piece.
In your keynote today, you talked about unified customer profiles and consolidating data sources, and said to stay tuned for future announcements. Is Acquia coming out with a customer data platform (CDP)?
Buytaert: I can't comment on that, specifically, but we are thinking a lot about the data layer. It seems like there are a lot of similarities with CDPs -- it's about integration and unifying the profile with [personalization engine] Acquia Lift and Mautic. Mautic has about a hundred integrations built by community members. It's not a new challenge; we have been thinking and working on it for a long time.
The whole CDP space is in an emergent state. No one talked about CDPs two years ago, and now everyone's a CDP. Maybe that's why I'm avoiding the term. Some CDPs are glorified tag managers, others are integration platforms, yet others positioned themselves two years ago as a content personalization platform. They come in so many flavors today that 'CDP' means different things to different people.
What we're obsessed with -- whether you want to call it a CDP or not -- is creating a unified user profile, and do it in a way that's complimentary to what we have.

Dries BuytaertCTO, Acquia
What we're obsessed with -- whether you want to call it a CDP or not -- is creating a unified user profile, and doing it in a way that's complimentary to what we have.
You're moving into a space controlled by much bigger competitors like Oracle, Salesforce, Microsoft, Adobe and SAP. Is there enough room for Acquia?
Buytaert: Acquia is an open platform, and open source. Developers want that. Literally, no developer wakes up and says, "Let me buy an Adobe product." Developers love open source, and that's why there's enough space for Acquia.
But many marketers who buy these tools are not developers. They want to sign up for a SaaS subscription, turn it on and start marketing.
Buytaert: If you really want to build great experiences, you need developers. You can't just have marketers build great digital experiences, because the number of integrations you need is so vast -- as with custom legacy systems -- it's not just a little drag-and-drop. Really bringing it together is going to require developers, and empowering them to build these things through open source is going to be a big thing.
Dig Deeper on Content management software and services