A tour through the PPM software marketplace
Finding the right PPM software is vital to project success. Here's a close look at the market leaders.
Project portfolio management software offers organizations one central place to oversee projects based on a variety of criteria. These platforms assist companies in determining the optimal combination of resources that can help them achieve goals via projects, taking into account factors such as market conditions, regulatory requirements, customer demands and competitive moves.
This roundup of vendor PPM software offers a quick look at some of the leading products in the market.
CA Technologies CA PPM
CA Project & Portfolio Management is a PPM tool available on premises and in the cloud. It allows organizations to customize projects for any business unit, including IT, marketing and facilities, by dragging and dropping components onto a template.
The standard CA PPM project template configures to fit any team's or department's needs. While IT and human resources might require multilayered templates for global transformation projects, sales and marketing can often make do with basic task-management tools, CA says.
Users can spin up preconfigured projects within minutes, the company claims. They can enhance financial analyses with integration to business intelligence (BI) tools and scheduling software. A visual task board helps users collect, prioritize and track project work in a collaborative environment. Project tiles provide a snapshot of budget spent, tasks completed, next milestones and other key performance indicators (KPIs). Additional components add in to the templates as projects mature.
Financial analysts can drill into the company's underlying expenses and navigate through planned, actual and forecast amounts with quick views, through Excel. The budget information appears in real time, as it keeps the spending up to date in the software.
Clarizen
Clarizen Enterprise Project Management Software, accessible via the cloud, features tools designed to promote and drive teamwork, transparency and engagement, according to the company.
The software can help project teams keep on track with scalable project plans, team scheduling and resource management. It features real-time statuses, dashboards and business insights of every project and task and has access to project information from any type of mobile device.
Clarizen's planning features let users scope, size, estimate, schedule and staff projects in detail through its collaborative work management offerings. Managers can set baselines for measuring project success and progress.
The software features automated demand management, which lets companies automate and repeat how they create projects, plan initiatives and capture ideas for new projects.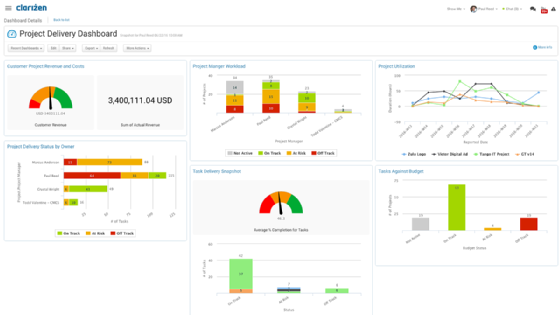 Clarizen collaborative work management's capabilities give managers visibility and context with projects, so they can understand how changes will affect the schedule, cost, staffing or other key project elements. Security features allow them to set granular permissions for team members across different projects.
Microsoft Project Server
Microsoft Project Server is a scalable, on-premises platform for PPM and everyday project management.
Organizations can start projects and prioritize project portfolio investments. Integration with Active Directory allows them to manage user credentials and permissions, as companies can add and remove users within minutes. Microsoft SharePoint provides the collaboration, which facilitates discussions and information sharing.
The Microsoft platform provides features for work management; demand management, through visibility into projects, operational activities and everyday work; time and task management; resource management, managing surplus and deficits across a planning horizon; schedule management; program management; advanced portfolio management; and financial management.
Using the software, organizations can identify, select and deliver project portfolios that best align with their business, according to Microsoft. With reporting and business intelligence capabilities, organizations can collect, categorize, understand and make decisions about project data.
Microsoft community support provides online answers, how-to resources and connections with other PPM customers.
Microsoft Project Online
Another offering from Microsoft, Project Online enables organizations to manage their portfolios, programs and resources for optimal results. Online tools help companies strategically evaluate and optimize project portfolios to maximize their value. These include tools for scheduling, time and task management, as well as resource assignments.
Project Online provides integration with collaboration tools such as Skype for Business and Yammer, to help foster teamwork across projects. Teams can submit project ideas with Microsoft Office applications, such as Outlook and SharePoint.
Managers compare project ideas against business goals to assess competing requests, eradicate misaligned initiatives and streamline project initiation. They also have the ability to run optimization scenarios based on specific factors, such as budget and resource requirements, to select a portfolio of projects that delivers the most value.
Built-in reports and BI tools let users visualize data to gain insights across projects, programs and portfolios and help them make decisions that are more informed. A resource engagement feature allows a resource manager to react to requests depending on availability shown across the portfolio.
Project teams can use mobile devices and web browsers to view, edit and submit project and portfolio work as well as collaborate on these efforts.
Onepoint Projects
Onepoint Projects is a web-based PPM platform covering the whole project lifecycle.
A project pipeline provides an overview of all ongoing projects, with the position of each project bar denoting the respective project stage. Pipeline stages are fully customizable. Bubble charts allow for quickly evaluating project portfolios. Traditional Waterfall, iterative, JIRA and Agile projects are easily comparable, according to the company.
An integrated resource management feature provides a resource allocation matrix, a graphical utilization view and a resource histogram, the company touts. Managers see project conflicts, overloads and other issues immediately and forecast future resource demand. A risk chart expedites risk comparison and assessment for individual assignments. The dashboard itself includes charts and a milestone trend analysis.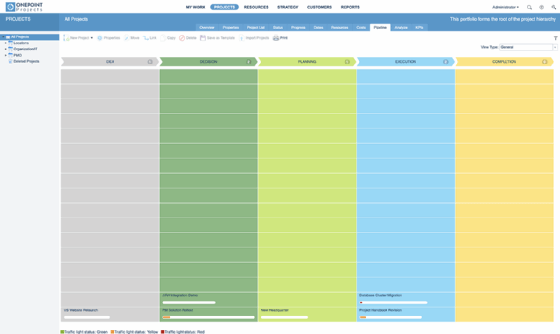 Companies manage planning dates and dependencies with OnePoint's interactive schedule. A Gantt chart is fully editable and drag-and-drop enabled. OnePoint's resource planning allows visual resource leveling based on an overall resource utilization view. If utilizing resources in other projects occurs, conflicts and overloads display automatically.
OnePoint offers two mobile, offline-capable apps supporting daily project work: OnePoint 360 as a management dashboard and OnePoint ME for project contributors.
Planisware
Planisware offers PPM software designed for research and development and product development projects. The platform helps organizations optimize project portfolios, manage the project pipeline, gain visibility into project components and improve resource decisions, manage products' lifecycles and improve team collaboration.
Data analytics and what-if capabilities provide insights to help managers make decisions about products. They can access dashboards, investment scenarios and optimization techniques that help prioritize efforts on a strategically aligned, balanced portfolio of projects. Financial metrics, KPIs and scorecards eliminate bias from the project selection process, the company claims.
For resource management, the platform allows companies to oversee capacity planning, resource forecasting and advanced resource allocation capabilities for critical roles and departments. Scenario planning tools help managers anticipate bottlenecks. The software features a profit and loss statement tool for market, sales and cost forecasting, to help manage the full lifecycle of a product.
Organizations can manage traditional, Agile and hybrid projects through fully integrated project scheduling, as well as resource, cost and risk management. Social PPM, document management and deliverable tracking capabilities provide both collaboration and communication.
Planisware Orchestra
Orchestra software from Planisware is a turnkey PPM platform designed to help organizations control the lifecycle of simple project portfolios.
The product offers a number of management capabilities. One is demand management, which helps companies choose the projects that will help them achieve their goals by managing demands in a coherent and transparent manner. Managers can select, prioritize and authorize proposed requests or demands for project resources.
Another capability, resource management and time tracking, provides a real-time view of the resources assigned to project and non-project activities. Project and resource managers have access to the availability of individual resources, with the ability to detect over-allocation or possible open assignments, the company says.
Orchestra PPM also offers an interactive Gantt chart to manage schedules and quickly update project tasks. All project information consolidates into a single place, allowing project stakeholders to take action proactively.
The platform also offers the ability to create project dashboards and reporting tables. Orchestra dashboards base off an extendible library of widgets including KPIs and charts that combine to create unique perspectives on project data, if desired. Orchestra PPM comes with combined project management tools that structure and streamline exchanges among project investors.
Planview Enterprise One
Planview Inc.'s Enterprise One software enables organizations to build roadmaps that connect the investments, outcomes, business capabilities, milestones, technology and financials related to projects, so they can make sure the portfolio is on track to meet strategic goals. Companies can rank and analyze investments by business drivers and use what-if scenarios to compare options, as well as set financial targets for portfolios.
Capabilities of the software include demand management. Managers can monitor demand for project resources from across the enterprise, evaluate requests to gather resources, collect ideas for projects that might create competitive advantage, automate idea ranking and align ideas with needs and capabilities.
For portfolio management, executives capture demand, build plans, prioritize portfolios, balance capacity across demand and manage financials. Impact analysis features allow managers to validate change options effectively and understand how potential changes will affect the organization.
Enterprise One provides portfolio management for all kinds of projects, including traditional, Agile, iterative and collaborative. More than 200 reports and visualizations are available to provide a comprehensive view of projects, technologies and other components. Dashboard analytics provide high-level visibility into the state of portfolios.
Planview LeanKit​
Planview LeanKit provides engineering teams across all levels of an organization with a visual work delivery tool to apply Lean management principles to their work
Key Planview LeanKit features and capabilities include process and work visualization. This enables users to manage work using Kanban boards with the flexibility to model any workflow process and real-time work status, which includes custom categorization labels that represent different types of work, to share up-to-the-minute progress.
Managers can visually communicate blocked work and identify process bottlenecks to address risks to workflow as quickly as possible. With a work planning and delivery feature, they can use backlog within each board to plan, organize and prioritize upcoming work, execute in-progress work and move it through to completion.
Kanban Board templates are available to create initial work boards or users can create custom templates for repeatable processes. Lean analytics track and measure how quickly work moves through the process, using lead and cycle time metrics to identify opportunities for improvement.
Planview PPM Pro
Planview PPM Pro software allows organizations to collect, prioritize and implement projects. Hosted in Amazon's EC2 cloud, organizations have the ability to use the platform to gain visibility into resource utilization and demand. They can optimize resources by individual, role or skill set.
What-if scenario planning allows companies to proactively allocate resources and improve execution across the entire project portfolio. Managers can determine how projects and portfolios are performing in relation to company goals by visualizing projects against specific objectives.
With the software, managers can publish dashboards and configurable reports of project and portfolio data to ensure that stakeholders and executives have insight into status and delivery, even without access to PPM Pro. Managers can then use real-time analytics to measure and manage projects and resources.
Other key features include project intake management, which enables users to capture project requests, new ideas and work without suffering from intake overload, the company says. Project prioritization alignment prioritizes work to align with business goals, and a project time-tracking feature tracks hours and costs for work.
Additional features include tools for team collaboration, project budget management, Gantt charts to show the progress of projects in a portfolio and portfolio management for Agile software development projects.
Planview Projectplace
Projectplace from Planview combines online team collaboration tools with project management software to provide the capabilities to plan team projects, schedule tasks and collaborate on documents. Organizations can track teams' progress using integrated Kanban boards, Gantt charts and communication tools.
One communication tool offered is collaborative project planning and workstreams, which lets users create project plans and connect project workstream items to activities and milestones, using integrated Kanban boards -- for visualizing the flow of work and progress across all projects and commitments -- and Gantt charts.
Others tools include the following:
Project Tracking, which aims to increase project team efficiency by providing a digest of upcoming, ongoing and overdue work; and
Project Roadmaps, which enable project managers to view, manage and execute on a high-level roadmap plan, covering their long-term work strategy.
Another feature, resource planning and workload management, provides team managers with a complete picture of task assignments and commitments across all projects. A file sharing and document management component allows users to share files and collaborate on project documents.
Organizations can also use project dashboards and reports to visualize progress, help track how close a team is to meeting deadlines and identify where bottlenecks might occur.
Sciforma
Sciforma's PPM platform enables companies to track, understand and report the status of all ongoing projects, spot any issues and drill down into the details of an issue to identify the root problems.
Portfolio analysis and control capabilities allow managers to analyze and assess portfolio performance in real time. Managers access a global view of the portfolio, define appropriate attributes and criteria for driving decision-making processes, and compare portfolio and project resource needs by organization and job classification.
A budget management feature allocates the budget and monitors consumption. With a portfolio ranking feature, managers can compare and rank submitted projects, including assessing selected ideas, along with ongoing projects, to determine the capacity of the organization to launch them. Managers can then choose which projects to launch from the information gathered.
Portfolio simulation lets companies keep their portfolios within budget and aligned with available resources by comparing various options, such as the following:
balancing and monitoring portfolios by doing real-time pipeline management;
evaluating current and potential allocations of financial assets; and
choosing allocations that best fit the company and manager goals.
An idea management capability gathers all demands and ideas in a single place. Users have the ability to filter through by status, type or other property. They can then analyze and decide which ideas to approve or further evaluate.
Internationalization features include support of multiple currencies and languages, as well as built-in tools for localization. The platform is available via the cloud or on premises.
Sopheon Accolade
Sopheon's Accolade platform covers four key PPM market segments:
PPM for IT, with tools primarily focused on supporting IT projects and the allocation of specialist IT resources;
PPM for product development, designed to support development initiatives through planning, ideation, process and project management, resource planning and portfolio management;
PPM for professional services, which supports consulting and systems integration projects and engagements; and
PPM for engineering and construction, which enables engineering and construction firms to sustain and improve delivery on large, complex and high-cost projects.
Organizations can use Sopheon's Accolade Portfolio Center to make portfolio and resource decisions based on real-time data, generate what-if scenarios to gain insights, optimize portfolios by determining the best combination of projects to meet business goals, ensure that short- and long-term product development activities are aligned with strategic priorities and financial targets and concentrate funding and resource allocations on those projects with the greatest commercial potential.
Data gathering integrates with existing work processes. This allows users to propose and update data as part of a daily requirement. With this new information, project managers have the ability to make decisions that are more informed.
Managers can adjust scenarios in real time to determine the effect of projects on key metrics and goals for the portfolio. These multiple scenarios then compare to help with project decision-making. Data from two or more projects link up to evaluate the market and revenue value of individual projects or groups of projects. Projects can also link and unlink within a scenario to determine dependencies and synergies between projects to optimize the portfolio, Sopheon claims.
Workfront
Workfront Inc. offers a customizable project management platform, called Workfront, that enables project teams to receive requests for work in a standard format and enables managers to prioritize incoming projects, make proper assignments and get real-time updates on progress.
Companies can utilize the cloud-based software to centralize projects, manage work processes, and review and approve project work. It integrates with tools such as Adobe Creative Cloud, Slack, Microsoft Outlook and others.
Workfront has capabilities for demand management, with automated request queues and custom forms that capture information users need to scope a project and prioritize tasks. It also offers resource management, with AI-enabled technology to distribute work to teams, groups or individuals based on priority, availability and skill requirements.
The platform also features project automation, with customizable templates designed to account for all steps in a process and turn new work requests into projects, and Gantt charts, which lets users create project what-if scenarios within projects before committing to changes. Using these charts, they can adjust timelines and task durations and see how changes or delays will affect the overall project deadline.
Customers can utilize the Workfront Mobile app to request and collaborate on work, review digital assets or approve deliverables. The vendor offers multiple platform plans, ranging from a basic project and work management offering to a much more advanced enterprise version.
Editor's note: Using extensive research into the PPM market, TechTarget editors focused on the vendors that lead in market share, plus those that offer traditional and advanced functionality. Our research included data from TechTarget surveys, as well as reports from other respected research firms, including Gartner and Forrester Research.
Dig Deeper on IT applications, infrastructure and operations