Nmedia - Fotolia
Acquia acquisition of AgilOne CDP signals CX platform expansion
Acquia's acquisition of AgilOne, a customer data platform specializing in analytics, shows it's serious about competing against CX platforms from Adobe, Oracle and SAP.
Last month at its Engage user conference, Acquia telegraphed plans to get into the customer data platform business. Today, the company made good on that plan with the acquisition of AgilOne, a CDP vendor specializing in AI and customer analytics.
The latest Acquia acquisition adds CDP capabilities to the company's flagship cloud content management platform. The company recently acquired Mautic, a marketing automation platform, and built Lift, a personalization platform, indicating its growth strategy includes expansion into the CX platform marketplace dominated by Adobe, SAP, Oracle, Salesforce and Microsoft. Each of those large vendors either released a CDP this year or plan to in 2020.
Acquia is flush with cash after investment firm Vista Equity Partners bought a $1 billion majority stake last September. The Acquia acquisition of AgilOne was in the works before Vista bought Acquia, according to the company's product VP Steve Schult, but Vista approved of the strategy.
"To be a modern digital experience platform, we need to expand the marketing strategy and execution layer [of the Acquia platform]," Schult said. "If that means we're competing with the Salesforces and Adobes and IBMs of the world, we'll have those battles. But it's less about what our competitors are doing and how we align, and more about what capabilities our biggest customers and partners are asking for."
Analysts: All about AgilOne's AI
In the CDP market, AgilOne differentiated itself by adding AI, machine learning and customer data analytics to the bedrock customer data-handling features most CDPs have, said both CDP Institute founder David Raab and Forrester analyst Joe Stanhope.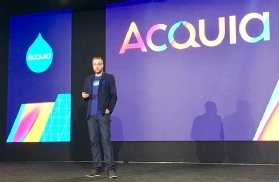 Those tools will enable Acquia Lift to make more precise personalized recommendations for B2C customers who use the platform. Paired with Mautic, it creates a potentially powerful platform to drive retail revenue, Raab said.
"AgilOne has a lot of good embedded analytics," Raab said. "They definitely have been really good at helping customers do predictive modeling."
Web content management companies in general have been pivoting into digital experience over the last few years. As content management vendors such as Adobe, Sitecore and Episerver move into the space, they typically need better data-management capabilities. AgilOne immediately adds them to the Acquia platform, Stanhope said.
"It's complementary to the capabilities Acquia has been assembling," Stanhope said. "They didn't buy a CDP, they bought AgilOne, a specific kind of CDP that allows them to do insights and analytics around customer data."
Acquia said AgilOne will be offered both as a standalone product as well as part of the Acquia Marketing Cloud. Financial terms of Acquia's acquisition of AgileOne remain undisclosed. The deal is expected to close later this month.
Dig Deeper on Content management software and services