Sergey Nivens - Fotolia
Salesforce delivers CDP, DXP and sales meeting tools
Salesforce drops a customer data platform, new virtual sales meeting tools and makes the case for its own Experience Cloud to give users an Adobe alternate.
Salesforce's long-awaited customer data platform that assembles sales, marketing, e-commerce and service data will be out next month -- a year later than the company originally planned.
News of the overdue Salesforce CDP release was delivered along with a new business unit called Digital 360, which includes the Marketing Cloud and Commerce Cloud.
The new group, created through an internal reorganization, unveiled the CDP -- called Customer 360 Audiences -- as well as the Salesforce Experience Cloud digital experience platform (or DXP) and Commerce Cloud Payments, a collaboration with Stripe to support credit card and mobile payments such as Apple Pay and Google Pay within Commerce Cloud sites.
Between the pandemic forcing developer teams into remote work and the fact that the Salesforce CDP was homegrown, the CDP took longer than expected to release, said CDP Institute founder David Raab.
Competitor Microsoft launched its CDP last year and has since rolled out a number of new features. Adobe and Oracle delivered their CDPs last year as well.
The Salesforce Experience Cloud employs AI and personalization technology from its Evergage acquisition earlier this year, said Adam Blitzer, Salesforce executive vice president and general manager of marketing cloud, commerce cloud and community cloud.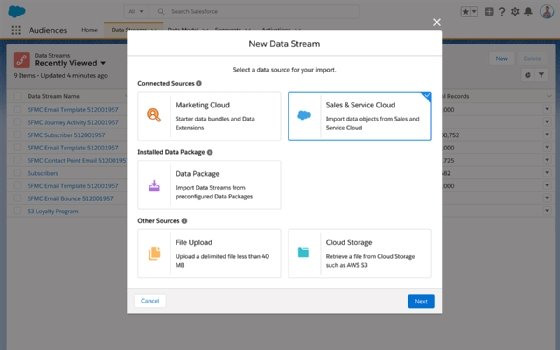 Salesforce chases Adobe
The combination of the Salesforce CDP, Experience Cloud and a content management system released last year could constitute a competitive run at market leader Adobe's Experience Cloud and Experience Platform tandem, Raab said.
While it's unlikely that Adobe customers would rip and replace with Salesforce equivalents, there could be competition for new business. There's also an opportunity for Salesforce to persuade its own customers to invest in a CDP.
I think it's bringing much-needed structure in pulling all of those data assets together.

Nicole FranceAnalyst, Constellation Research
"[Adobe and Salesforce] have many shared customers," Raab said. "They might use Adobe Analytics and Marketing Cloud for email or whatever, and they both have commerce platforms. They all want to get more business, and if they can poach it from their archenemy, so much for that."
For now, he views Customer Audiences as a limited Salesforce CDP release. Features to come next year such as MuleSoft integration, a mobile SDK, an API to enable real-time ingestion of customer data and identity-resolution tools that can convert anonymous website visitors to known customers will make it more substantial.
"I think it's bringing much-needed structure in pulling all of those data assets together," said Constellation Research analyst Nicole France, who, like Raab, believes it remains to be seen how well users receive the Digital 360 products, given the gap between what Salesforce aspires to offer and what is available so far.
Overall, Raab said, Salesforce's entrance into the CDP market will likely expand the adoption of CDPs in general. Current users of CDPs from smaller vendors, as well as the larger players, are less likely to buy into Salesforce's platform because of the implementation costs and loyalty -- especially with the smaller vendors.
Sales cloud reboots
While Digital 360 covers the e-commerce and marketing side, the sales and service clouds remain together in their own separate group. The Sales Cloud is currently in the midst of a "reboot," said executive vice president and general manager Doug Camplejohn, who joined Salesforce last January after leaving LinkedIn, where he was head of sales products.
Part of the reboot involves retooling features to accommodate new sales workflows precipitated by the pandemic, Camplejohn said. Sales teams that worked in close quarters in offices suddenly went all-remote, and while some may work together again at some point, he believes many more will remain remote.
"Virtual selling is the new normal," Camplejohn said. "We're not going back to the way it was."
One coming bundle of features to support the remote model is Salesforce Meetings, which will be in preview next month and is scheduled for release in February 2021. Meetings will pull sales and service data as well as bios into a briefing document to better prepare reps before the meeting, project conversations with video conferencing tools side-by-side inside Salesforce during the meeting, and log notes after. The video tool will be compatible with all video conferencing providers, Camplejohn said.
Like the Salesforce CDP, Salesforce Meetings is homegrown technology, not from an acquisition.
Einstein Call Coaching will also get a remote-work upgrade. The tool, which uses AI to analyze customer phone conversation recordings and gives managers and reps ideas to improve sales performance, will add video support next year, starting with Zoom. Other video conferencing systems will follow, Camplejohn said.
"They're definitely making changes to improve what the work environment actually looks like within Salesforce," France said. "They're trying to make life a bit easier for sellers."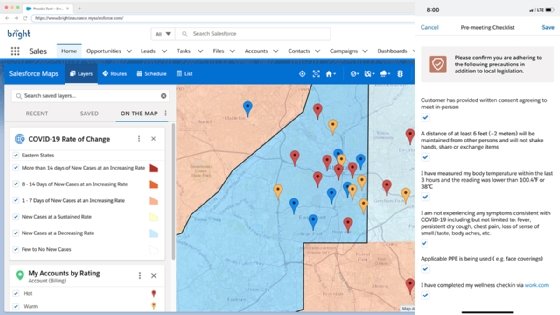 In reaction to a world remade by the pandemic, Salesforce plans to release Salesforce Maps Field Safety Kit for field sales teams early next year. This set of features taps Tableau visualizations to show sales reps when they are moving through areas of COVID-19 outbreaks, offers routing and reminders of protocols such as mask use and provides pre- and post-visit health checklists. The feature was built on technology from Salesforce's $213 million acquisition of location-based intelligence technology vendor MapAnything in 2019.