Oracle CX Unity goes live, adds voice to digital assistant
As Oracle CX Unity arrives, analysts debate whether it will be an upsell to current Oracle customers, or a challenger to Adobe, Salesforce and SAP CX platforms.
SAN FRANCISCO -- The new Oracle CX Unity platform became available today, giving customer service teams an integrated sales, service, marketing and e-commerce cloud suite underpinned by a customer data platform. With this launch, Oracle takes on competitors such as Adobe, Salesforce and SAP, who either recently added CDPs to their own platforms or have one in late stages of development.
Analysts said it will be difficult for any customer experience (CX) vendor, Oracle included, to woo customers away from competing clouds, so the Oracle CDP-based CX stack is more of a play for new business or cloud upsells to Oracle users. Its selling point, the vendor said, will be ease of data integration for use outside of marketing automation.
"At least at the start, it will appeal primarily to existing Oracle customers," said Forrester Research analyst Joe Stanhope. "What's different about Oracle's view is that it's an enabler of customer experience capabilities beyond just marketing. Traditionally with CDPs -- and the way Adobe looks at it -- is that they enable marketing activity."
AI-fueled 'customer intelligence'
With CDPs, platform vendors are trying to unify customer data across marketing, sales, service and e-commerce, making a single, unified customer record where multiples exist today. On top of that, they're attempting to match anonymized (third-party) data gleaned from digital ad buys from places like Google and Facebook with their own (first-party) customer data by applying AI algorithms to behavioral data from web cookies via the Oracle ID Graph, which reconciles and updates data from disparate sources.
The hope with such customer intelligence is to increase sales revenue by better targeting web leads with personalized offers, or retargeting prospective customers when they don't buy something from an ad. Speed is of the essence; the vendor that can act the fastest on third-party data potentially can create the most revenue.
"We have implemented our ID Graph in such a way that it will take very little time for us to convert an unknown user to a known user," said Shashi Seth, Oracle Marketing Cloud senior vice president.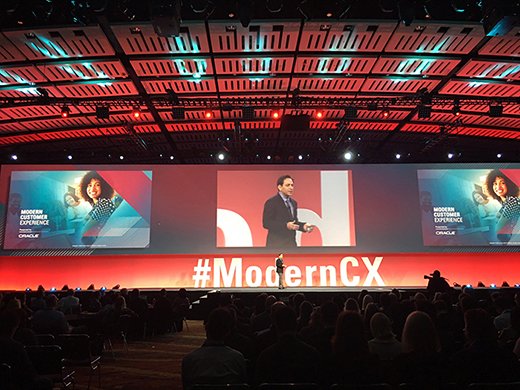 That's the idea, at least. Forrester's Stanhope and Constellation Research Inc. analyst Nicole France aren't sure large B2B and B2C companies who invest in technology to convert data from adtech systems into martech leads will find enough new revenue to recoup their investments. Part of the reason has nothing to do with the software vendors but the customers themselves, France said.
"Very few companies have their act together when it comes to first-party data; that's still a really big challenge -- especially for large companies," France said. "I am ultimately skeptical about how valuable third-party data really is."
Voice channel debuts in Oracle CX Unity
Voice assistants will have a play in all customer-facing interactions [including] commerce, customer service, field service.

Kate LeggettAnalyst, Forrester Research
While Oracle spent the last year improving CX Unity, its most significant new feature debuting here this week is an added voice channel to the Oracle Digital Assistant. While the voice-enabled digital assistant will be added across all Oracle clouds, including ERP and financials, CX perhaps has the most voice-ready use cases, said Suhas Uliyar, Oracle vice president of AI and digital assistants.
The Oracle Digital Assistant already provides the backbone for text-based chatbots. With added voice access, employees can perform searches by speaking to the computers or mobile devices. Oracle users can build voice-enabled chatbots for customer service automation and to route customer queries to the right agent. Sales and field-service employees who do a lot of work on mobile devices away from the office, too, are more likely to use voice input in their jobs.
"Voice assistants will have a play in all customer-facing interactions [including] commerce, customer service, field service," said Kate Leggett, a Forrester Research analyst. "It will help CRM users in their tasks -- automate note taking, spawn follow-on actions -- and mine voice recordings for insights to surface up to the CRM user to help them better engage."
Even though Oracle already supports Amazon Alexa, Apple Siri and Microsoft Cortana in its clouds, Uliyar said customers requested a voice tool that could be trained on their own company's jargon and processes.
Oracle's voice assistant keeps voice data within a customer's cloud infrastructure in line with compliance and various international privacy regulations that require companies to keep customer data within a region or country's borders. With other, consumer-grade voice assistants, Uliyar added, that's impossible to trace -- and, therefore, impossible guarantee the data security required by consumer privacy rules.