itestro - Fotolia
Adobe Experience Platform likely to get boost, Adoption Scoring debuts
Adobe Experience Platform (formerly Adobe Cloud Platform) focus of Summit, as analytics, AI and open-data initiatives with Microsoft and SAP converge.
Architects of the Adobe Experience Platform think they've built the most compelling base for customer data and analytics to drive marketing and sales campaigns -- to keep both current customers and steal some ones from the competition.
It's both an infrastructure play and a collection of sharper analytics tools. That will be one major focus for Adobe at its biggest-ever user conference, as Adobe Experience Platform likely will add major customer experience data analytics features at Adobe Summit in Las Vegas from March 26 to 28 before a projected 16,000 attendees.
"Customer experience isn't new for Adobe; they've been talking about [its] importance for a while," Gartner analyst Chris Ross said. "I do think it's different this year -- they have a much bigger footprint from a capabilities perspective," noting that Adobe not only built up product capabilities from within, but also last year acquired e-commerce platform Magento and marketing automation stalwart Marketo.
The need for such a CX platform, announced last year at Summit and launched last September with some significant features still in beta, is clear, according to the vendor. Adobe Experience Platform unifies customers' Experience Cloud, Document Cloud and Creative Cloud processes and, more importantly, their data sets.
While nothing has yet been officially announced, Adobe said last September that several of the platform's major customer experience management features now in beta would go live this year. They include Experience Query Service, a front-end standard search tying together customer data from point-of-sale, web behavior and CRM sources, as well as Data Science Workspace, which streamlines training of data models to more quickly derive customer insights with the assistance of Adobe Sensei AI tools.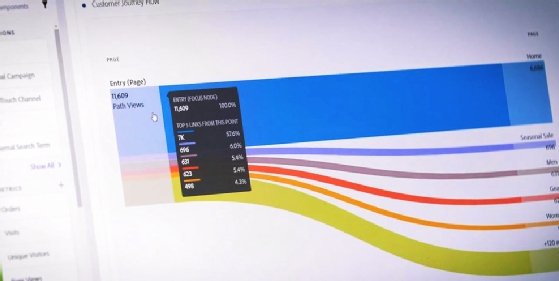 Data analytics driving insights
Whichever vendor wins the customer experience management base, be it Salesforce or Oracle or others, can own the CX stack. To that end, Adobe Experience Management platform is also Microsoft Azure and AWS-agnostic, giving customers a choice of cloud infrastructure environments.
Perhaps more key to winning the stack is an analytics suite that actually produces bottom-line results. Adobe is betting new analytics tools on both Experience Cloud and Experience Platform will give customers insight into present "data blind spots," as Jeff Allen, Adobe Analytics senior director for product marketing, described it.
"Where does my customer disappear from view?" Allen said, mentioning common spots such as customer interactions on social media, while they're shopping off the website, and other places where a company can't measure customer activity or satisfaction. "Those are very expensive points along the customer journey for the brand to get into."
Customer experience isn't new for Adobe. ... It's different this year -- they have a much bigger footprint from a capabilities perspective.

Chris Ross Analyst, Gartner
For Adobe itself, one of those blind spots was for measuring Experience Cloud usage for its in-house cloud software customer success teams charged with retaining customers once they signed up for subscriptions. Sid Shah, Adobe senior director of customer and product analytics, led an initiative to create a rating on a scale of one to 10 -- developed over three years and derived from more than 50 usage metrics -- the company calls "adoption scoring."
The tool rates how much of the feature-rich Experience Cloud a customer is using. The idea is to keep customers on track, deriving revenue from their subscription.
The scorecard also points out a given Adobe customer's unused features they're paying for -- such as personalization or integration between Adobe clouds. The scores will be used by Adobe customer success teams, product development leadership and customers themselves, the vendor said.
Now, Shah said, it takes human input and judgment for the customer success team to recommend what features or capabilities a customer should try next, taking into account each one's individual business needs.
Shah said Adobe is working on that. "We are building a lot of automation into the recommendation [engine], so that's next," he added.
Adoption scoring augments the Adobe Experience League, a gamification-based learning tool that incorporates information from successful existing Experience Cloud deployments.
Adobe, Microsoft, SAP still charging hard at Salesforce
In many organizations, because multiple versions of customer profiles reside in disparate systems, real-time analytics can fast become either inaccurate or impossible. GDPR tools in the Adobe Experience Platform manage customer-dictated privacy settings, as well as Unified Profile, a feature that promises to serve as a "single-source-of-truth" customer record.
Microsoft CEO Satya Nadella will keynote at Adobe Summit along with his Adobe counterpart CEO Shantanu Narayen, and when that happens new announcements are likely to follow. Last fall, the duo showed up together with SAP CEO McDermott during a Microsoft Ignite keynote, announcing an open-data initiative among the three companies in which they share a common model for behavioral and transactional to financial and operational data.
That data model fosters Adobe customers connecting Adobe's Unified Profile data to privacy compliance initiatives in SAP and Microsoft shops. Good timing, as California's GDPR-like privacy law, which takes effect in 2020, brings more stringent rules to the United States.
It appears that the cooperation between Adobe, SAP and Microsoft both primes the triumvirate to take on the monolithic Salesforce and potentially simplifies regulatory compliance that all three vendors' customers need. Yet it also cools down a sometimes heated three-way rivalry.
That, Gartner's Ross said, isn't as paradoxical as it looks.
"There will always be some competitive friction," Ross said. "They're all going to be banging around on the same accounts together, in a lot of cases, and they've got decisions to make on how they can go toe-to-toe, and where it makes sense to team up."