Getty Images
Salesforce Financial Services Cloud features focus on EX
Salesforce for Financial Services adds employee experience tools -- a nod to evolving digitization of banking, wealth management and insurance users' operations.
Users of Salesforce for Financial Services -- which comprises Salesforce Financial Services Cloud and additional Tableau, MuleSoft and Slack tools -- now have access to a raft of new features tailored to improve employee experience in the wealth management, banking and insurance industries.
These include finance-specific virtual customer service agents as well as a streamlined customer service agent desktop console. Also included are analytics tools and new hooks into the Salesforce Customer Data Platform (CDP).
The chatbot comes via Service Cloud Einstein Bots. Another feature, Customer Service Coordination, uses Slack to deploy bots and other automation tools to enable agents to quickly assemble experts to solve complex customer issues, which appears to be a more customized version of the case swarming tools announced for all Slack users last fall.
New analytics tools for wealth managers that examine the performance of different investments come via Tableau. Customer Address Change Automation integrates validation, routing and data ingestion processes across systems associated with address changes for operations and compliance purposes.
The new features address both person-to-person and live customer service, as well as uncomplicated self-service, said Predrag Jakovljevic, analyst at Technology Evaluation Centers. They are all improved by the CDP integrations, and would improve further if Salesforce were to acquire or develop process mining technology to go with the CDP.
"This seems to take care of both low-touch and high-touch customer service," Jakovljevic said. "Now, if the customer wants to meet in person, at least the agent will be ready -- via the analytics, AI and history on the agent desktop -- to know whatever is needed about the customer."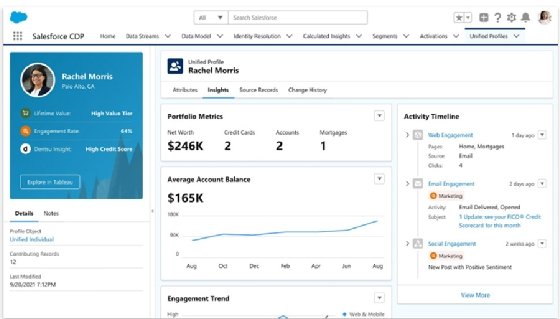 Salesforce developed these features as the company focuses on employee experience improvement for financial sector users. Some Salesforce customers saw their sales and customer service teams upended in the last two years, explained Greg Jacobi, Salesforce vice president of banking and lending.
He added that some of the new self-service features came by way of lessons learned during the pandemic, as Salesforce banking customers had a hand in administering up to half of the U.S. Small Business Administration's Paycheck Protection Program (PPP) loans. The timing and scale of billions of dollars flowing from the government to businesses through Salesforce's cloud was daunting, Jacobi said.
"[Users] had 72 hours -- the lead time banks had when the PPP program was announced -- to set up a new lending program, and it had to be digital; it could not be in person," Jacobi said. "They had 72 hours to set something up, and it couldn't fail -- because, [especially for] little banks, if it failed in their market, their economy was going to get crushed."
Salesforce burnished its agent desktop tools after analyzing what caused bottlenecks and delays for its financial services customers in 2020, and applied some of its customers' Agile methods that worked to the benefit of the broader Salesforce user base.
Salesforce Financial Services Cloud subscriptions range from $225 to $450 per user, per month. The MuleSoft, Tableau and Slack tools come at an additional cost.
Don Fluckinger covers enterprise content management, CRM, marketing automation, e-commerce, customer service and enabling technologies for TechTarget.
Dig Deeper on Customer service and contact center