marrakeshh - Fotolia
Digital sales transformation may require shadow IT dark ops
Sales tech initiatives culminating with flipping the AI switch require operational and IT prep involving data aggregation, training salespeople and, possibly, shadow IT experiments.
AI-powered digital sales tools can now connect sales, marketing, service and e-commerce platforms to mine cross-team data and find more sales opportunities than ever before.
However, getting human company leadership to bankroll all the changes and convincing the sales team to buy in, it turns out, takes a lot more than vendor promises of bigger profits, according to several speakers at the InsideSales.com Accelerate 2018 user conference.
Digital transformation -- making every last component of a particular workflow digital in order to create the richest possible data set, as well as to free users to work anywhere on any device -- either has happened or will be happening across most industries and most phases of business operation. But the digital transformation of sales teams, known for utilizing equal parts ego, alchemy, secrecy and technology to close their deals, poses particular challenges when breaking with tradition and trusting tools.
Aggregating all of a company's data in one place is key to digital sales transformation and making AI insights as precise and prescient as possible. Yet many companies are still in the process of determining where their data resides in their various systems in the cloud and on premises -- and even on paper -- never mind standardizing it for use with analytics platforms.
"There [were] sticky notes," said Brandi Ellis, senior vice president of VIP marketing at Caesars Entertainment, who, during a presentation, projected a picture of a 30-year veteran salesperson's messy desk and his unruly paper-based system of tracking and filing sales leads taken prior to the company's digital sales transformation. "That's no joke. If you open the drawers, you're taking your life into your own hands."
It took several years for Caesars to capture the data across 50 properties worldwide and 75,000 employees, to get salespeople sharing best practices and to roll out analytics tools on par with the casino's legendary data science-based tracking of patrons, which helped to complement its ERP systems makeover. In fact, Ellis said, the project is still ongoing, but the company is estimating that its digital sales transformation so far has earned the company $60 million in additional sales this year out of almost $10 billion overall.
"That's pretty incredible," Ellis said. "Some of our properties don't make that in a year."
Embrace dark ops of shadow IT
Telecom company CenturyLink's digital sales transformation also involved a large -- 40,000 employees -- international company. Vernon Irvin, CenturyLink president of government, education, medium and small business markets, said the company's goal was to improve service, sales and marketing.
Customers know "what good looks like," Irvin said, and it wasn't the traditional cable company's all-day window in which they to show up at a customer's house to set up a box or a corporate web portal that is more like Oz of the Emerald City -- offering less-than-useful information -- than Amazon Prime.
Amazon Prime, Irvin said, represents "what good looks like" to a lot of customers. Its service reliability and automated customer service are so good there's rarely, if ever, a need to call customer service.
"I want to come on [the site], I want to buy, I want the thing to show up on the front step the next morning," Irvin said.
CenturyLink's digital sales transformation is still underway, but there are anecdotal pockets of success for early adopters. For example, a salesperson in Seattle hit 400% of her target sales goal using all-digital workflows, including a combination of Marketo and InsideSales.com.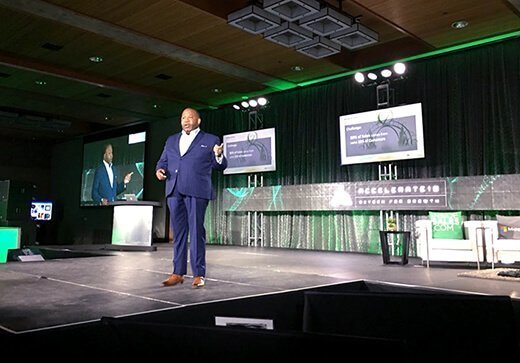 Irvin encouraged peers in more established companies to informally pilot tools, such as cloud marketing automation platforms and AI sales tools, in shadow IT settings, calling for marketing and sales teams to "embrace the dark ops" of going outside of IT.
It's possible, in this era of cloud services that are inexpensive and easy enough to use, that, for example, a marketing or HR department might be able to try something on a limited basis. Testing this way, he said, can help a company learn quickly which tools don't work before setting up a formal IT implementation and spending time and capital on something incompatible with its workflow.
"The business demand, I think, exceeds the capacity of the company sometimes to actually move at the pace of its internal customers, and that's when you end up with shadow IT," said Irvin, who leads a team of more than 1,000 employees tasked with selling and marketing data, voice, hosting, cloud computing, managed and IT services. They took the hands-on approach, sampling Marketo, InsideSales.com and several other tools that didn't make the cut.
Hardest part yet to come
The hardest task in leading a digital sales transformation -- at least for an existing company that doesn't have a clean IT slate -- isn't aggregating and structuring customer data, plugging into a CRM tech stack or selecting the right AI tool that can crunch all that data to automate insights that lead to actual closings.
While all of the above may be difficult, the hardest task is getting an organization's most successful sales reps -- the ones hitting their targets every year and earning prize trips to one island paradise or another -- to buy in to using AI tools. After all, they typically argue, "if it ain't broke, why fix it?"
Giving up already successful, non-digital methods -- according to multiple Accelerate speakers and attendees in informal conversations in the halls -- is anathema to everything high-power, self-made and motivated salespeople learn throughout their careers.
If they're hitting a 150% quota and reaping bigger commissions, even going down to 120% -- while still making quota -- to learn automation tools is a losing proposition. Even the possibility of that kind of loss is likely not worth the risk for them. That makes it hard to sell AI tools to people who've found success using other sales strategies.
Veteran sales people have to adapt to technologies, too.
However, veteran sales people have to adapt to new technologies, too. Chances are, according to several Accelerate speakers, they are leaving revenue opportunities on the table. Many successful sales people typically invest most of their energy in the top 10% or so of accounts, and they don't spread enough attention over the remaining 90%.
When a digital sales transformation truly combines all of an organization's customer data with a well-tuned AI algorithm and interface, the hope is that the system can create more revenue than the old way. Building trust in AI where human intuition currently reigns is a tall order for companies investing in digital sales transformations.
The good news is that those veteran sales people will still be able to use their sales experience to continued success, said Utah tech startup guru Josh James in his Accelerate presentation.
James, who launched the web analytics company Omniture and later sold it to Adobe for $1.8 billion, is currently the CEO of Domo, which has raised almost $700 million in venture capital to date and aspires to be a Salesforce-like cloud provider of mobile-friendly, back-office business operations applications. He said that waiting until you get 75% of the information needed to make a decision is too late -- tantamount to hesitation.
"Here at Domo, after five years, we have more data than we did at Omniture after 15 years, so it's ironic that I say this," James said, "but everyone in here's got a gut instinct, and I think it's pretty important to use that gut instinct to go along [with data-driven insights]."