How a millennial workforce benefits sales teams, CRM
Millennials bring more than just their iPhones to the conference table. Here's why you need to stop dumping on your millennial sales force and embrace their tech-savvy ways.
SNOWBIRD, Utah -- Those in the millennial workforce have a reputation for being impatient, shortsighted and difficult...
Continue Reading This Article
Enjoy this article as well as all of our content, including E-Guides, news, tips and more.
to retain, but for all the faults that their older managers bestow upon them, this smartphone-obsessed generation also brings important skills to companies that could benefit from new points of view -- especially on sales teams.
Organizations that want to either sell to millennials or learn how to roll with the punches while adopting new technologies, like AI for CRM, had best embrace that generation and understand the wisdom of their ways, according to speakers here at InsideSales.com's Accelerate 2018 conference.
It's also likely that a good share of your sales force is millennial, and managers who don't figure out how to go along with their flow will soon become a performance problem for the managers who risk getting "peaced out" of their jobs, as Alli Gentile, educational publisher Pearson's VP of sales and GM, put it.
Cliff Condon, Forrester Research's chief research and product officer, seemed to affirm that sentiment in statistics his team has collected about the millennial workforce. Sales team leadership typically has only two years' sales experience, owing to the churn of millennials. Each new salesperson costs tens of thousands of dollars to recruit and even more to train, but they typically leave when companies can't deliver on the employment experience they promised, and instead work them harder and harder with ever-increasing quotas. Keeping millennials happy would seem to be a good starting point for retention efforts and leadership development.
Katie Azuma, VP of global business development at Infor, said she doesn't subscribe to the common perceptions that millennials are disengaged and lack drive. "As leaders of these organizations, our success is dependent on their success," she said. "We really can't win in our market, we can't win the hearts and minds of our customers, unless we provide a work environment and the respect and trust that goes along with that to our peers and our colleagues."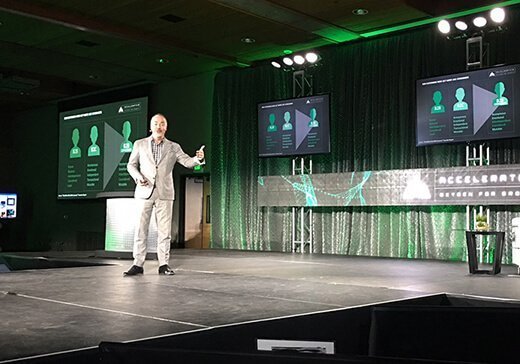 Millennials usher in digital CRM tools
One myth is their fear -- or at least loathing -- of the phone conversation. But it's not just millennials who use digital tools and content to make purchasing decisions; B2B customers, more and more, act like consumers in their purchasing decisions, and become less loyal and more fickle -- like consumers, Condon said.
It's the millennial workforce that can help the older generation of leaders create compelling content and also try out and adopt AI-powered digital tools. Staying on top of the latest technologies ultimately helps companies suss-out sales opportunities and improve communication with customers.
[Millennials] are learning digital sales, teaching themselves and teaching their elder colleagues -- if those elder colleagues choose to listen.

Amy AppleyardVP of sales, LogMeIn
Millennials will pick up the phone when there's a good reason, such as to complete a sale or when insights from AI-driven analytics prove that may be a more effective sales channel for a group of customers, InsideSales.com CEO David Elkington said in his opening keynote.
So why do millennials default to digital channels? Not because they eschew the phone, Forrester's Condon said, but because they speak to customers the way customers want to be spoken to.
"Some of the traditional channels, such as phone and email and even face-to-face, are really fatigued," Condon said.
Be like the millennials -- and promote them
"Millennials don't listen" is another myth, said Amy Appleyard, VP of sales at LogMeIn, who added that she "bristles" at the millennial label in the first place. Members of the millennial workforce are learning digital sales, teaching themselves and teaching their elder colleagues -- if those elder colleagues choose to listen.
"Digital sales is just a different way of listening to the customer, and they're very savvy at that." Appleyard said. "You have to embrace this is just a different way of listening to the customer, and if millennials can do that better and faster, immediately, then fantastic, I'll take it. Everybody else can figure out how to do it as well."
To assume they are the future is also wrong, Pearson's Gentile said: The millennial workforce is here now. She has moved millennials into leadership roles on her teams and their influence has spread -- even to her.
"They'll call me out. They'll say, 'Hey, I'm not sure you're thinking about this'," Gentile said. "Not exactly [telling me] that I'm wrong, but that I'm not thinking about it the way they are. It's been a great learning experience."