Sergey Nivens - Fotolia
Adobe-Microsoft-SAP Open Data Initiative gains momentum
It wasn't a marketing scam announced last year: An alliance takes clearer shape, as Adobe, Microsoft and SAP cooperate on a common data model for ERP, CRM and marketing automation.
LAS VEGAS -- The Adobe-Microsoft-SAP Open Data Initiative took a few steps forward, and the sometimes-competing platform vendors behind the data interoperability project pledge more to come.
Salesforce, which competes with the individual vendors on different fronts, isn't party to the agreement, but many of its customers use ODI-compliant systems.
The Open Data Initiative (ODI), unveiled last fall, spawned a common data model, so customers of the three vendors can normalize data and simplify its movement between ERP, CRM, e-commerce, marketing and analytics platforms. At Adobe Summit, Microsoft CEO Satya Nadella joined Adobe CEO Shantanu Narayen onstage to report on the progress of their initiative since its debut.
The Adobe-Microsoft-SAP group said in a joint statement that they plan to deliver ODI compatibilities to enable "publishing, enriching and ingesting initial data feeds from Adobe Experience Platform, activated through Adobe Experience Cloud, Microsoft Dynamics 365, and Office 365 and SAP C/4HANA, into a customer's data lake."
This is to happen in the "coming months," the companies said. Moreover, the vendors will create an advisory council of numerous partners, including Accenture, Change Healthcare and Capgemini -- among many others serving diverse customer vertical markets -- to help steer ODI.
When asked to detail other progress with the Adobe-Microsoft-SAP ODI model since last fall, Narayen said in a session with journalists one big marker was getting Adobe Experience Platform running on Azure to make sure the data lakes and connectors work like they should in the shared environment.
He also said Adobe created integrations to shunt data back and forth between Adobe Experience Platform and Microsoft's Power BI analytics services.
"In this [Adobe's] platform, we certainly have more behavioral data than virtually any other company on the planet, but we can also bring together IoT data, transactional and financial data so critical to creating a unified customer experience," Narayen said.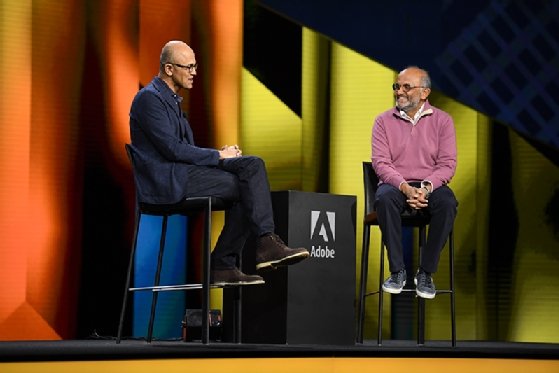 Unilever early ODI adopter with packaging sustainability project
The most important asset that everyone in this room has is the data, except it's locked up sometimes in silos.

Satya NadellaCEO, Microsoft
Adobe also shared details of a new ODI-driven project by consumer packaged goods conglomerate Unilever, which said it will use the common data model across all three vendors' platforms to reduce plastic use, encourage recycling and market to consumers.
Once Unilever collects and normalizes the product, customer and inventory data, AI will help divine insights from the whole to find opportunities to create more sustainable packaging and put out information about recycling the newly recyclable materials to consumers.
"The most important asset that everyone in this room has is the data, except it's locked up sometimes in silos," Nadella said, speaking to 16,000 summit attendees in a keynote. "The partnership that we [including Adobe] formed with SAP was to say, 'If we unlock this data and help each of you enrich this data, how you connect with customers, or how you manage your supply chain, or how you drive initiatives like sustainability can all be driven through all the data.'"
Partners see benefits, Salesforce weighs in
On the exhibit hall floor, Adobe partners said ODI will, in time, save development work for their customers. Gregg Johnson, CEO of call tracking and analytics vendor Invoca, based in Santa Barbara, Calif., said his company can do all the things that ODI does, but it's a laborious process. ODI will certainly help his company set up its services with marketing teams at big customers such as Dish Network and wireless phone network providers faster.
"It's super interesting to us," Johnson said. He added that being able to tie Adobe's web behavioral data to SAP order management systems can help extend marketers' understanding of the sale and more precisely spend on promotions such as Google ads. "Our whole goal is to get the marketers as close to revenue as possible."
Some of Invoca's most effective implementations involve using Adobe web analytics and Salesforce CRM, Johnson said. For its part, when asked to comment on ODI for this article, Salesforce didn't specifically refer to the Adobe-Microsoft-SAP common data model. But the CRM giant did comment on how data flow affects customer experience.
"Unlocking siloed data from across disparate and legacy systems to create a single view of the customer is critical," Patrick Stokes, senior vice president of product management at Salesforce Customer 360, said in an emailed statement. "And even more critical is turning that single view of the customer into intelligent, personalized cross-channel customer experiences."
'Intentions good'
The Adobe-Microsoft-SAP common data model can help solve the marketer's most vexing problem, making data work across their various technologies to enable their campaigns, said Glen Hartman, senior managing director for Accenture Interactive, one of the companies on the newly formed ODI partner advisory council.
He pointed out that other forces are helping to address that, too, such as consolidation in the market.
When Adobe bought marketing automation platform Marketo and dominant e-commerce vendor Magento last year, it eliminated data interoperability headaches between the platforms, ultimately reducing the development support customers would need to use the formerly unintegrated tools.
"Any way to make the data flow easier between systems is a nice thing for marketers," Hartman said. As for ODI, "I think the intention is good."