Getty Images/iStockphoto
Salesforce releases Genie for Healthcare, Patient 360 additions
Electronic medical records remain the systems of record in the Salesforce universe. Adding a CRM approach on top of that enables a better patient experience, the company believes.
Salesforce Genie has hit the healthcare vertical, but it will take a lot more than three wishes to make it operational for most customers.
Healthcare customers got a shot of new cloud services released this week, including their own Genie, which commingles a patient's clinical and nonclinical data -- such as economic, financial, behavioral and environmental factors -- to build comprehensive profiles.
Salesforce Genie, previewed at Dreamforce in September, takes its customer data platform that's familiar to marketers and applies it to sales, service and e-commerce. Salesforce Industries, too, plans to roll out Genie tools for specific verticals; healthcare is the first.
Also available is Behavioral Health, which personalizes engagement between providers and patients; develops a longitudinal timeline for patients; offers tools for counselors to capture patient assessments over the phone and via pre-appointment questionnaires; and includes crisis-center features that make patient intake and referral to appropriate providers more efficient. Salesforce hopes to create efficiencies in mental health care, a cash- and resource-strapped healthcare specialty.
Another feature, Automation for Utilization Management, connects insurers and providers to streamline onerous processes such as prior authorization for drugs or diagnostic testing.
All of these are edge cases for new healthcare technology, said independent analyst Vinnie Mirchandani. With its healthcare offerings, Salesforce proposes to run a CRM on top of the electronic medical record, and not become the clinical record itself.
Salesforce can help not only healthcare providers develop a more holistic view of their patients with its CDP profiles, he said, but also insurers who want to manage relationships with their covered plan members, startups building health apps and pharmaceutical companies. Current systems, especially those used by healthcare providers, are ripe for augmenting with process automation and data aggregation to improve patient experience and cut down on wasted administrative labor.
"The edge is customer-facing," Mirchandani said. "We've seen pharmacy companies like CVS becoming clinics. I don't think Salesforce will get into clinical systems or big healthcare operations. I see a lot of opportunities just making patient-centric interfacing processes much simpler and much, much more elegant."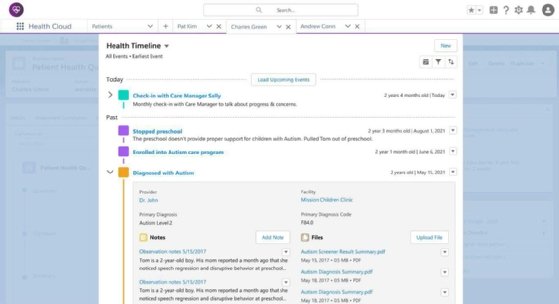 Healthcare data standards key to adoption
Salesforce sees potential improvements to the patient experience with these tools, as users can perform case management and coordinate care in ways healthcare providers can't in their current systems. Providers, as well as customers in the life sciences and insurance realms, can also use it for marketing services and to push personalized health content to patients. They can also set up Salesforce Commerce Cloud instances to sell recommended products.
I don't think Salesforce will get into clinical systems or big healthcare operations. I see a lot of opportunities just making patient-centric interfacing processes much simpler and much, much more elegant.

Vinnie MirchandaniAnalyst
But it will likely take a lot of sweat equity to integrate it with current systems and derive value from the investment.
Salesforce customer Quest Diagnostics -- a massive company that has administered a medical lab test to one in three Americans -- went with Salesforce Health Cloud for a new e-commerce site that enables consumers to order their own lab tests.
While physicians order most lab tests in the U.S., the company found during the pandemic that consumers wanted to steer the process themselves, even paying out of pocket for COVID tests, many of which were triggered by travel requirements.
Other common examples of things for which consumers often want to be tested include diabetes indicators, sexually transmitted diseases and common influenza, said Richard Adams, Quest Diagnostics' vice president and general manager, consumer-initiated testing and sports franchise. Sometimes, consumers don't have a primary care physician; other times they just need a quick answer, want to cut through the red tape and are willing to pay for it themselves.
Quest's consumer-initiated testing was originally launched as QuestDirect. A new site, renamed Questhealth.com, went live on Commerce Cloud in recent weeks. Planned for the first quarter of 2023 is a rollout of genetic testing services acquired from Ancestry.com, which will likely drive growth to the e-commerce operation.
Quest doesn't use the Salesforce CDP; instead, it uses Tealium's. Adams, however, said he sees potential for Salesforce CDP users who deploy the new healthcare tools. The thing prospective buyers must keep in mind, he said, is this: While Salesforce has come a long way developing Genie and Patient 360, these are still early days. Things might be available now, but they might not be fully baked.
"Being an informed purchaser, I think it's important to manage your internal stakeholders' expectations ... [and to] ask hard questions about what is really productized," Adams said.
In some cases, "it does not mean that there's training on this thing, and Trailhead videos, and easy plug-in things," Adams continued. "It means that the tech will work, there's a pathway to do it, and it will get more mature as a product rapidly in the next two or three years. That's what you're buying, and you have to be realistic about it."
One key to Salesforce growing its healthcare presence in general is the industry's standardization on HL7 data standards and Fast Health Interoperability Resources (FHIR) data transport standards. Salesforce deploys these through MuleSoft Accelerator for Healthcare, another part of its new release.
With the federal government fostering the growth of these standards, and healthcare providers calling on tech vendors to work off the same data model and security mechanism, the healthcare sector can open its systems up to Silicon Valley cloud vendors and startups that launch apps for specific conditions such as diabetes management or behavioral health.
It also will enable users to build mixed-vendor cloud stacks, such as running Salesforce healthcare technologies on top of medical record systems such as Cerner, which was recently acquired by Salesforce rival Oracle.
"If you continue to open APIs and interfaces on FHIR standards, then you are the best partners we have," said Amit Khanna, Salesforce senior vice president and general manager of health and life sciences. "I think there are two [benefits of FHIR]: One is the regulations, making sure that patients can have their own data. And then, obviously, if it's on standards, that helps not only us, but the startups and others coming into the market."
Don Fluckinger covers enterprise content management, CRM, marketing automation, e-commerce, customer service and enabling technologies for TechTarget Editorial.