Getty Images/iStockphoto
Salesforce Industries adds Automotive Cloud CRM
Salesforce releases Automotive Cloud, a customer sales, service, marketing and commerce platform for car and truck dealers, manufacturers and financiers.
Salesforce Industries, which develops the company's vertical-specific clouds, today released Automotive Cloud. It targets automakers, dealers and finance companies as prospective users.
At its heart, the new industry cloud is an automotive CRM with tools, dashboards and analytics specific to the auto business. Moreover, Automotive Cloud integrates with Driver 360, a custom instance of Salesforce's Customer 360, which builds individual customer profiles and connects and tracks them through service, commerce and marketing activities.
Features include Drive Console, which dashboards for service teams all a customer's previous touchpoints, from browsing for cars to purchase and maintenance. Household Management gives Automotive Cloud users a historical snapshot of a household's car-buying history. Vehicle Console reveals a vehicle's repair history, odometer readings and other stats.
Also included are Automotive Lead Management and Dealer Performance Management, both sales tools for manufacturer-to-dealer and dealer-to-dealer relationships.
Auto industry changing business models
Automotive Cloud, if it is to unseat incumbent automotive applications, needs to be simple to implement, integrate and use, said Mike Ramsey, a vice president, analyst, at Gartner and longtime auto industry journalist.
The industry is in a period of change, where automakers want to turn their cars into devices like smartphones, with apps and features that customize and personalize the buying and driving experiences. If Salesforce can create cloud software that anticipates and facilitates these new models -- and using it isn't a struggle -- the vendor will be the only one doing anything like it, Ramsey said.
Automotive Cloud is … essentially a hub that connects a whole lot of different services that allow the car company to enable a business closer to something like Apple.

Michael RamseyAnalyst, Gartner
Automakers want to not only keep track of customer relationships but also separately track their vehicles after they're sold and resold to continue selling services to drivers.
"If you're a manufacturer, your whole business model used to be, 'I make a car, then I sell it to a dealer,' the dealer sells to someone else, and the manufacturer has no idea who bought the car," Ramsey said. "Automotive Cloud is not just a CRM system for automakers. It's essentially a hub that connects a whole lot of different services that allow the car company to enable a business closer to something like Apple."
That represents a big IT project that automakers may consider Salesforce Automotive Cloud instead of building or buying -- and then integrating -- all those pieces themselves. Many manufacturers have built their own customer in-vehicle data systems. But replicating the functionality of tools such as Salesforce Flow for Automotive automations and Analytics for Automotive outside of the Salesforce cloud would require a lot of developer code and integration work.
Salesforce's vertical industry playbook
Automotive Cloud follows the pattern of other Salesforce vertical clouds, where large companies such as clothing or consumer packaged goods manufacturers either didn't have relationships with consumers in the first place, or they were severed during the pandemic when retail stores closed. Ordering and delivery suddenly went touchless, and items were shipped to homes or picked up curbside.
Car dealers work with a "patchwork quilt of technologies" for making sales, financing them, building brand loyalty and selling service contracts, said Liz Miller, vice president and principal analyst at Constellation Research.
"Salesforce is trying to understand the realities of an industry, and then out of the box, it [provides] these data models and algorithms," Miller said. "So what has been happening for the past decade is that everyone goes and buys their own technology and tries to figure out how to make it work together. Then they all scratch their head and wonder how we lost the customer somewhere along the way. That's the problem Salesforce is trying to solve."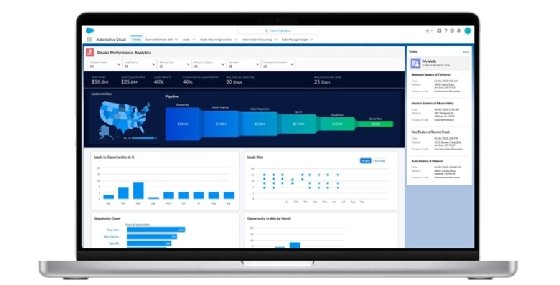 Salesforce hopes Automotive Cloud will appeal to large dealer networks, which typically have 20 or more dealerships and sell cars from multiple automakers, said Achyut Jajoo, senior vice president and general manager for manufacturing and automotive at Salesforce. He added that Salesforce has targeted auto financing companies as well as regional operations groups for large automakers. (Toyota Motor North America, for example, runs sales, R&D and marketing in the United States, Canada and Mexico on behalf of its Japanese parent company, Toyota Motor Corp.).
The dealer landscape has and will continue to go through a period of consolidation, Ramsey said, giving rise to large dealer networks. These companies typically have IT difficulties when integrating software systems among acquired dealerships. Many dealers have primitive software support, and it often is on premises and not cloud based. That might provide an opportunity for Salesforce Automotive Cloud as these networks look to integrate customer data among its dealers.
Don Fluckinger covers enterprise content management, CRM, marketing automation, e-commerce, customer service and enabling technologies for TechTarget Editorial.