the_lightwriter - Fotolia
Salesforce Blockchain brings low-code to trusted networks
Salesforce has launched a new project aimed at bringing citizen developers into the world of blockchain.
Salesforce is the latest cloud service provider to move into blockchain, with an upcoming low-code platform for building blockchain networks, workflow and applications.
The new Salesforce Blockchain product, still in a private beta, extends the reach of the Salesforce customer relationship management platform by enabling developers to build trusted partner networks that share verified data. Salesforce unveiled its blockchain platform at the company's TrailheaDX 2019 developer conference on May 29.
Blockchain is essentially a distributed ledger that is used to manage transactions and keep track of assets. It enables a network of users to record, verify and execute transactions securely. Blockchain also simplifies the creation and exchange of transactions and documents.
Salesforce Blockchain promises ease of use
Salesforce based its blockchain platform on the open source Hyperledger Sawtooth project, which is particularly suited for enterprises building distributed ledger applications and networks. The low-code user interface of the blockchain platform is based on Salesforce Lightning low-code tools, which enable citizen developers to build applications.
The Salesforce Blockchain platform enables users to build blockchain apps with clicks, rather than code, which lowers the barrier for building blockchain applications, explained Parker Harris, co-founder and CTO of Salesforce, in a keynote address at the event.
What makes Salesforce's service particularly interesting is it's aimed at the practical application of the technology to deliver real value, said James Wester, an analyst at IDC.
"By making it easier to develop applications, Salesforce allows enterprises to begin building [applications]," Wester said.
Salesforce's investment in blockchain capabilities indicates enterprises are looking for new ways to support multiparty processes to handle shared, trusted data. Analysts expect the new platform to make blockchain app development achievable for more organizations.
"Through providing an interface that abstracts away the technical complexity of the underlying blockchain framework, Salesforce has made those capabilities much more easily accessible, allowing companies to focus on what matters most -- and that's the business side of a blockchain network," said Martha Bennett, an analyst at Forrester Research.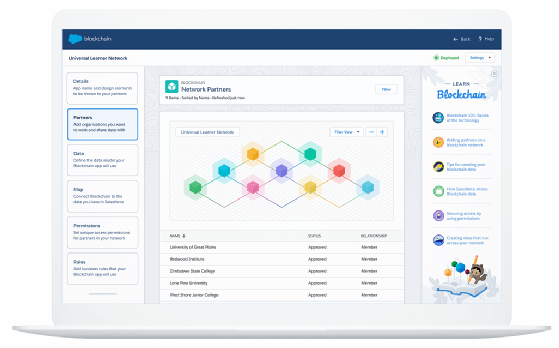 Late to the game
Through providing an interface that abstracts away from the technical complexity of the underlying blockchain framework, Salesforce has made those capabilities much more easily accessible.

Martha BennettAnalyst, Forrester
The software is still at an early stage, and Salesforce will open the private beta to more developers as the product evolves over the summer. However, the Salesforce Blockchain platform will not be available until 2020.
Salesforce joined the Toronto-based Blockchain Research Institute, which consists of 60 companies that share insights and best practices.
Salesforce is somewhat late to the blockchain party. AWS, IBM, Microsoft and Oracle all have blockchain services, and IBM and Microsoft are members of the Blockchain Research Institute, as well.
At its Build 2019 conference, Microsoft launched a preview of its Azure Blockchain Service, which enables developers to build and manage blockchain networks. Oracle launched the Oracle Blockchain Applications Cloud last October. And IBM has been working with blockchain since at least 2016. Big Blue has identified blockchain as one of its strategic technologies, along with AI, cloud and quantum computing.
Moreover, last year Big Blue introduced its IBM Blockchain Platform Starter Plan, which brings the IBM blockchain platform to new developers, including beginners with no previous knowledge of blockchain.
Dig Deeper on Cloud app development and management