phive2015 - stock.adobe.com
Salesforce blockchain development tool for CRM platform unveiled
Blockchain has grown beyond its high-profile use case as the technology behind Bitcoin and other cryptocurrency. Salesforce is the latest tech company to bet big on blockchain.
SAN FRANCISCO -- Do companies need blockchain? Salesforce thinks so. The CRM leader said the distributed network technology is needed more than ever as companies and organizations increasingly rely on partners and suppliers to deliver new products and services.
During the keynote address at the company's TrailheaDX conference on May 29 in San Francisco, Salesforce co-founder and CTO Parker Harris gave several examples of how Salesforce customers use a range of technologies to deliver new products and services. He noted, for example, that Telstra, Australia's largest telecom company, now uses drones and AI to check on its cellphone towers. There is also Adidas, which he said now gets 60% of its revenue from customers using mobile devices or shopping on the web, rather than from traditional retail outlets.
"These connected experiences get more and more complex as companies deliver more services to their customers," Harris said.
There are also issues of trust and security. As companies rely more on each other for services, they need to be sure transactions are secure and the record of those transactions is immutable. That's why Salesforce said it's decided to invest heavily in blockchain.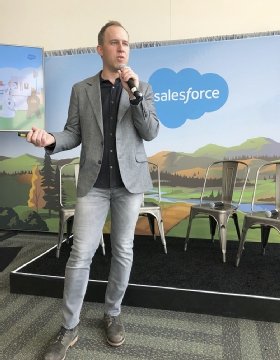 "I kept asking my team, 'Why blockchain?'" Harris said in an interview following the keynote. "If a technology is going to be used just centrally [within the company], you don't need blockchain. For blockchain, you need a distributed use case. I'm excited to see what our customers are going to do with this."
Introducing Salesforce Blockchain
At TrailheaDX, the company unveiled Salesforce Blockchain, a low-code platform for developers designed to let organizations share verified, distributed data sets across a trusted network of partners and third parties. Salesforce Blockchain is customized for Salesforce Lightning, the company's front-end framework for app development.
A finished, generally available version of Salesforce Blockchain isn't due out until sometime next year, but some select customers are already using prerelease versions.
"By making it available early, more companies can experiment," said Bret Taylor, president and chief product officer at Salesforce. "And, in the spirit of how we work with our developer community, we want to make this accessible to anyone with clicks, not code."
In the spirit of how we work with our developer community, we want to make this accessible to anyone with clicks, not code.

Bret TaylorPresident and chief product officer, Salesforce
Iqvia, which provides analytics and contract research services to the life science industries, is working with Salesforce on several blockchain initiatives. One of these would use Salesforce Blockchain to help with the management and verification of drug labels. Potential benefits include cost savings from label automation and improved audit traceability, as well as enhanced security from the immutable content sharing that blockchain enables.
Another early customer, Arizona State University, is using Salesforce Blockchain to help universities verify and securely share information. Student transcripts and accomplishments could be saved in a Learner Trust Record. Ownership and control of learner records could be given to the students themselves and would facilitate, among other things, moving credits to a new school.
Making blockchain easier
Analyst Ray Wang said plenty of other tech giants, including IBM, Microsoft, Oracle and SAP, have already invested heavily in blockchain, but Salesforce is a first mover for CRM and has a chance to make blockchain far more accessible than it's been to date.
"One of the top challenges has been that all the competing, evolving standards for blockchain make it hard to code. It's often as hard as coding webpages was in the early days of the internet," said Wang, CEO of Constellation Research. "By using Hyperledger Sawtooth and creating a declarative approach, Salesforce Blockchain democratizes blockchain development to more users in the Salesforce ecosystem."
The TrailheaDX conference, now in its fourth year, is focused on Trailhead, the Salesforce gamified learning platform designed to help users learn specific Salesforce skills, as well as so-called soft skills, such as communications and selling. As users prove mastery of specific skills, they earn virtual badges of accomplishment that can be added to a resume or simply to show management an updated skill set ahead of performance reviews.
Salesforce already offers Trailhead courses in Blockchain Basics, Smart Contracts and other blockchain-related topics and will likely add more with the planned rollout of Salesforce Blockchain next year.