Fotolia
IBM marketing automation sell-off represents market shift
IBM divests itself of marketing automation tools, but they will likely live on as the new parent company combines them with other acquisitions to incubate a new integrated CX stack.
Users of former IBM marketing automation and e-commerce tools can relax, if signals from their likely new owners prove to be true. It's looking like they'll get a new life, as opposed to becoming abandonware.
When private equity firm Centerbridge Partners L.P. revealed plans to buy a suite of 11 cloud-based IBM marketing automation tools last month, the company made public a few details. IBM execs will move to Centerbridge to manage the tools' continued development, and a new stand-alone company will arise from the acquisition and be led by IBM's former marketing platform and commerce vice president, Mark Simpson, who will serve as the new company's CEO.
That bodes well for users of the ex-IBM marketing automation tools, said Forrester analyst Joe Stanhope. While some marketing automation platforms from vendors such as Adobe, Oracle, SAP and Salesforce might command headlines, IBM quietly built a wide-enough base of large customers for Forrester to consider it a major player competing on that scale.
"IBM, apparently, is not killing off those capabilities, but transferring them to a new custodian," Stanhope said, adding that the acquisition will likely close this summer.
HCL had bought on-premises versions
IBM's move to largely exit marketing automation might have caught some industry observers by surprise, considering that, in late 2018, HCL Technologies bought on-premises IBM marketing automation and e-commerce applications in a deal that included Notes, Domino, Connections, AppScan and BigFix.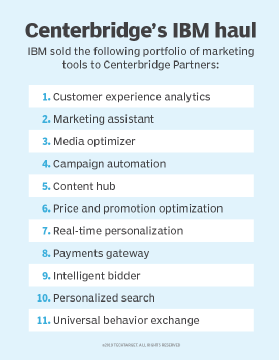 HCL previously took over the development of IBM WebSphere Portal, Content Manager and Web Experience Factory, while IBM maintained sales and marketing control. HCL's $1.8 billion acquisition of those tools is set to finalize later this year.
"[The HCL deal] made sense from a marketing technology perspective; they had already outsourced a lot of the development of those older marketing technologies to HCL," Stanhope said. "Clients we heard from were pretty happy about that."
That signaled IBM was planning to concentrate on honing its cloud martech and e-commerce offerings at the expense of the on-premises legacy applications -- until the company sold the cloud platforms to Centerbridge.
IBM, in a statement provided to SearchCustomerExperience, said AI, blockchain, cloud and supply chain are part of its future integrated model technology development plan.
"The marketing and commerce assets are no longer core to this integrated model and are increasingly sold as stand-alone products," the statement said. "The definitive agreement signed with Centerbridge is consistent with this strategy, and we believe Centerbridge is well-positioned to advance these assets in the marketplace."
New company's big potential
Now that IBM has left the marketing automation and e-commerce platform space, Stanhope said, it can concentrate on technologies such as blockchain and Watson AI services that it can sell to users of martech platforms with which IBM no longer competes.
As for the new company, Stanhope said Centerbridge -- which didn't respond to an interview request for this article -- is likely incubating a viable competitor to customer experience platforms such as Adobe and Salesforce that could itself be up for acquisition in the future.
"Assuming they're properly capitalized and have the right kind of runway from Centerbridge, they could really continue building on the base capabilities they brought over," Stanhope said, concluding that partnerships will play an important role in the success of the new platform -- starting with IBM building tight integrations to Watson AI.