itestro - Fotolia
HubSpot enterprise edition unveiled
In addition to releasing enterprise-level systems, HubSpot unveiled a CMS tool for companies to build and customize websites, and a video tool to help create content.
BOSTON -- Since its inception, HubSpot has been known as a software company for SMBs, providing low-cost or free versions of marketing automation and CRM software, eventually adding sales and service tools.
Now the inbound marketing automation software vendor is targeting the enterprise market, with new products that the company said are commercially available now.
At its annual user conference, Inbound 2018, HubSpot unveiled a lineup of HubSpot enterprise tools aimed at helping companies that have outgrown the vendor's initial products stay with HubSpot.
HubSpot had to expand reach
HubSpot "was losing customers, so it needed to expand," said Predrag Jakovljevic, principal analyst at Technology Evaluation Centers.
Jakovljevic said with the HubSpot enterprise products, the company can target larger companies that need more scalability. He said HubSpot enterprise products can scale up to companies with up to about 2,000 employees.
The launch was not without its glitches. Early Sept. 6, the morning after HubSpot introduced the enterprise platform, an outage occurred. Tweeters quickly exposed it via the #HubSpotDown hashtag. HubSpot got it back online, blaming "configuration code" issues in a company blog.
HubSpot also released a video creation tool and a CMS product.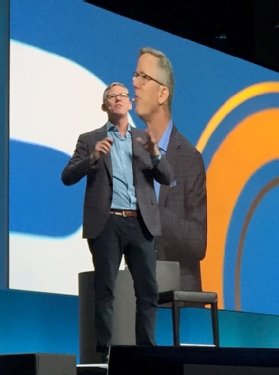 The branding could be seen as slightly confusing, as the term "enterprise" is commonly used to refer to the largest of organizations -- ones with multiple departments scattered across locations, said Laurie McCabe, an analyst and partner at SMB Group. HubSpot, however, is using enterprise in terms of scaling up an organization's processes.
"In the tech industry, we've taken the word 'enterprise' to mean large businesses," McCabe said. "HubSpot is just continuing to grow with its customers."
Moving to enterprise
Among the new HubSpot enterprise offerings are Sales Hub Enterprise and Service Hub Enterprise.
Sales Hub Enterprise offers the capability to build out best practices and resources for a sales team -- useful for enterprises trying to get large sales teams working in the same direction. Service Hub Enterprise includes features to help teams track against service-level agreements and other service metrics.
The existing Marketing Hub Enterprise received upgrades around analytics and custom bot capabilities. HubSpot now offers three levels of sales, marketing and service products: starter, professional and enterprise.
[HubSpot] was losing customers, so it needed to expand.

Predrag Jakovljevicprincipal analyst, Technology Evaluation Centers
Users at Inbound 2018 expressed enthusiasm about some of the new features, but also wondered whether HubSpot enterprise products were right for their organization.
"We're trying to embrace tech and bring an old-fashioned niche market into the modern world," said Chad Wiertzema, creative marketing manager at ITM TwentyFirst, an independent life insurance firm. "We've used [HubSpot Marketing Hub] for about a year now at the professional level, and we're wondering if it makes sense for us to use the enterprise product."
Wiertzema said he spoke to a HubSpot rep about the enterprise product and whether ITM TwentyFirst would benefit from it, as the company has grown over the past five years.
"We're getting close to it," he said, referring to his company's growth and whether it is ready for larger scale platform from HubSpot.
HubSpot adds video creation
HubSpot said it hopes that its new suite of products will enable its customers to better sell customer experiences, rather than products or services.
"The product used to win," said Brian Halligan, co-founder and CEO of HubSpot, in a keynote. "Now the customer experience is what wins."
HubSpot's CTO and other co-founder, Dharmesh Shah, echoed that sentiment from the conference stage.
"Improving your experience by 10 times is much easier than improving your product by 10 times," Shah said.
HubSpot also released a video feature available across its suite of products. HubSpot Video -- powered by partner Vidyard -- will include video hosting, in-video forms and a video creation tool.
HubSpot Video enables marketers to host and manage video files for campaigns, according to the company. Sales reps can create and share personalized videos from the CRM and service teams can help customers more completely with personalized service videos.
"Videos are what customers want," McCabe said. "And they are sometimes easier to produce than blog posts."
Video for creating content
Other users spoke positively about the potential for HubSpot Video, with creating content becoming a bigger priority for many companies.
Meanwhile, other features across all three HubSpot enterprise products include Slack integrations, machine learning for predictive lead scoring and Conversations -- HubSpot's communication unifier, previewed a year ago and commercially released in August 2018.
HubSpot also released a stand-alone CMS tool to help with website creation, as well as a Service Hub Starter product, which helps organizations do entry-level service requests like ticketing, help desk services and connecting with customers through live chat.
Pricing for HubSpot products varies depending on whether an organization licenses the starter, professional or enterprise level.