Klemsy - Fotolia
HubSpot CMS targets WordPress users with stand-alone product
With the growing importance of customer experience personalization, HubSpot is offering its CMS as a stand-alone product to help customers' web businesses.
For a small or medium-sized business to grow, it often needs a website that can grow with it and track potential prospects, all while staying within the organization's budget.
CMS platforms like WordPress and Wix can get businesses started with an online presence, but they lack some of the deeper tracking and analytical qualities of the larger, more expensive vendors like Acquia or OpenText.
HubSpot Inc. is marketing HubSpot CMS -- its somewhat stripped-down version of a CMS -- as a tool to help enable the customer experience personalization that customers are seeking and compete more directly with the likes of WordPress.
Event management software vendor Aventri Inc. moved from WordPress to HubSpot CMS earlier this year and started building out its landing page and blog presence with the platform.
"We moved to HubSpot mainly due to the analytics and data we needed to get from our site," said Kristen Carvalho, director of events and content marketing for Aventri, in an interview at the HubSpot Inbound conference in Boston in September.
Upgrading to HubSpot CMS costs $300 per month, but with a substantial number of prospects coming through the Aventri landing page, it's a core part of the company's marketing process.
"One of the most important parts of the site is to generate leads and manage and nurture those leads until they are customers," said John Kearney, director of go-to-market strategy for Aventri, in another interview at Inbound.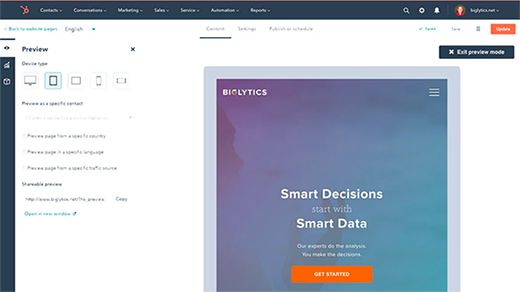 Building an interactive website
With the continued focus on customer experience for organizations, software companies like HubSpot, based in Cambridge, Mass., are developing applications that can enable users create customer experience personalization.
HubSpot CMS offers all the basic requirements for a CMS: templates; drag-and-drop capabilities; on-page SEO; mobile optimization; and the ability to create diverse webpages, from interactive landing pages to blogs. But HubSpot is trying to separate itself in a crowded CMS market by helping to improve customer experience personalization on websites by making them more interactive and personalized.
"When you interact with an average website, you're getting the same experience over and over again," Nate Ciruolo, product manager for HubSpot CMS, said at the conference. "What we have is a CMS built on top of a CRM, and we have the ability to create experiences from the entire context within the CRM to influence the CMS."
Ciruolo sees HubSpot CMS as helping organizations that have outgrown the CMS vendors providing ease of use and bringing website to everyone, while also building out experiences for its customers through a website, which are typically available to larger enterprises.
"We're not exactly targeting the single owner who's looking for a web presence," Ciruolo said. "We want the professional markets with small teams that are looking to grow."
HubSpot CMS has also integrated HubSpot Video into the platform as part of a partnership with Vidyard, something those at Aventri were pleased to hear.
"Our head of sales and marketing is big on video, so we're looking to make a larger push into that realm, and it will be especially useful with everything connected within the platform," Carvalho said.
HubSpot is going after WordPress
HubSpot CMS has been part of HubSpot's Marketing Hub for four years, but at the Inbound conference, HubSpot released it as a stand-alone product, allowing for more flexibility for users who are licensing it.
I'm skeptical as to how much attention HubSpot will command among non-HubSpot customers.

Melissa Websteranalyst, IDC
And while HubSpot expects the stand-alone CMS to be more attractive to users, getting non-HubSpot customers to license it may prove more challenging, according to Melissa Webster, an analyst for IDC.
"I'm skeptical as to how much attention HubSpot will command among non-HubSpot customers," Webster said.
Webster added that while WordPress may be somewhat complex for nontechnical marketers, its name recognition and large marketplace of plugins and themes makes it an attractive option for growing marketing teams. Other CMS vendors like Wix and Squarespace may also take some of the users HubSpot hopes to capture.
"I question whether HubSpot will want to make that level of investment to market its CMS as a point product," Webster said.
Webster is bullish on the strategy HubSpot is demonstrating by bringing together CMS and CRM.
"HubSpot is doing what Salesforce tried a couple of times to achieve, but failed," Webster said. "CRM vendors should be paying a lot more attention to the content side of the equation and making digital experience management part of their portfolio."
HubSpot's new products, CMS strategy
At Inbound 2018, HubSpot unveiled a new enterprise product line. It also the flywheel, a circular metaphor for the customer relationship with sales, marketing and service.
Yet, with the enthusiasm Aventri executives have about HubSpot CMS and its customer experience personalization capabilities, there are still some more features they said they'd like to have around reporting and tracking, as well as integration.
"In the event management space, we need more on how to align other marketing tech with the HubSpot platform more effectively -- that's something we're always looking at," Kearney said.
"We grew our blog subscriptions by 50% over the last five months, but more reporting would be a huge help," Carvalho said. "Some content is fickle and hard to track. There are places on the blog that could be expanded with analytics capabilities."
Ciruolo agreed that marketers often are looking for more robust reporting tools, and he said he expects future capabilities for HubSpot CMS will help with that.
Specifically, Ciruolo said, HubSpot is close to releasing a product called Smart Content Reporting that will enable users to target messages to different prospects based off information they've gathered. Ciruolo also said that a website analytics tool that will bring content applications into one reporting dashboard is currently in beta.
HubSpot CMS is available as the stand-alone version at $300 a month or it can be bundled with Marketing Hub Starter for $350 per month, the vendor said.
Dig Deeper on Content management software and services