Sergey Nivens - stock.adobe.com
HubSpot enterprise CMS helps midmarket maintain websites
HubSpot launches new web content management system, offering a drag-and-drop page builder for noncoders and the ability for businesses to consolidate their website accounts into one.
Many web content management systems require a team of developers to create and maintain, proving a challenge to noncoders who might need to tweak a webpage; however, a new platform aims to solve that problem, while helping businesses consolidate their technology.
HubSpot's new enterprise CMS Hub, featuring a no-code drag-and-drop page builder, is geared toward marketers and attempts to capture the midmarket gap -- businesses with 20 to 2,000 employees.
"I think the new HubSpot CMS is a way of [keeping up with] WordPress, which integrates with many low-cost applications that provide funnel-based marketing services that compete with HubSpot," said Alan Pelz-Sharpe, founder and principal analyst at Deep Analysis.
Features of CMS Hub
Even though CMS Hub has a drag-and-drop page builder, it's still necessary to have strong developers working on websites, said Kelly Molloy, senior web strategist at New Breed Marketing, a HubSpot customer and partner that offers marketing services to businesses. The drag-and-drop feature just enables noncoders to adjust items on a webpage instead of waiting until a developer has the time.
The new enterprise CMS Hub also helps brands consolidate their website accounts into one, Molloy said.
HubSpot gives you 99% of what you need to get going right out of the box.

Christopher MathieuChief design officer, New Breed Marketing
That means that businesses can now have multiple top-level websites on one website account, said Christopher Mathieu, chief design officer at New Breed Marketing. Historically, businesses may have had to spin up multiple HubSpot accounts for different branches of one company.
"[This makes it] really helpful to stay organized and simplify the back-end piece for folks," Molloy said.
Another feature of the new enterprise CMS Hub is the ability to run server-side code, integrating with APIs directly in the CMS.
"[Previously] you'd need to go with a third party to run server-side script, such as AWS," Mathieu said.
Twenty percent of New Breed's website builds are still on the WordPress platform, while the other 80% uses HubSpot, Mathieu said.
"WordPress is open source, and with enough third-party software you can make it anything you want," Mathieu said. "But it makes it complex and is not scalable over time. HubSpot gives you 99% of what you need to get going right out of the box."
HubSpot offers two tiers of its CMS -- professional and enterprise. The price is $240 per month for professional package and $900 for enterprise. While the company has had a CMS for many years, the enterprise version that launched in April is new. Previously, HubSpot's CMS was an add-on for marketing software. Now, it is a stand-alone product.
HubSpot's free CRM is also included in each of these packages.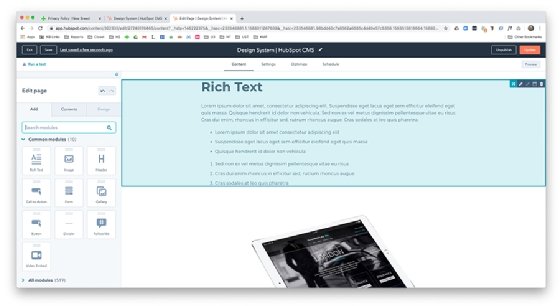 Tech consolidation trend
When Salesforce launched its own CMS in October 2019, HubSpot leaders saw offering a suite of services rather than just best-of-breed offerings as a good sign, said Angela DeFranco, director of product at HubSpot.
"It showed there was value in having your system of content [integrated] with your system of record," she said. "That tech consolidation trend is very real."
The businesses that will use the Salesforce and HubSpot CMSes are those that have doubled down and essentially run their businesses on these platforms, Pelz-Sharpe said.
"Most organizations only rely on [Salesforce and HubSpot] for one or two activities -- such as CRM -- but more firms are now building out their sales, marketing, customer support and supply chains on these platforms," Pelz-Sharpe said.
A built-in preconfigured CMS might be attractive to businesses creating new sites rather than migrating existing sites, he added.
Dig Deeper on Content management software and services