Rawpixel.com - Fotolia
Health and wellness business reviews use of Salesforce CMS
Zenovate pivoted from offering in-person massages to prerecorded yoga videos while the COVID-19 pandemic continues to rage. Learn how the company used Salesforce's CMS to do so.
When one health and wellness company needed to pivot to virtual services during the COVID-19 crisis, it relied on a CMS to deliver paid and free video content to customers.
Like many other companies -- such as gyms -- that offered in-person, on-site services, Zenovate, a health and wellness company in South Jordan, Utah, had to change its business model to reach customers and stay afloat.
Zenovate offered on-site massage services to businesses. Massage therapists would go into offices to massage employees at work -- until people stopped going into the office. Because Zenovate was already on the Salesforce platform when the pandemic hit, the company was able to build out a content library with more than 200 yoga videos on the CMS for customers to access via the web.
"[Customers] can look at a page by modality or by practitioner or by difficulty level," said Amelia Wilcox, Zenovate founder and CEO. "We've been really happy with the way Salesforce has it built to be able to organize our content."
The decision to use Salesforce CMS
The health and wellness company moved to the Salesforce Service Cloud CRM platform for customer service and support at the end of 2019 from its own homegrown system to unify its tech stack and provide Zenovate employees with a better user experience, Wilcox said.
"Everything was really fragmented in the company. And there wasn't much visibility across departments," Wilcox said.
When the COVID-19 crisis occurred months later, Zenovate created a video library with more than 200 videos in about four weeks and stored them in Salesforce CMS for customers to access through a web app. Zenovate's web app is built on the Salesforce Community Cloud platform, which enables companies to create branded sites.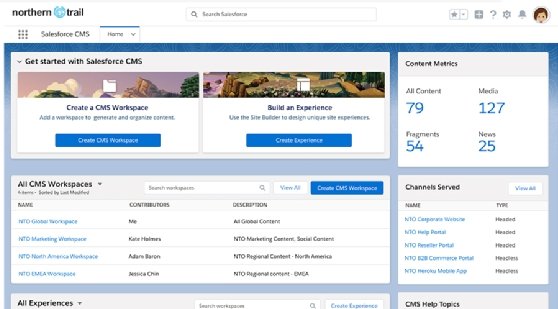 Salesforce CMS is not the only content management system that Zenovate uses. It also uses WordPress, which hosts the brand's website. Zenovate built the website before the move to Salesforce and has not yet integrated it with the new system.
However, many companies use multiple CMSes within their businesses. In the case of Salesforce CMS, many businesses use the platform because they want to build an experience that integrates data fueled by their CRM, and their existing CMS is disconnected from that.
Salesforce touts its CMS as a hybrid web content management system, combining access to workflow and collaboration functions of a traditional CMS with the agility and speed to value of a headless CMS, said Liz Miller, vice president and principal analyst at Constellation Research Inc.
But Salesforce CMS is not intended to be a fully functioning CMS system, Miller said.
In most traditional CMSes, the focus is on the database that holds, manages and orders content in direct relation to templates and structure of the front end, which presents that content and defines how it is displayed, Miller said. Salesforce CMS is missing that fully blown structure, templates, front-end controls and themes.
"However, this is likely by design, as Salesforce has long believed that what is needed is a hybrid CMS that is lighter and has a better capacity for connectivity to CRM," Miller said.
Salesforce's need for a CMS
Salesforce is really hitting the peak of the maturity curve as a software company.

Nicole FranceVice president and principal analyst, Constellation Research
While Salesforce currently connects with other digital asset management and content management systems -- such as Sitecore, WordPress and Adobe Experience Manager -- via API connectors, the CRM giant understands the need to give its customers options, said Nicole France, vice president and principal analyst at Constellation Research.
"Salesforce is really hitting the peak of the maturity curve as a software company, and they don't have more products to throw on the track," France said. "[Salesforce] needs to have more stuff that their salespeople can draw on to cross sell and upsell their existing customers into different areas."
However, most of Salesforce's growth comes through acquisitions, as the company can't possibly innovate and create in-house offerings fast enough, France said.
"In any system that gets as big as the Salesforce portfolio is, there are always interesting little gaps that you need to fill," France said. "I think that's something that they are eager to do themselves as opposed to leaving too much white space for someone else to come in and address or dominate."
Salesforce CMS competes with specialist players such as Contentstack and currently has more than 1,500 customers using the platform.
Salesforce CMS launched in October 2019, just before Dreamforce, the company's annual conference.
Dig Deeper on Content management software and services