Sergey Nivens - Fotolia
Rise of headless CMS: Businesses move away from traditional WCM
Traditional web content management dominates the market, but as mobile and voice channels become increasingly important, companies opt for headless content management.
With more than 20 years of web content management efforts behind them, some organizations maintain multiple systems, with assets and metadata spread over many repositories and databases. This unwieldy spread of content forces technical teams to spend too much time maintaining the technology instead of developing new applications -- and leaves customer-facing teams unable to launch new content or campaigns that can help build new business or support existing customers.
Forrester's "Web Content Management Systems, Q4 2018" report included many of the names people have associated with WCM for years -- vendors such as CoreMedia, Crownpeak, SDL and Sitecore to name a few. Since Forrester also includes the dominant open source platforms -- Drupal (Acquia) and WordPress (Automattic) -- in its evaluation, the report in fact covers the technologies that run the lion's share of websites in the United States. However, on the same day, Forrester published a second report that raised the question of whether these technologies would continue to dominate with "Coming Soon: Agile Content Curation And Orchestration Will Redefine CMS."
The argument, as Forrester frames it, is that the web CMS problem solved by the incumbents is not the same problem organizations are facing today, making way for the rise of headless CMS.
Multiple channel options
Today, mobile represents more than 10 "channel" options, and that number continues to grow, Forrester analyst Mark Grannan wrote in the second report. While web still matters, the competition for customer attention is fierce. Users connect with organizations through mobile and voice-enabled apps, chatbots and messaging.

Think of the last time you filled a prescription. You may have started on the web, confirmed it through an instant message, been reminded to pick it up by a voice message then paid for it through a mobile app before picking it up at the drive-through.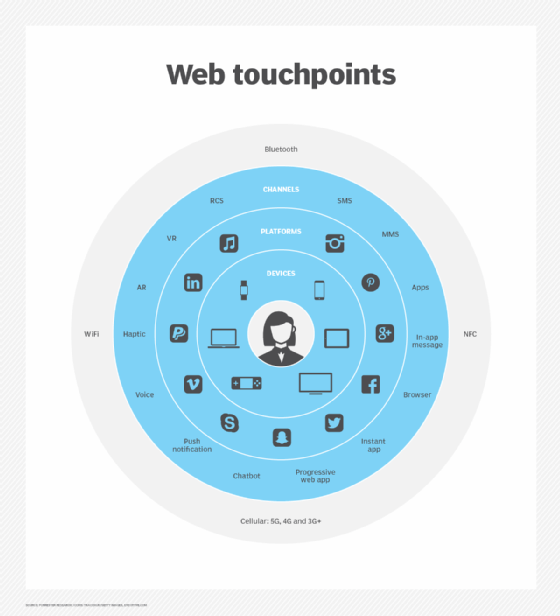 Forrester's report emphasizes the need for agility and points to the rise of headless CMS and newer vendors such as Contentful and Cloud CMS.
Paul Biggs, director of product marketing at Contentful, agrees with Forrester's overall arguments. "Content management was born out of the challenge of getting content on the web, but the needs have shifted. Companies are producing more software than ever before for mobile and for new channels."
Differences in terminology
However, Contentful and Cloud CMS have different takes on the "headless" terminology. Biggs suggests the term is not as useful a term as "API-first."
"We tend to shy away from that word. 'Headless' is a limiting way to describe cloud-native, API-first. CMS is also not the right word. We're not trying to build a better CMS -- we're building content infrastructure," Biggs said.
Content management was born out of the challenge of getting content on the web, but the needs have shifted.

Paul BiggsDirector of content management, Contentful
Though the API-first architecture is important, the cloud piece also compels developers. Unencumbered by the requirement to install and maintain their own software, developers can rely on AWS or Azure to quickly spin up one or many instances of a given technology. The architecture and the cloud deployment work together to help organizations develop, deploy and iterate more quickly.
Biggs pointed to one customer recently using a cloud service to deploy 70 instances of an application to do some performance testing, suggesting this would be difficult or impossible with traditional technologies.
"When I am at a conference I like to ask a question of the audience: 'How many of you are on the current version of your CMS?' Very few of them will raise their hand," Biggs said.
Malcolm Teasdale, CEO at Cloud CMS, thinks the terms "headless" and "API-first" speak to different ends of the business.
"The term 'headless CMS' is a good starting point for searching for a CMS to meet your needs. Without this label, it is very difficult to find a CMS that isn't just a 'page builder,'" Teasdale said. "API-first conveys to the developer the concept very quickly, whereas the term headless is easily communicated to the business. In addition, it conveys the need to think about how to build the frontend and backend using the best tools for the job."
Beyond the terminology
Beyond terminology, the key is to look at how the work is being done by the developers. They can use API-first technologies to build content applications around a variety of content sources and platforms using multiple repositories, multiple search engines and multiple tools for content and data analytics.
Alan Pelz-Sharpe, founder and principal at Deep Analysis, sees this as part of a bigger move in content management away from centralized repository control to decentralized data, content and supporting technologies.
"I just don't see a centralized repository as reality anymore," Pelz-Sharpe said. "In [a recent AI] workshop with 20 large public and private organizations, they all had many repositories and will likely have more in the future."
As content management technology moves away from a monolithic model where a single repository attempts to manage all content assets and metadata, organizations can take advantage of a more distributed architecture where content can reside in different systems. This distributed architecture enables organizations to run different technologies for different purposes. Pelz-Sharpe uses AI and machine learning as an example and talks about performing "active analysis" on documents and content for applications such as classification and search.
"Just like a repository, there is seldom going to be a single AI/ML system -- rather there are going to be multiple systems," Pelz-Sharpe said. "Some for dealing with the corpus, some for incoming classification, some for predicting future activity and so forth."
The CMS incumbents own huge swaths of the market, but the requirements are indeed changing. Developers are finding their way to these newer platforms, whether "headless CMS" or "API-first" helped them find their way or not.
Dig Deeper on Content management software and services