HubSpot Conversations adds chatbots, collaborative inbox
HubSpot sales, marketing and service hubs get new features with Conversations, previewed last year and going live this month.
HubSpot Conversations, previewed at last year's Inbound user conference, went live earlier this month. The tool helps users keep track of customer interactions across multiple channels and, the company hopes, makes its customer sites more sticky, traffic-wise.
The new module comes a few months after HubSpot introduced Service Hub, HubSpot's new service product, and adds communication capabilities to the Cambridge, Mass., martech vendor's marketing and service systems.
HubSpot Conversations has three main components: a collaborative inbox tool, chatbot capabilities and lead routing.
All of these capabilities were a welcome addition to the HubSpot tech stack for customer Frame My TV, a Haverhill, Mass., manufacturing company that builds custom frames for wall-mounted televisions.
"It allowed us, as a small business, to bring all of our remote employees under one umbrella," said Kevin Hancock, principal at Frame My TV.
Hancock has a small core staff of about six employees, with roughly a dozen more freelance workers in sales and other departments. Having most of his technology all within HubSpot has made marketing and selling easier and more efficient -- due to fewer integrations with third-party tools.
It allows me to focus on running the business and not having to focus on the technology.

Kevin Hancockprincipal, Frame My TV
"It allows me to focus on running the business and not having to focus on the technology," Hancock said. "The top benefit of HubSpot Conversations is it puts the prospect information into the CRM for us and can trigger certain functionality."
Previously, Hancock's sales reps would have to toggle in-between different UI and input information in HubSpot on particular inbound prospects. With those interactions being recorded by HubSpot Conversations, the system is able to update the customer information automatically. Conversations also integrate with Slack, which Hancock and his team use more than email to communicate.
Separating spam from leads
While Hancock said HubSpot Conversations has improved efficiency for Frame My TV, he expressed some uneasiness about some aspects of the product. When working within inbound marketing, a common problem that arises is an abundance of irrelevant material -- something HubSpot is still trying to work through with the collaborative inbox feature of Conversations.
"The number one hurdle with Conversations is figuring out how to handle the flurry of junk mail," Hancock said. "Conceptually it makes sense to bring them into one place, but spam is a problem. I don't want those emails to end up as contacts and muddying up the inbox."
Hancock said that while he has turned off the feature, HubSpot is trying to fix the problem.
"It needs to have an option that when a message comes in to add that email as a contact," he said.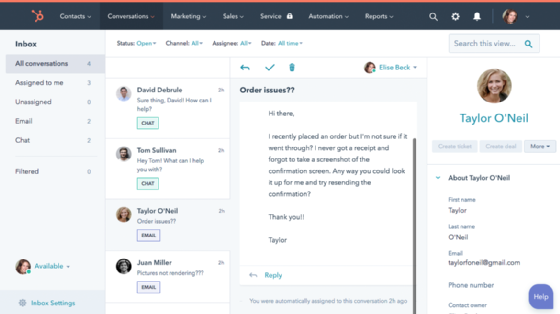 Chatbots come to HubSpot
Another feature of HubSpot Conversations that Frame My TV had deployed is building out chatbots, helping to gather initial information on inquiries and working to find the ideal number of questions to ask before moving over to live chat.
"One challenge we have is we sell a product to the top 5% -- people aren't buying it because of the cost, it's a desire to finish off a room," Hancock said. "So we have to qualify people a little bit and a lot of that can be sifted through using a bot."
Building a chatbot for HubSpot was made possible by HubSpot's acquisition of Motion AI in 2017.
HubSpot is seeking to build a platform-wide product -- similar to what Salesforce has done over the years -- with the goal of getting its users to stay on the HubSpot platform for all their needs, according to the company.
"With Conversations, what we're trying to do is give teams that full clear picture of that customer relationship," said Elise Beck, product marketing manager for Conversations. "As teams engage and work with prospects through their journey, they can keep things tied to CRM and keep tabs on what has happened."
Beck added that HubSpot Conversations is available now within all existing HubSpot products as a drop-down item at no additional charge.
HubSpot's annual user conference, Inbound 2018, is in Boston Sept. 4 to 7. Check back to SearchCRM.com for coverage of the conference.
Dig Deeper on Marketing and sales