Einstein AI drills deeper into Salesforce clouds
Einstein AI tools show great promise and are expanding deeper into the Salesforce clouds. Many smaller companies still need some convincing, but have high hopes for the future.
SAN FRANCISCO -- Einstein AI arrived with a hype bomb blast last year. It got another big boost at this year's...
Continue Reading This Article
Enjoy this article as well as all of our content, including E-Guides, news, tips and more.
Dreamforce, with new and deeper feature integrations announced for multiple Salesforce clouds.
But if they build it, will customers come? Perhaps eventually, but for now, some remain in the testing phase, trying to figure out just how Einstein will pay off in their business strategies. Salesforce is banking on a stronger user education Trailhead platform to inspire adoption of its AI tools.
An informal survey of Salesforce users at Dreamforce 2017 found that Einstein is still in its early phases. A few smaller enterprises have experimented with it, but few have put Einstein into production.
One of the big challenges is that Einstein AI only works directly on native Salesforce objects. However, about 80% of the data on Salesforce is stored in custom objects. The MyEinstein update to the platform promises to make Einstein features available for these custom objects. Einstein also requires the use of Lightning, which has been a hindrance to many IT shops.
Everything old is new again
The core ideas behind AI have been around since the 1950s, but have stagnated owing to a lack of computing horsepower and the complexity of crafting AI-enabled apps.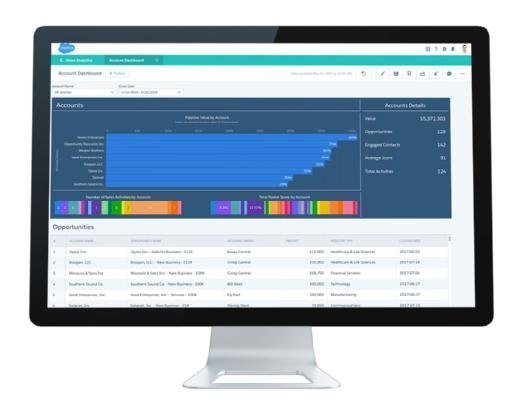 All this has started to change over the last couple of years as researchers have devised better infrastructures for spinning up AI capabilities, and as both computing power and the size of data repositories have increased to give AI a critical mass for divining insights to drive business.
This has made it easier for data scientists to create apps, but these apps have remained challenging for the average user to wrap their heads around.
Salesforce has spent considerable capital and effort addressing the latter problem with its Einstein AI initiative, which promises to make it easier for users to customize AI capabilities for a wide variety of applications. These include analytics, business intelligence, image recognition and intelligent chatbots.
Large companies thinking big
Since Einstein was released last year, Salesforce has striven to make it work for a few cutting-edge use cases for larger enterprises. AXA Assurance, an insurance giant in France, has used Einstein to build an app to predict the likelihood that a customer will leave so they can be targeted with new offers.
Adidas has used Einstein to build chatbots that reduce the work of customer service agents. Crossmark, a sales and marketing services company, used Einstein to create an app that enables store associates to take pictures of shelves, which can recognize products and suggest improvements to the shelf layout to increase sales.
In some ways, Einstein is simply a rebranding of Salesforce's Wave Analytics Cloud, said Jeff Kaplan, managing director at ThinkStrategies, an IT consultancy. Einstein builds on these capabilities and ties them to the popularity of AI. However, it also adds a variety of new capabilities, like image recognition, which can, for example, analyze the items on a store shelf or help a technician identify a part.
More significant, according to Kaplan, is that Salesforce is investing considerable effort in its Trailhead initiative, designed to improve training to enable frontline users to get the most out of new Salesforce services, like Einstein.
It's one thing to make sophisticated Einstein AI available for enterprises with the budgets for machine learning experts, but quite another to enable less-sophisticated users to take advantage of these features. Trailhead could help bridge this gap.
Smaller firms still window shopping
David Gregory, director of partnerships at Connected Space, said his company is still in the exploratory stage with Einstein as the company identifies practical use cases. The firm is developing a set of applications for machine learning, the internet of things and blockchain technology to improve energy management.
"We are wondering what it can do before getting our hands dirty," Gregory said.
Other Salesforce users indicated they, too, were still determining what Einstein AI's potential was for their businesses, and how they'd integrate those use cases once they found them.
Tim Mason, Salesforce Administrator at the Council on International Educational Exchange, said CIEE is looking at Einstein for lead qualification, predicting opportunities and to facilitate web-based communication with customers. He has hope that Einstein will enable the company to drive more sales and improve the customer experience.
Vinay Nair, managing director at Aarialife in India, is excited about Einstein AI's tools for predictive analytics and for providing more proactive service. "Our data is already in Salesforce," Nair said. "This should make it easier to leverage intelligence to make better decisions. It's also significant that Einstein can work across objects rather than just Salesforce objects. This will allow us to use more of our data to build the models."
Geoffrey Gilbert, business analyst at Dell EMC, said that Einstein is exciting, but it would need a lot of work before his company would be ready to adopt it to improve lead scoring. A key roadblock is that Einstein requires Lightning, which Dell ECM has not adopted yet. It is not practical to add Lightning to its Salesforce implementation until it has done more internal work to develop a consistent sales process.
Jaspreet Singh, a certified Salesforce developer at Slalom Consulting, said his company is most excited about Einstein AI features for improving predictive sales and service. He expects that it will help salespeople to make better product recommendations based on what a client has bought before. He also anticipates Einstein will make it easier to create apps that enable service technicians to leverage predictive analytics to proactively repair equipment before it fails.