Getty Images
Microsoft Teams AI updates for chat, Rooms Pro Management
The tech giant's $10 billion investment in OpenAI brings AI-supported updates to its basic Teams offering, on top of features supported by GPT-3.5 to Microsoft Teams Premium.
While most of the recent advancements in Microsoft Teams are in the new Teams Premium, some AI features have trickled down to the basic offering.
Microsoft in a Feb. 28 blog post said it added new AI-supported capabilities for users of the basic Microsoft Teams platform. Key among them is a feature that brings suggested files to the chat box, minimizing the number of clicks a user needs to browse and open the file manually.
Another AI-supported technology enables users to access the Teams Rooms Pro Management portal on Android devices. Now, Android users can use portal tools to view data for inventory management, reports and insights across Teams Rooms Android and Windows devices.
AI technologies powered by OpenAI's GPT-3.5 are the most intriguing offerings in the Teams portfolio, said Commfusion analyst Blair Pleasant.
Microsoft's investment in OpenAI is going to put the fire under competitors.

Blair PleasantAnalyst, Commfusion
"Anything AI related -- and especially OpenAI related -- is going to get attention," she said. "Microsoft's investment in OpenAI is going to put the fire under competitors."
Microsoft said in January that it will invest $10 billion in AI research lab and vendor OpenAI, maker of the GPT-3.5 large language model, continuing a partnership that started in 2019.
The tech giant last month revealed that it had added capabilities from OpenAI's ChatGPT generative AI chatbot to its Bing search engine that powers the Edge browser.
Microsoft Teams competitors Zoom and Cisco Webex are also investing in AI-supported tools.
In its fourth-quarter earnings call on Feb. 27, Zoom said it will incorporate more AI tech in its offerings. "We will layer more AI technologies into our products to truly help our customers maximize their ROI on our platform and thrive in this new era of computing," Zoom CEO Eric Yuan said during the call.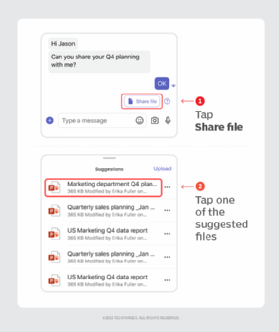 In January, Cisco released an AI-supported "optimize for all voices" feature for Webex that distinguishes a speaker's voice from background noise and clarifies speaking voices that might be farther from a microphone.
Microsoft last month released more advanced capabilities using GPT-3.5 in its Microsoft Teams Premium portfolio. These tools include AI-generated chapters for PowerPoint live recordings, personalized timeline markers to privately track when a user joined and left a meeting, and live caption translation during meetings.
Updates to Microsoft Teams also include a virtual appointment meeting template for Teams users to set up external meetings with customers and others through the Teams calendar.
Microsoft is expected to launch a major overhaul to Teams later this month or next month. The vendor usually introduces incremental features and capabilities for its enterprise application platforms in monthly blog posts.
Mary Reines joined TechTarget Editorial in October 2022 as a news writer covering networking. Prior to TechTarget, Reines worked for five years as arts editor at the Marblehead Reporter, her hometown newspaper. She received her bachelor's in journalism from the University of Massachusetts Amherst, where she served as an assistant news editor for the student newspaper, The Daily Collegian.
Dig Deeper on Team collaboration software