Getty Images/iStockphoto
Microsoft boosts Teams Premium tools with OpenAI's GPT-3.5
Microsoft leverages OpenAI's large language model in Teams Premium to draw meaningful information from recorded meetings. More AI features are on the roadmap.
Microsoft's Teams Premium marks the first time the company has brought OpenAI's large language model, GPT-3.5, into the collaboration software, giving customers a peek at how the company uses AI to make meetings more productive.
Nearly a week after launching Teams Premium, Microsoft introduced OpenAI's ChatGPT interactive chatbot in its Bing search engine. ChatGPT leverages GPT-3.5.
Teams Premium and Bing are at the beginning of Microsoft's plan to incorporate AI, much of it powered by OpenAI technology, across the company's consumer and enterprise products. Last month, Microsoft confirmed reports that it would build a deeper partnership with OpenAI but didn't release financial figures. Several news agencies reported the company would invest $10 billion in its AI partner.
In Teams Premium, Microsoft uses GPT-3.5 to generate notes and other recap materials from meeting recordings. The feature frees participants from taking notes so they can focus on the discussion, Microsoft said.
The company uses AI, not necessarily powered by GPT-3.5, in other features, such as creating chapters based on meeting transcripts of PowerPoint Live recordings. Another feature is personalized timeline markers, which show when users joined or left a meeting to help them review information they missed.
Teams Premium will offer more AI-supported capabilities in the second quarter of 2023. These include speaker timeline markers, which show the timestamp and identity of each speaker, and automatically generated key points and recommended tasks.
Companies will pay more for Teams Premium. The add-on to standard Teams will cost $7 per month per user until July 2023, and then $10 per month per user.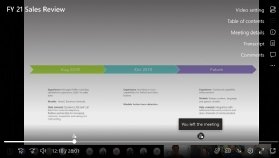 The additional cost brings unique features to the collaboration software market, COMMfusion Principal Analyst Blair Pleasant said.
"Some of the GPT-3.5-enabled capabilities are helping Microsoft leapfrog the competition," she said. "I think AI-generated notes and tasks will appeal to most users and organizations."
Security features available in Teams Premium include watermarking to prevent leaks. Meeting organizers can use a unique watermark over attendee screen shares and video feeds to protect sensitive information. They also can apply end-to-end encryption (E2EE) to meetings.
Teams Premium makes it easier to host webinars, adding a registration waitlist with manual approvals and automated email reminders. There are also virtual greenrooms for hosts and presenters.
For non-English speakers, Teams Premium has real-time caption translation from 40 languages. In comparison, Cisco's Webex offers real-time caption translation into more than 100 languages, and Zoom offers real-time caption translation in 10 languages.
Mary Reines joined TechTarget Editorial in October 2022 as a news writer covering networking. Prior to TechTarget, Reines worked for five years as arts editor at the Marblehead Reporter.
Dig Deeper on Team collaboration software