Getty Images/iStockphoto
Talkdesk expands its AI offerings for the contact center
The cloud-based contact center provider adds more tools to monitor large language model-supported capabilities, which are becoming commonplace offerings for CX vendors.
Talkdesk expanded its generative AI offerings for cloud-based contact centers.
The vendor on Monday released new tools for training AI data and observing behavior of AI systems and unveiled a tool for adjusting AI outputs.
Data Augmentation and the GenAI Observability Dashboard became generally available on Monday. The tool for AI outputs, GenAI Fine-Tuning and Simulation, will be available by the end of the year, according to Talkdesk.
The new features have been woven throughout the Talkdesk CX Cloud and Industry Experience Clouds platforms.
Meanwhile, along with the new products, the vendor highlighted a previously released tool that works with them.
That tool, Talkdesk AI Trainer, simplifies the process of training AI models for chatbots and virtual assistants. By letting users feed examples of likely conversations to the model, it can learn how to respond to customers' questions in the optimal way.
In addition, AI Trainer lets users revise and monitor AI responses, which helps ensure AI-generated content follows company policies and ethical guidelines.
"The most important thing is that Talkdesk is incorporating Talkdesk AI Trainer, which is how it is ensuring generative AI features can be delivered safely and responsibly," said Keith Kirkpatrick, an analyst at Futurum Group.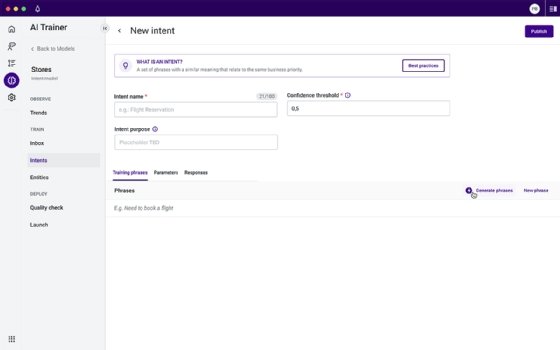 AI becoming common in the contact center
Since OpenAI released generative AI capabilities to consumers and businesses with the natural language chatbot ChatGPT nearly a year ago, many enterprise technology vendors have incorporated such capabilities into their products.
Cloud-based contact center providers such as Talkdesk are also using generative AI technology in their offerings. In addition to Talkdesk, many of its competitors including Zendesk, Genesys, Five9 and Nice also offer generative AI tools.
Generative AI capabilities are increasingly becoming table stakes for CX software providers.

Keith KirkpatrickAnalyst, Futurum Group
"Many of the use cases they are highlighting are fairly similar to those offered by other vendors," Kirkpatrick said. "Generative AI capabilities are increasingly becoming table stakes for CX software providers."
The Data Augmentation tool, which the vendor said can train AI data in seconds and thereby decrease the time it takes for users to tweak their AI models, is a particularly interesting feature, according to Kirkpatrick.
"If Talkdesk is truly able to fine-tune a model that quickly, it would be impressive," he said.
Supervising AI responses
Some security concerns about the incorporation of generative AI tools such as Talkdesk's include exposure of sensitive data and security threats. As vendors incorporate generative AI, they must also install the necessary barriers to prevent the AI from sharing private information. Generative AI could also threaten organizations' safety when it supports virtual assistants that can be tricked by bad actors to hijack organizations' systems.
The new tools are available as part of existing pricing plans, at no extra charge, for Talkdesk CX Cloud or Industry Experience Clouds, according to the vendor.
Mary Reines is a news writer covering customer experience and unified communications for TechTarget Editorial. Before TechTarget, Reines was arts editor at the Marblehead Reporter.