Fotolia
Block Kit developer tool could improve Slack integrations
A new framework for building third-party apps for Slack could help developers design simpler, more interactive Slack integrations.
Users can expect significant changes in the appearance of many third-party apps within Slack over the next few months, following this week's release of a new developer toolkit for building Slack integrations.
The new interface will make it easier for developers to design integrations that present information in a clear way to Slack users, the company said. The tool should also lead to more interactive integrations that let users perform tasks without leaving Slack.
Many of Slack's early users were software engineers who were drawn to the platform's open APIs, which have been used to launch more than 1,500 apps for Slack over the past four years. Now a mainstream messaging service, Slack is looking for ways to make its integrations friendlier to the average computer user.
The release of the Block Kit design interface and Block Kit Builder, a prototyping tool that will let developers edit and preview the interfaces of their apps simultaneously, should lead to a "substantial visual transformation" of apps over the next two to three months, said Bear Douglas, head of developer relations at Slack, based in San Francisco.
The update comes as the U.S. Securities and Exchange Commission reviews a draft proposal from Slack seeking permission to sell its stock to the general public. The startup has attracted more than 10 million daily active users since its launch in early 2014.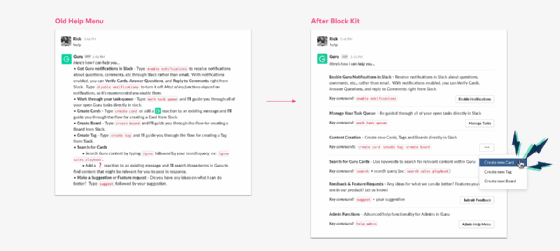 Slack integrations to become more interactive
Optimizely, which makes experimentation software for trialing customer experience products, redesigned its Slack integration using Block Kit to let users initiate actions from within Slack. Previously, the vendor's Slack app was primarily an automated feed of Optimizely activity.
"In the past, we ran into some challenges with really delivering actionable messages and messages that had clear formatting," said Byron Jones, director of product at Optimizely, based in San Francisco. "Block Kit has really helped us get past some of those things."
Guru, another beta tester of Block Kit, introduced buttons for creating content in Guru from within Slack. Previously, users had to type specific commands to initiate those tasks. The knowledge management vendor also added lines to separate sections of text in its integration to make it easier to read.
As demonstrated by Optimizely and Guru, many of the changes users can expect to encounter will be simple, but could go a long way toward making Slack integrations easier to navigate. In particular, Slack is trying to move away from integrations that rely exclusively on slash commands -- for example, having to type "/giphy" to access GIFs.
"We do know that slash commands are not the most intuitive for people that are not developers," Douglas said.
The release of Block Kit demonstrates that Slack remains committed to integrations as a differentiator within the team collaboration market. Competing platforms, such as Microsoft Teams and Cisco Webex Teams, still offer significantly fewer third-party apps than Slack, and 94% of Slack's paid teams use such apps.
The new integration framework could also eventually allow Slack users without coding expertise to modify how they use integrations.
"It is in the longer-term vision of where we are headed that, no matter your technical background, you should be able to build this integration, workflow, for your team," Douglas said.