Fotolia
Zoom IPO demonstrates power of freemium pricing
The Zoom IPO on Thursday demonstrated the strength of the video collaboration market and validated the strategy of freemium pricing.
Zoom Video Communications Inc. began selling shares on the public stock market on Thursday in a move that will give the video conferencing vendor financial fuel to further challenge market leaders Cisco and Microsoft.
In the six years since launching its flagship online meetings platform, Zoom has become a profitable company -- a rare feat for a tech startup -- with $330 million in revenue in fiscal 2019. Zoom expects to net more than $400 million through its initial public offering (IPO) to fund operations and potential acquisitions.
Zoom's success validates the strategy of offering free, feature-limited software licenses to gain a foothold among enterprises. The company had 344 customers that paid more than $100,000 each last fiscal year -- 55% of them used Zoom's freemium offering before subscribing.
Slack, a close partner of Zoom, has found success with the same freemium model. Pressure from those startups compelled Microsoft to release a free version of its team collaboration app, Microsoft Teams, last year.
Zoom's IPO also underscored the strength of the video collaboration market in general. In the weeks preceding the public listing, Zoom increased its expected share price from between $28 and $32 to between $33 and $35, and then to $36.
By market close Thursday, the stock had spiked roughly 72% to $62 per share.
"The IPO represents a coming of age for video in the enterprise," said Steve Vonder Haar, analyst at Wainhouse Research in Duxbury, Mass. "Video was once considered a novelty within the corporate setting. The interest in this offering illustrates that some people are finally starting to get it."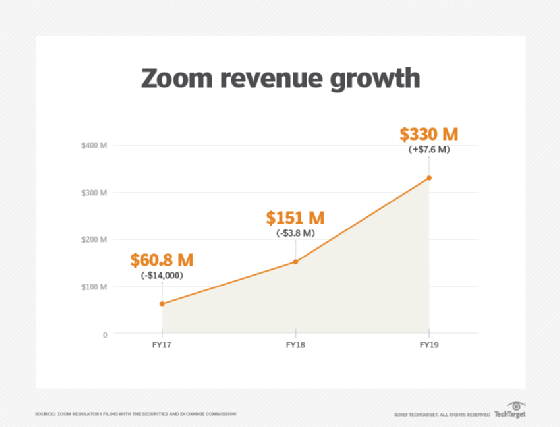 Zoom IPO fuels vendor's push into broader UC market
Founded as a video conferencing specialist, Zoom has expanded its offerings over the past couple of years in an attempt to capture a larger share of the unified communications (UC) market.
Zoom added instant messaging to its video platform and now partners with leading makers of video hardware to sell meeting room kits. More recently, the vendor launched Zoom Phone, a cloud PBX offering.
For now, the Zoom Phone service provides basic features and is available to only Zoom Meetings customers. But the vendor has signaled it may try to expand the reach of its telephony service: Last month, Zoom certified its first desk phones and announced integrations with contact center vendors Five9 and Twilio.
In an interview on Thursday, Janine Pelosi, Zoom's chief marketing officer, said offering a phone system was essential to Zoom's ambitions to serve the broader UC market. "As the needs of our customers continue to evolve, we will ensure the product can serve those needs," she said.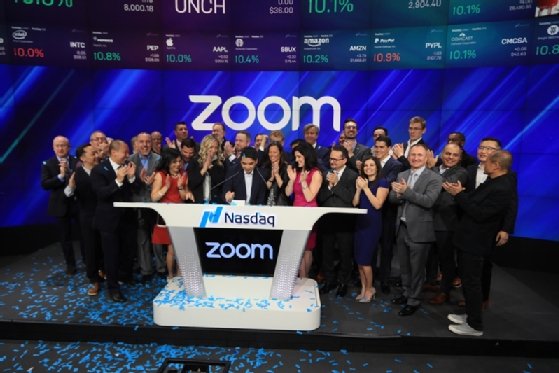 Challenges following the Zoom IPO
Zoom is easy to use and relatively cheap. Those attributes helped the company steal market share from more established products, like GoToMeeting. But Microsoft and Cisco have answered Zoom's disruption with simplified user interfaces and new pricing bundles.
"Zoom has done very well with the dual strategy of simple and inexpensive," said Dave Michels, analyst at TalkingPointz Research. "That's not a sustainable strategy, because over time, competitors do respond and solutions become more complex as new features are added."
Although going public will generate cash, it could also constrain Zoom's ability to take risks and innovate. Zoom must now release detailed financial reports every quarter, and the company will be under pressure to generate dividends for shareholders.
"Once you go public, you're working in the name of your shareholders, so you've got a responsibility to them," said Nick Barber, analyst at Forrester Research.
Dig Deeper on Video conferencing and visual collaboration