Top UC and collaboration news of 2022 highlights 4 key trends
Review the 2022 UC and collaboration news highlights to learn about the trends that drove the market, and discover how these trends will influence the market in 2023.
More organizations now embrace the hybrid workplace as they start to enact their post-COVID-19 workplace strategies. These organizations demand more from their unified communications and collaboration services to support remote and in-office employees and maintain a consistent collaboration experience.
UC vendors responded to customer demands by introducing collaboration features focused on the hybrid workplace. Vendors also advanced the UC market through interoperability among disparate platforms and improved overall UX. The UC and collaboration news that made headlines in 2022 highlighted four trends that foreshadow the future of the market, including hybrid work and the metaverse.
1. Hybrid work
As the adoption of hybrid work grows, organizations seek tools to support seamless collaboration among employees and consistent UX, no matter where they're working from. UC vendors have responded to this demand by adding new capabilities.
For example, Cisco made several enhancements to Webex, including an integration with Apple AirPlay to enable Apple devices to easily share content to Webex devices, which provides hybrid workers more flexibility with the devices they can use during Webex meetings. Cisco also introduced an integration between Webex Control Hub and ThousandEyes to enable IT admins to see where data travels during a Webex video session and address issues that could affect video performance. The integration helps Webex admins better manage performance when calls are made on multiple networks.
Zoom also introduced a variety of features and apps to support the hybrid workplace. For example, Zoom planned to update its Smart Gallery feature to enable in-office participants to interact with online whiteboards and chat, while also making it easier for remote attendees to hear breakout conversations. Zoom also announced the Spots app, which provides a virtual co-working space to enable remote and in-office employees to communicate informally.
HP also expanded its support for devices in the hybrid workplace with its $3.3 billion acquisition of Poly. The acquisition enables HP to bundle its workforce productivity portfolio with Poly's suite of headsets, desktop video devices and meeting room hardware.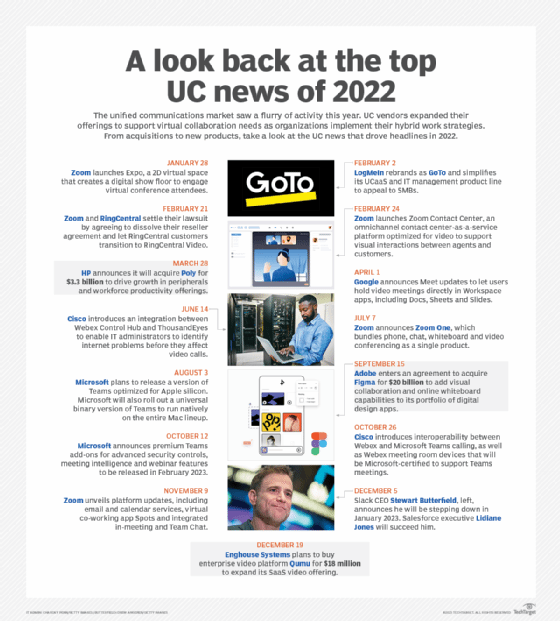 2. Streamlining collaboration
To support hybrid work, UC and collaboration vendors also introduced new features and products to simplify and streamline collaboration workflows. These updates included tighter integrations among productivity apps, as well as features to tame information and tool sprawl.
Microsoft introduced Loop, which provides a central hub for teams to collaborate across the 365 app suite, including Teams and SharePoint, to eliminate the need for users to frequently switch apps while they work. Loop also enables teams to co-author and edit content in real time. Microsoft planned to tighten integrations between Teams and Outlook to enable users to access Teams from Outlook without needing to switch between apps.
Slack also unveiled new capabilities for its team collaboration app to address informal communication needs and help employees manage shared information. Slack announced Canvas, which should be fully released in 2023, to enable users to pull information from messages, including files and links, and store it in a central location.
Slack also announced updates to its informal audio communication tool, Huddles. Updates to Huddles include screen sharing and video to make it easier to escalate informal communication without needing to switch to another app.
3. UC interoperability now a reality
As more organizations adopt a hybrid workplace strategy, they are demanding better interoperability among the services they use to support employee collaboration. For years, organizations wanted interoperability, and the demand for it ramped up during the pandemic. UC vendors responded by offering capabilities that provide different levels of interoperability depending on an organization's needs.
In early 2022, major UC players, like Cisco, Microsoft and Zoom, said they would improve interoperability among their meeting services and hardware to better support organizations that rely on multiple apps for communication. At the Microsoft Ignite and WebexOne conferences, Microsoft and Cisco announced native interoperability features between the Teams and Webex platforms, including the ability to launch Webex Calling from the Teams interface and native Teams integration with Webex meeting room devices.
At Zoom's Zoomtopia user conference, the UC vendor's integration and interoperability announcements included the ability to connect Zoom to email and calendar services, like Microsoft Outlook and Google Gmail, and bidirectional interoperability between Zoom and Google Meet devices.
4. AR, VR and the metaverse
In enterprise spaces, the past year also saw growth of augmented reality (AR) and virtual reality (VR), as well as the metaverse.
Meta, formerly Facebook, announced plans to let companies create business Meta accounts and manage VR headsets to try to boost VR adoption for business use cases. Meta also partnered with Microsoft to offer VR capabilities with Teams and provide access to Microsoft Office and Windows apps through the VR headsets. Teams and Zoom will also integrate with Meta's Horizon Workrooms to enable collaboration and meetings in a VR workspace.
Google also made strides with its Google Glass AR devices. Google began public testing of new Google Glass capabilities, such as navigation and translation. BlueJeans by Verizon also added support for Google Glass on its video conferencing service to enable communication among field workers, for example, who need to collaborate hands-free when working on machine inspection or repairs.